All of Steven Spielberg's Movies Ranked from Worst to Best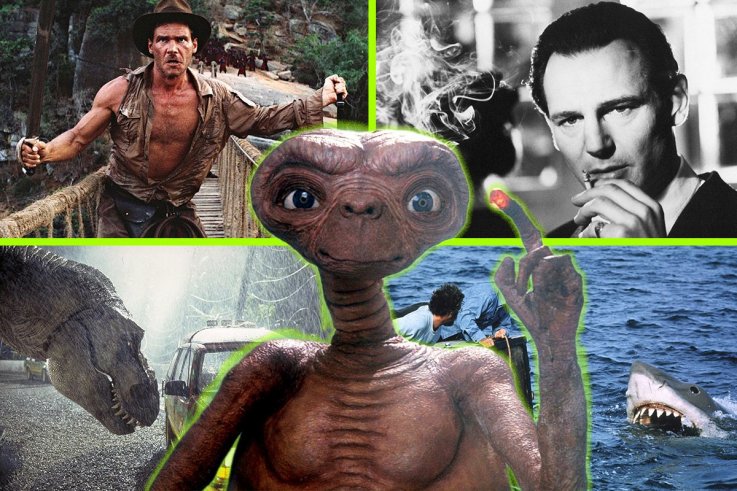 In his book Blockbuster: How Hollywood Learned to Stop Worrying and Love the Summer, critic Tom Shone summarizes the career of the highest-grossing director in history, Steven Spielberg. Shone posits that, "if you have to point to any one director of the last 25 years in whose work the medium of film was most fully itself—where we found out what it does best when left to its own devices, it has to be that guy."
It's Spielberg's optimism, joy and seeming ease which make his films a pleasure to watch—and make a huge profit—even as they cleverly push the limits of what movies can do. His most famous early hit, 1975's Jaws, was such a runaway success that it invented the summer blockbuster business model.
It also pioneered a new language of horror movie, with inventive camera work and an instantly-recognisable soundtrack. When it was released, the film won three Academy Awards and became a milestone in popular culture; Spielberg had not yet turned 30.
His next movie, 1977's Close Encounters of the Third Kind , would begin his recurring obsession with child-friendly, science fiction adventure movies, repeated in E.T, the Extra-Terrestrial in 1982 and Indiana Jones and the Temple of Doom in 1984.
These strange, alien creatures which populate his early work link back to Spielberg's childhood as an Orthodox Jew growing up in Phoenix, Arizona. Being different to his peers left him feeling othered, and gave him a sensitivity to the psyches of children—he told The Guardian that his 8mm video camera became "the antidote to being bullied."
He would go on to address these humanist impulses more explicitly in the second half of his career, when he moved towards exploring the moral dilemmas of adults. Saving Private Ryan, released in 1998, started America's renewed obsession with war films, and won Spielberg his second Best Director Oscar.
Now in his 70s, and with a fortune Forbes says stands at $3.7bn, Spielberg's substantial work ethic seems far from running out. He's slated to direct a number of upcoming projects, including a remake of the musical West Side Story starring Ansel Elgort, as well as his fifth installment of Indiana Jones.
Using data from critical review aggregation websites Rotten Tomatoes, Metacritic and IMDb, we've ranked all of Spielberg's directing credits from his remarkable, six-decade career.