'American Horror Story' Season 8 Cast: Ryan Murphy Teases Stevie Nicks' Role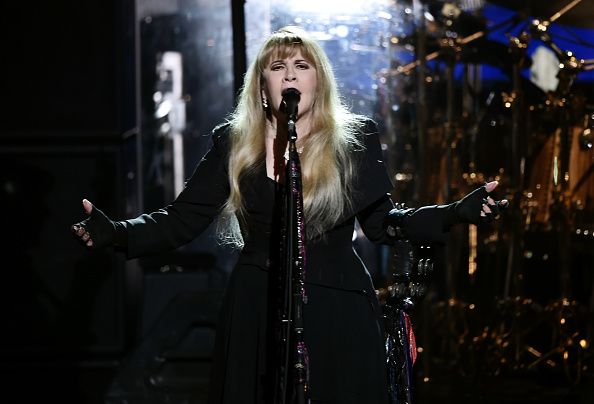 Voodoo queen Marie Laveau won't bring her black magic back to American Horror Story for Season 8, but the FX series will get an extra special dose of white magic when Apocalypse premieres in September. Show creator Ryan Murphy teased the first look of the white witch Stevie Nicks surrounded by her Coven sisters on Sunday.
"The Coven Returns. What a thrilling night with the legend Stevie Nicks on the set of AHS," Murphy wrote on Twitter along with a photo of Nicks sitting among AHS Season 3 stars Sarah Paulson, Lily Rabe, Emma Roberts, Tassia Farmiga, Gabourey Sidibe and Frances Conroy.
Nicks only appeared in one episode during the third season in 2014. The Fleetwood Mac singer starred as herself and visited the New Orleans coven at the request of old Supreme Fiona Goode, played by Jessica Lang. Although Nicks wasn't a member of the coven (or a confirmed witch), she did a favor for Fiona by meeting with Misty Day (Rabe), who believed Nicks to be a white witch. Of course, Nicks performed her bewitching hit songs "Rhiannon" and "Has Anyone Ever Written Anything About You" during the episode.
It's unclear if AHS fans will see Nicks more often on the upcoming season, which follows the aftermath of the world's end. Show cast and executive producer Alexis Martin Woodall previously revealed Coven will play a major role in Season 8 and will crossover with AHS' first season theme, Murder House.
Not all aspects of Coven will be weaved into the season though. Angela Bassett, who played the enchanting and controversial Marie in Season 3, announced she wouldn't be reprising the role. "I'm not in Horror Story. I'm not, not unless they get some brilliant idea. I love Coven though," Bassett told Us Weekly in early August.
Her appearance as the Voodoo priestess marked her first role in Murphy's AHS universe and even landed her an Emmy nomination. Bassett went on to star in three more AHS seasons, including Freak Show, Hotel and Roanoke.
AHS: Apocalypse premieres on FX on September 12.