Stewart and Colbert Take On Beck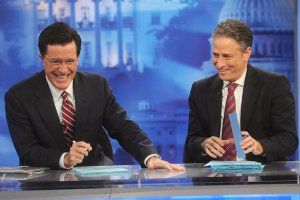 You've got to hand it to Jon Stewart and Stephen Colbert, social critics that they are, for keeping us attuned to the absurdity in our political discourse these days. Both have taken on the topics of the Tea Party, Fox News, and most recently the lazy campaigning of Democrats. Pulling back the curtain on the media obsessing over the normally snooze-worthy process of electing Congress, Stewart has begun asking, with the bravado of Hank Williams Jr., "Are you ready for some mid-terrrrrrrrrms?"
But neither man has gone after anyone quite so ferociously as Glenn Beck, the weepy Fox pundit who's demonstrated he can amass quite a following. Last month, Beck hosted a rally on the steps of the Lincoln Memorial, urging America to "Restore Honor"—an amorphous plea to support the troops, find God, and honor thy neighbor. About 100,000 people showed up and agreed.
But do those people speak for the rest of the country? Stewart and Colbert say no (or should it be Colbert and Stewart? More on that in a moment). Neither thinks that the loudest voices should be the only ones who are heard. And, in a move that is part social critique and part hilarious satire, both men are hosting rallies next month to counter, or maybe simply mock, the Beck rally.
That's right, they're hosting rallies. Plural. Stewart and Colbert (who, of course, was birthed by Stewart) have an antagonistic relationship made for TV. Neither wants to play second fiddle to the other, so each is having his own rally on the same day in the same location. Stewart's rally is to "Restore Sanity." Colbert's is to "Keep Fear Alive."
"We'd like you to join us in Washington, D.C. on October 30—a date of no significance whatsoever—at the Daily Show's "Rally to Restore Sanity," writes Stewart on his event's new Web site. "Ours is a rally for the people who've been too busy to go to rallies, who actually have lives and families and jobs (or are looking for jobs)—not so much the Silent Majority as the Busy Majority. If we had to sum up the political view of our participants in a single sentence ... we couldn't. That's sort of the point."
Will it gain traction? Odds are, absolutely. The district has a bustling community of 20- and 30-somethings, who are Stewart and Colbert's most loyal demographic. Plus any folks around the country who would come to D.C. to support the Comedy Central duo. Or maybe just to oppose Glenn Beck. One of the two.
Stewart and Colbert Take On Beck | U.S.