Stewart Rhodes Said Oath Keepers Were in 'More Deadly' Situation Than American Revolution
Stewart Rhodes, the founder of the Oath Keepers, allegedly told members of the far-right militia group after the Capitol riot that they were in a "more deadly" situation than the founders of the United States faced during the American Revolution.
Rhodes hasn't been charged in the Capitol riot, although several alleged members of his militia movement have—and some have even pleaded guilty. He was outside the Capitol as the riot unfolded, allegedly offering messages of advice and instructions to members.
On Tuesday, the House Committee investigating the riot subpoenaed him to provide documents and testimony.
Referred to in court documents as "Person One," he made at least nine phone calls to alleged Oath Keeper members during the course of the day on January 6. "Person One" is described in court documents as the "founder" and "leader" of the Oath Keepers.
"Pence is doing nothing. As I predicted," Rhodes allegedly messaged the group on January 6. "All I see Trump doing is complaining. I see no intent by him to do anything so patriots are taking it into their own hands."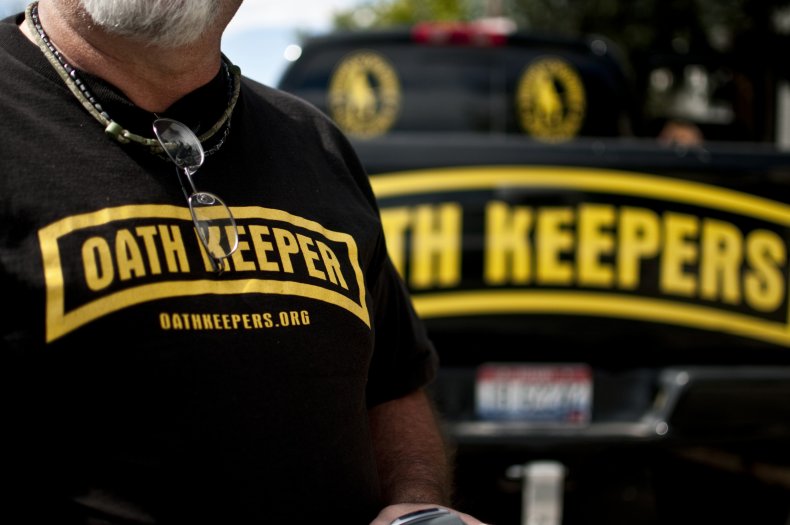 Later that night, Rhodes allegedly said Oath Keepers were in a "far more deadly situation" than the Sons of Liberty faced because "enemies foreign and domestic have subverted, infiltrated and taken over near every single office and level of power in this nation."
"We have one FINAL chance to get Trump to do his job and his duty. Patriots entering their own Capitol to send a message to the traitors is NOTHING compared to what's coming if Trump doesn't take decisive action right now," Rhodes wrote, according to court documents.
The Oath Keepers founder added that the Capitol riot helped send a message to Trump, who he called the "most important" audience member. "I hope he got the message," Rhodes said.
As the January 6 riot unfolded, Rhodes also allegedly posted photos to the group's chat, including one that showed the southeast side of the Capitol building with the caption, "patriots pounding on doors." Another caption that accompanied a photo said, "Trump better do his damn duty."
Around 4:00 p.m., alleged Oath Keeper members—some of whom were wearing Oath Keepers clothing and insignia and were charged in the Capitol riot—gathered near Rhodes outside the Capitol. About an hour and a half later, Rhodes wrote in a Signal chat that leaders should check to make sure their team members were accounted for and post the names of anyone who was missing, according to court records.
Rhodes has denied any involvement in the Capitol riot and has said that he didn't set foot on Capitol grounds until after it began, according to The Washington Post. He also said members who were charged in the riot went "totally off mission" and "didn't coordinate with us at all while they were there."
"If we actually intended to take over the Capitol, we'd have taken it, and we'd have brought guns," The Washington Post reported Rhodes told people at a rally in Laredo, Texas.
In Monday's subpoena letter, Representative Bennie Thompson, chairman of the House Select Committee, acknowledged Rhodes is largely regarded as "Person One" and that the indictment of several Oath Keeper members alleged he was in contact with them before, during and after the attack.
Rhodes has until December 7 to provide the requested documents and is expected to sit for a deposition on December 14.
Newsweek reached out to Rhodes for comment.