Stimulus Bill Vote Extended With Senate's One-Day, Stop-Gap Funding
Congress Sunday night could have passed a bill to send nearly $1 trillion of COVID-19 relief to American families and small businesses. However, a late vote by the U.S. Senate provided stop-gap funding, allowing the stimulus vote to take place Monday, just beyond Sunday's midnight deadline.
Republicans on Sunday indicated a deal had been struck on the floor, but John Cornyn—the No. 2 Republican senator—said he doubted the bill would pass before midnight. This was before Senate Majority Leader Mitch McConnell said a deal had been struck.
Then, as the hours and minutes ticked toward midnight, Congress passed a last-ditch effort to keep the economy afloat, according to NBC News producer Frank Thorp V.
"Senate PASSES one-day stop-gap govt funding bill by voice vote. The bill, which passed in the House earlier this evening, now goes to the President's desk for his signature," Thorp tweeted. "One day more for Congress to pass the COVID relief deal that was just struck."
Speaker of the House Nancy Pelosi (D-CA) on Sunday said a deal might not pass as she wants House members to have time to review the verbiage—and dollar amounts.
"I think we're close, we're very close," Pelosi said. "But we want to have members have enough time to review it all."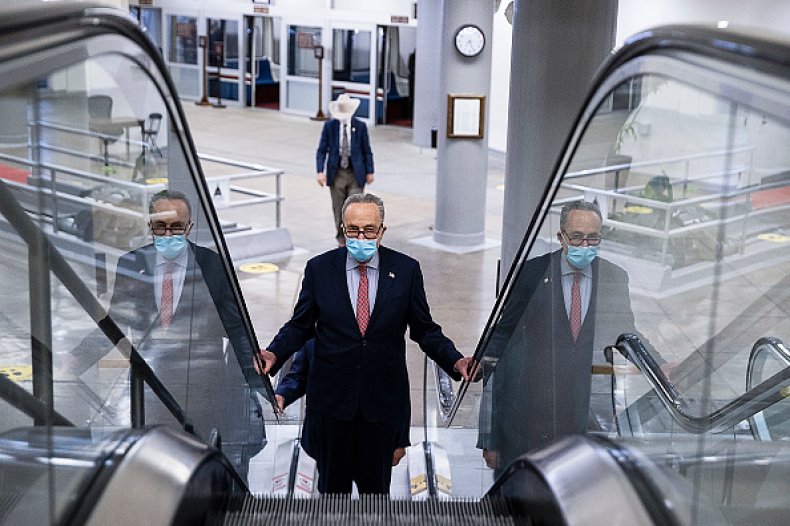 McConnell earlier on Sunday said both Democrats and Republicans have worked around the clock to reach a deal for COVID-19 relief.
"I think both sides agree: Our around-the-clock negotiations on COVID relief are hours away from completion. Our citizens need this waiting to end. Thousands of Americans are being robbed of their lives every day. Working families are hurting. Let's finally get this done today," McConnell stated.
What's at stake for Americans? How about much-needed relief as the pandemic steams along through its 11th month. Here's what's included in the package:
$600 direct payments to individuals
$300 per week in extra unemployment benefits
$25 billion in rental assistance
Small Business aid
Money for schools
McConnell (R-KY) also said the deal was close, but added that his chamber should not expect praise for merely doing its job.
"When we get this done, Congress will not deserve any special praise," McConnell said Sunday. "When we finalize this measure and pass it, Congress will only have done our job. We will have finally done our duty in getting more relief to those who need it most."
Congress worked furiously on Sunday to pass a stimulus bill for Americans, but Republican senators have sent mixed signals on whether or not it would get done with just four days until Christmas.
Republican John Cornyn of Texas, the No. 2 Republican in the Senate, on Sunday tweeted that "Texans are suffering," and "this is not time for politics or delay for delay's sake and we can't add the stress of another government shutdown to a raging pandemic."
However, in a Reuters story—also on Sunday—Cornyn was quoted, "I think it's doubtful, would be my guess," of a deal struck by midnight.