Colorado Governor Criticizes McConnell, Says $2,000 Stimulus Check Blockage 'A Great Shame'
Colorado Governor Jared Polis has said it is a "great shame" the measure to boost stimulus check payments to $2,000 has stalled, urging Senate Majority Leader Mitch McConnell (R-KY) to find compromise on the matter.
On Wednesday McConnell said there is "no realistic path" for the boost to pass the Senate anytime soon.
While Democrats have called for a straight vote on the measure in the Senate, as passed by the House—which they have suggested could succeed—McConnell has looked to attach other points. These measures, moves to repeal Section 230 and for investigating voter fraud, are points supporters of raising the check amount are less likely to support.
"It's a great shame," Polis said on CNN, when asked about the check increase being stopped in the Senate.
"I hope they find a way. If they want to narrow the group a little, do it for anybody who lost employment or lost income in the last year, that's fine—get the price tag down, compromise. That's what we do. Come up with something, so we can get out that $2,000 to the people who need it the most, the people who've cut their hours, lost their jobs."
He said that while $600 "is appreciated," people need further help.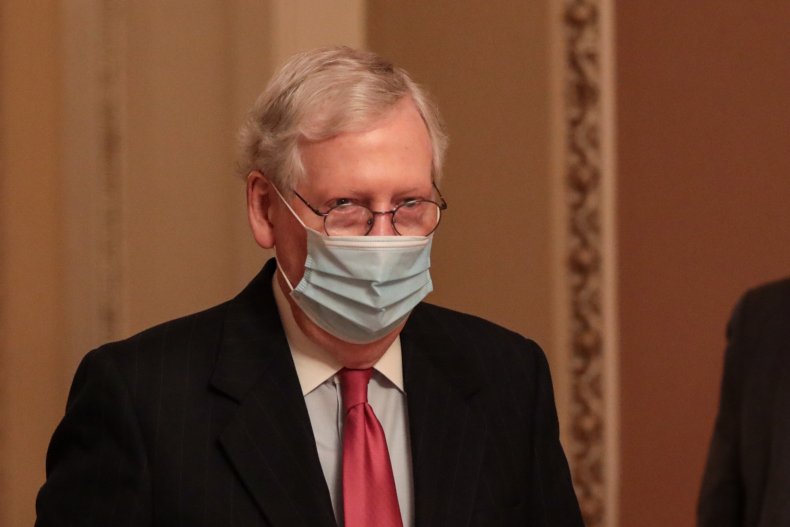 "I really call on Mitch McConnell to seek compromise with his Republican and Democratic colleagues," he added.
Newsweek has contacted Polis and McConnell's offices for further comment.
While Democrat lawmakers continue to push for a straight vote on the stimulus checks being upped, McConnell has insisted on the other demands being attached and pushed against this.
Direct payments of up to $600 are being sent out already. This came after President Donald Trump signed off relief legislation, which he had delayed—signing citing wanting higher payments as one issue.
Physical checks began being sent out Wednesday, while direct deposit payments were said to be potentially already arriving Tuesday night.
Speaking on the Senate floor on Wednesday, McConnell said: "The Senate is not going to be bullied into rushing out more borrowed money into the hands of Democrat rich friends who don't need the help.
"We just approved almost a trillion dollars in aid a few days ago. It struck a balance between broad support for all kinds of households and a lot more targeted relief for those who need help the most."
Trump has persisted with his $2,000 check call, though has voiced his support for other measures.