'I Used My Stimulus Check To Start a $3Million Business'
Just prior to the COVID-19 pandemic, I was laid off from my role as director of sales for a startup company in the insurance field. I had worked there for about 3.5 years and it was a really great job. Then, I gave birth to my twins and I got a divorce. All of this happened within a six month period, so it was a lot.
My four kids and I then moved into my mom's house in LA. I was about to turn 28 and I really had to start again from scratch. I applied to more than 50 jobs and although for 75 percent of them I had at least a first interview, nothing connected. So I took a step back and realized that perhaps I needed to take my skills and consult for other people. I was confident in my business, finance, and sales skills. I decided I need to take my skills to the market place rather than waiting for a job to hire me.
I didn't want to be in a position where I was continuing to receive unemployment or public assistance and I didn't have a lot of extra funds, so when the first stimulus check for $1,200 came in April 2020, I took it as a sign that it was "now or never." I wanted to use the stimulus check money to invest in what I needed for my business, so some of the purchases I made included spending $145 to design my website and pay for website hosting. I also bought a couple of extra domain names online, several ring lights for $170 and I paid the taxes required to upgrade my phone. I took steps that would put me in a position to create content online and start my business.
My initial approach was to consult and provide coaching calls to companies. I was marketing myself on LinkedIn as someone who could go in and teach leadership and sales development to staff. I had led a team of around 70 sales staff in my previous role, and I knew could provide value.
But then I realized, as I was doing my research on social media, that a lot of small businesses and start ups needed help understanding how to build web traffic, business credit or even how to structure their business. During the pandemic, there were so many people facing job insecurity and wanting to understand ways they could start a business, get to their first sale or to a place of consistent revenue. So I decided to launch my consulting business on Instagram.
I started out providing coaching calls to clients who found my Instagram page, and in my first two to three months I didn't really charge anything. I wanted to build trust, authenticity and gain some testimonials. I was creating three to five pieces of content to share on social media every day and letting people know that if they needed assistance, they could book a consultation with me. I would give them my tools and strategies for building their small business and in exchange ask them for a review. When I was able to see that the tools I was providing worked, I started creating online courses people could buy. I had recognized that my time doing one-on-one calls was going to limit my ability to scale my business. There's only so much time in a day to take coaching calls! And I recognized that people needed more information on business startup strategy.
My first course was about $20. I only had around 3,000 followers online, but I made $2,000 with that course. The next course I created was teaching people how to structure their business and how to start building their business credit. I released that course at the end of October 2020 for $15, and because it sold so well, I created a secondary version of it in December, for $75.
But in order to grow my business, I did have to market myself more. I didn't run ads on Instagram directly but I paid for a very small number of sponsored posts on other people's pages to reach the right audience. I also started going live on Instagram once or twice a day to connect with people. I grew almost entirely organically from 300 followers to more than 100,000 in around 6 months, now I have more than 260,000 followers on Instagram.
By the end of 2020, I had crossed $100,000 in total sales revenue. January was the first month I made $100,000 in one month. I cried. It's one of those moments where you feel like all the pain was worth it. I had still only been divorced for 11 months, because it was finalized in February of 2020. It showed me that I was still going to be able to provide for my kids. It was a bright light at the end of this dark tunnel. I felt I had found my "thing." I was never going to stop.
The revenue I generate now isn't from one course, it's from many courses. One product teaches people how to organically market their business on Instagram and another helps people apply for small business grants. By May 2021, I had about seven courses available and I currently have two course bundles and a masterclass, and I also still do some consultation work.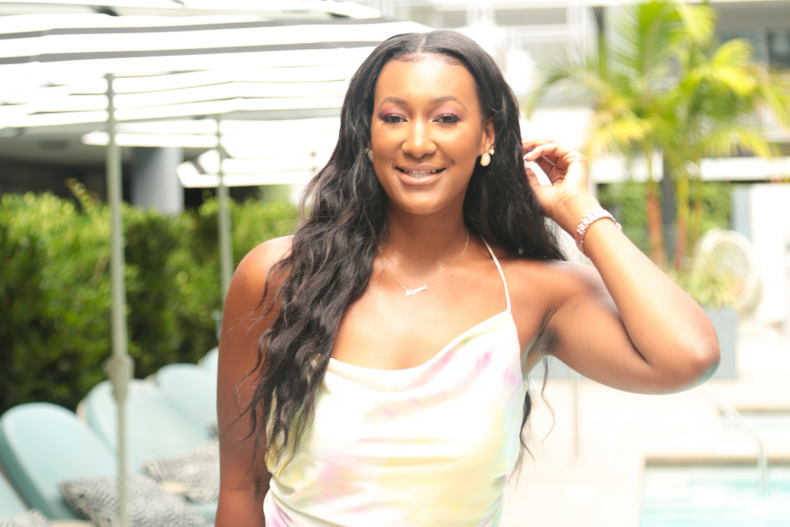 I achieved $1 million of revenue at the end of April 2021 and then towards the end of June 2021, I hit $2 million and I have since hit $3 million. I feel fortunate that I have been able to hire help to continue to grow my business.
My audience is split into about 75 percent women, 25 percent men and 39 percent are between the ages of 25 and 34, so I am working with a lot of millennials. I am a champion for women and moms, because I am a mom and I want to help other moms like me create a legacy for their children. My audience is also more than 80 percent Black, so I am passionate about providing business and financial literacy and access to entrepreneurship to Black women and Black people in general.
If you don't come from a family or situation where money and business is talked about, you may go through your life without knowing you can have your own business. I see this as me being able to create access to business ownership and help my community build something to pass down.
Despite my earnings, I'm very cautious about lifestyle inflation. I did move out of my mom's house in May 2021 and I definitely feel grateful and I can sleep easier at night. But I don't feel any less driven to succeed. I still want to have more impact.
When I started, I was a newly single mom with four kids, working while breastfeeding and making dinner. I say that not to boast, but to show that if I can do this, others can too. I'm not a unicorn, I just took a situation that I wanted to change, and I decided to get up every day and work towards making that happen.
Ellie Diop is the founder of Ellie Talks Money, she lives in L.A. You can find out more at ellietalksmoney.com or follow her on Instagram @ellietalksmoney.
All views expressed in this article are the author's own.
As told to Jenny Haward.