Before Election Day, Americans lost hope that a stimulus bill would be passed prior to November 3. Their concerns were realized—and fresh polling indicates they fear no support will be forthcoming this year, or at all.
The stalemate over a relief package that can pass both the House and Senate continues, with lawmakers locked in a months-long tussle over what measures should be taken and how much should be spent.
YouGov asked 21,161 adults on November 9: "When, if ever, do you believe Congress will pass a bill for a second COVID-19 stimulus package?"
Of those who identified a potential date, the most common answer was "after January 2021," with 18 percent of responses. Another 11 percent said "in January 2021."
More than a fifth, 21 percent, said they did not think Congress would ever pass another COVID stimulus bill.
Just 4 percent said they saw this happening in the next two weeks, with 7 percent suggesting it would be within the next month. Another 14 percent said "before the end of the year."
The figures mirror previous polling in which most U.S. adults said they doubted a stimulus bill would come before Election Day. In a separate YouGov/The Economist poll, 20 percent of 1,500 adults interviewed from August 16 to 18 said they thought another package would never be passed by both chambers of Congress.
This lack of hope comes despite polling that indicates most people want further action to be taken.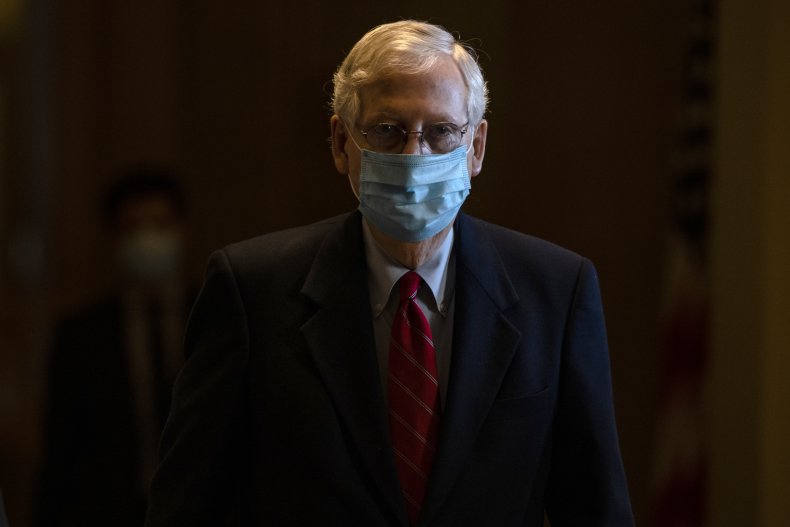 It has been nearly eight months since the CARES Act was signed by President Donald Trump.
Since then, lawmakers have failed to reach agreement on a second bill. Democrats have passed their own version—the HEROES Act—through the House but failed to muster support in the Republican-led Senate. Republican proposals including a so-called skinny bill have failed to gain traction in the upper chamber, while a bipartisan proposal from the Problem Solvers Caucus also struggled to garner support.
Newsweek has contacted the White House, House Speaker Nancy Pelosi (D-NY) and Senate Majority Leader Mitch McConnell for comment.
The polling comes as the number of confirmed COVID-19 cases in the U.S. stands at 10.4 million, according to Johns Hopkins University.
The graphic below, from Statista, shows the number of COVID-19 hospitalizations in the U.S. as of November 11.