While Some Still Await Their Stimulus Check, Others Return Payments They Shouldn't Have Received
As some citizens are left waiting for the financial boost of a stimulus payment amid the COVID-19 crisis, others face the issue of having to return money they should not have received.
Following the passage of the CARES Act, eligible adults have been receiving up to $1,200 each, with more than 150 million such payments set to be made in total.
While some have not yet received their payments, some have expressed issues of being sent money they believe they should not have.
Last month, the Internal Revenue Service (IRS) responded to payments having been sent to people who had died before receipt of the payment, with families reporting receiving checks for late relatives.
In those cases, it instructed people to: "Return the entire Payment unless the Payment was made to joint filers and one spouse had not died before receipt of the Payment, in which case, you only need to return the portion of the Payment made to the decedent."
Treasury Secretary Steve Mnuchin told the Wall Street Journal people should not be keeping money if it is received having been sent to a dead relative, stating it should be returned.
In addition to the issues over payments to the deceased, there have also been reports of people receiving more than one direct payment, having already received a first to their bank account.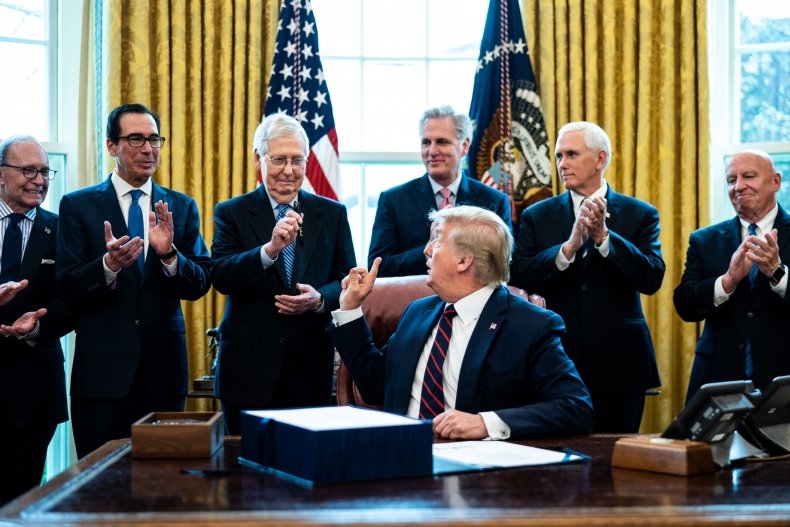 NJ.com said readers had contacted the outlet, reporting having had deposits to their accounts from the IRS more than once.
One, confused by the second payment, questioned: "Was a new stimulus package passed?"
A second stimulus bill has not been confirmed. The House has passed the HEROES Act, which includes measures for a second round of direct payments, but it stalled in the Senate due to GOP opposition to the bill.
A letter sent into MarketWatch also detailed someone having been sent more than one payment.
It said: "My daughter had already received and spent her stimulus money. This morning, she received an email from her bank; three more $1,200 deposits were made."
Newsweek has contacted the IRS to ask about the issue of erroneous payments being made.
Asked what people who have received payments they believe they should not have should do, a spokesperson referred Newsweek to guidance on the IRS website's Economic Impact Payment Information Center.
They said details at Q54, "What should I do to return an Economic Impact Payment?," was "the correct information for anyone who received a payment they may not be entitled to."
This outlines that if the payment was in the form of a check, the word "void" should be written on the back and it should be mailed back to an IRS location, details of which are listed, with a "brief explanation stating the reason for returning the check."
If a check has been cashed or the payment was a direct deposit, it instructs people to send a check or money order to one of the IRS locations listed.
"Write on the check/money order made payable to "U.S. Treasury" and write 2020EIP, and the taxpayer identification number (social security number, or individual taxpayer identification number) of the recipient of the check," it adds.
There should also be a brief explanation detailing the reason for the return, it says.
There are nine different locations listed for returns to be sent to.
Newsweek has contacted the Treasury for comment.
The issues over wrongly sent payments come as some people mistake theirs for junk mail.
As previously reported by Newsweek, payments being sent by prepaid debit card arrive in a plain envelope from "Money Network Cardholder Services," which some have not realized was their stimulus payment.
People who have thrown their card away are able to get a replacement, though this may incur a fee.
There is speculation over a second round of such payments being made as part of a new coronavirus relief bill, though it is unclear when such an act could be passed or if it will certainly include stimulus checks again.
The coronavirus has caused turmoil for the economy in the U.S., and case figures across the nation continue to rise.
The U.S. has suffered more than 1.8 million confirmed cases, according to Johns Hopkins University figures.
The graphic below from Statista shows the states with the highest case numbers as of June 2.