Stimulus Check Tracker: IRS to Release More Payments, Find Out When You'll Receive Yours
Millions of Americans have already received their stimulus check, and those who haven't may gain access to their funds on Wednesday.
President Joe Biden signed the American Rescue Act, a $1.9 trillion relief package, on March 11, which includes a third round of economic impact payments worth $1,400 for eligible individuals. The IRS sent out 90 million payments about three times faster than it did this time last year, after former President Donald Trump signed the Coronavirus Aid, Relief and Economic Security (CARES) Act, and payments are expected to continue being issued for weeks.
The IRS started processing another batch of economic impact payments on Friday and will have an official pay date of March 24. Taxpayers who receive their payment in this round will be able to access the money on Wednesday, although some may see it earlier.
While those with direct deposit information on file with the IRS are likely to see their payments first, the IRS said a "large number" of the latest payout will be mailed. Since the postal service will be responsible for delivering many of the payments, the IRS cautioned people to watch the mail "carefully" in the coming weeks if they don't receive a direct deposit because they could receive their payment in the form of a paper check or prepaid debit card.
"The IRS continues to send the third round of stimulus payments in record time," IRS Commissioner Chuck Rettig said in a statement. "Since this new set of payments will include more mailed payments, we urge people to carefully watch their mail for a check or debit card in the coming weeks."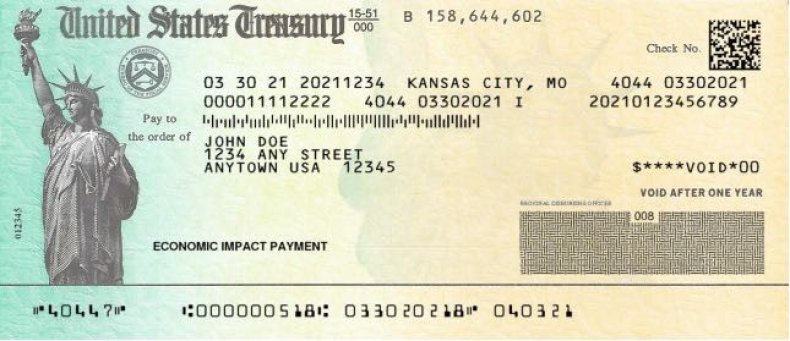 One reason the IRS was able to issue payments so quickly is that the it and the Bureau of Fiscal Service used data in their systems to convert payments to direct deposit. This increased the number of people receiving their payment via direct deposit, a faster delivery method than sending out checks and debit cards.
Under the American Rescue Plan, eligible individuals with incomes under $75,000 will receive the full $1,400 payment and joint filers with incomes below $150,000 will receive $2,800. While the income thresholds for full payments mimic the first two rounds, the third round of payments phases out much faster.
Instead of individuals and joint filers with respective incomes below $99,000 and $198,000 receiving a partial payment, funds will be completely cut off for individuals making over $80,000 and joint filers earning more than $160,000.
Taxpayers can check the status of their payment using the Get My Payment tool on the IRS' website. After accessing the tool, a taxpayer will see a date for their payment if their payment has been processed. If a person is eligible but a payment hasn't been processed, the date won't be available.
If a person is to receive their payment by mail, the IRS advised people to keep an eye out for a white envelope from the Department of the Treasury. It'll look similar to a tax refund, but will say "economic impact payment" in the memo field.