50,000 People Will Receive a Stimulus Check In September
While the second round of economic impact payments remains on the backburner due to Congress's inability to pass a new coronavirus relief package, 50,000 people who didn't receive a payment from the first round will receive a check sometime in September.
The IRS will begin mailing checks in early-to-mid-September to 50,000 individuals whose portion of the economic impact payment was diverted to pay their spouse's past-due child support. Under the Coronavirus Aid, Relief and Economic Security (CARES) Act, $2,400 payments were made to eligible couples filing jointly with incomes under $150,000.
However, that money could be intercepted if a person was past-due on their child support obligations. If one spouse was behind on a payment the other could file an injured spouse form with the IRS, which allows the person to retain their share of their joint refund.
Eligible spouses who submitted that form, along with their 2019 or 2018 federal income tax return, do not need to take any action to receive their portion of the economic impact payment, according to the IRS. Those who didn't file the injured spouse form will also receive their portion of the payment automatically, although the IRS doesn't have a timeframe for when that will take place.
President Donald Trump and leading members of the Democratic Party have continued to voice support for another round of stimulus checks. In early August, it seemed that a second payment could happen. It was one of few areas of agreement between the White House and Democrats, according to Treasury Secretary Steve Mnuchin, who indicated it would likely resemble the first round.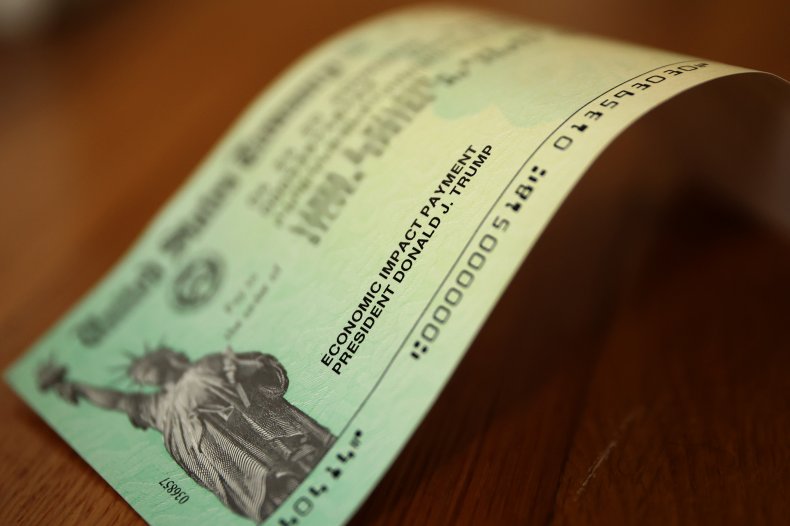 In alignment with the first round, Republicans included in the Health, Economic Assistance, Liability Protection and Schools (HEALS) Act, $1,200 payments for individuals with incomes below $75,000, and $2,400 payments for eligible joint filers. A $500 additional payment would be made for each eligible dependent, which Republicans expanded from children under 17, as was the case in the CARES Act, to all dependents, a measure that was included in the Democrat-led Health and Economic Recovery Omnibus Emergency Solutions (HEROES) Act.
However, weeks of negotiations between Mnuchin, White House Chief of Staff Mark Meadows, Speaker of the House Nancy Pelosi and Senate Minority Leader Chuck Schumer weren't enough to bridge the gap and talks ended in a stalemate. With the Senate on recess until after Labor Day and September just days away, hopes for a widespread second round of checks in August were dashed.
If a deal can be reached soon after the Senate returns from recess, it's possible another round of payments could hit Americans' bank accounts in September, as Mnuchin said a second round could be issued a week after an agreement.
On Tuesday, Meadows told CBS This Morning that "hopefully" another package can be put together. He predicted the two sides could come to an agreement on enhanced unemployment benefits and food stamps, school aid and small business assistance.