Without another economic relief package this year, most Americans will have seen all the direct payments they're going to receive, but some may have one last chance to collect on behalf of their children.
The passage of the Coronavirus Aid, Relief and Economic Security (CARES) Act in March made certain individuals eligible for a $500 payment per child under the age of 17. The IRS sent out many of the payments automatically, based on a person's most recently filed tax return. Those who aren't required to file a tax return may still be eligible, although time is running out to take action.
People receiving federal benefits—such as Social Security, Supplemental Security Income or funds from the Department of Veterans Affairs or the U.S. Railroad Retirement Board—who did not file a tax return may not have received the proper economic impact payment. To claim funds intended for dependent children, they must enter their information using the IRS's non-filers tool and do it before the end of the day, today.
If people don't register using the non-filers tool before Wednesday's deadline, they must wait to claim the benefits as a credit on their 2020 federal income tax return. Those who have already received an economic impact payment by way of direct deposit will also have supplemental payments for their children deposited into the same account.
The "catch-up payments," as the IRS refers to them, should be issued by mid-October.
Hopes were high for another round of economic impact payments, but six months after the CARES Act passed, those expectations for another round of money have slowly dwindled. House Speaker Nancy Pelosi, Senate Minority Leader Mitch McConnell and President Donald Trump rarely share the same opinion on the best path forward, with stimulus checks one of the few exceptions. The leaders of both parties support another round of economic impact payments, in line with the first payments that were issued, but they've been unable to approve the checks because of their differences on other provisions in a relief bill.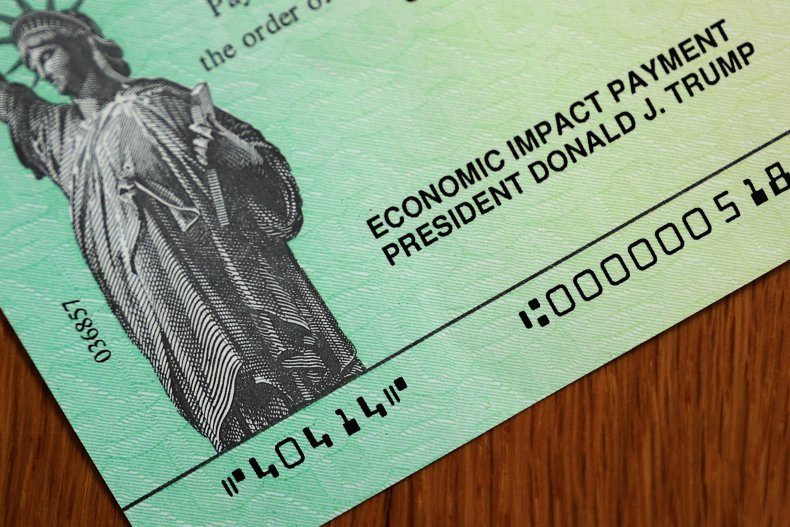 All hope is not lost, though. Treasury Secretary Steve Mnuchin, who is leading the White House's side of the negotiations, told CNBC on Wednesday that he's working with Trump on a bipartisan proposal. He also spoke with Pelosi about the proposal's details. Having had those conversations, Mnuchin said is "hopeful" a deal can be reached.
They'll give the deal "one more serious try," and if it comes to fruition, Mnuchin said, it would likely resemble the proposal put forth by the Problem Solvers Caucus, a bipartisan group of lawmakers. Their "March to Common Ground" framework had a price tag of about $1.5 trillion and provided funds for coronavirus testing and health care, expanded unemployment, and aid to schools, small businesses and state and local governments.
The framework also planned for one more round of economic impact payments and left the door open to a third round. A section of the proposal that White House chief of staff Mark Meadows supports is the automatic boosters and reducers that would produce more or less aid in 2021, depending on the circumstances. When it comes to stimulus checks, a third round would be issued in March, if certain metrics are met.
Mnuchin called the forthcoming proposal a "reasonable response" that includes "some of what everybody wants." The treasury secretary and Pelosi are expected to speak again on Wednesday afternoon. If a deal can be reached, the IRS needs the proper information for individuals in order to speed up the timeline for receiving a payment.