Stimulus Check Update: Pennsylvania Governor Pushes for $2,000 Payments
Pennsylvania Governor Tom Wolf is pushing for $2,000 relief checks to help residents with prices at the grocery stores and gas pumps.
On Monday, Wolf appeared in Allegheny County to call on the state's Republican-led Assembly to pass his PA Opportunity Program, which would provide $2,000 payments to households that earn less than $80,000 per year. If passed, it is estimated the program would receive 250,000 applicants, which would cost about $500 million.
"We have these funds available. It's not fair to withhold them from taxpayers," the governor tweeted. Wolf noted that the state budget has $15 billion in funds available.
The program was introduced in February as part of Wolf's budget proposal but removed during negotiations. He's now calling on state lawmakers to act on delivering the inflationary relief.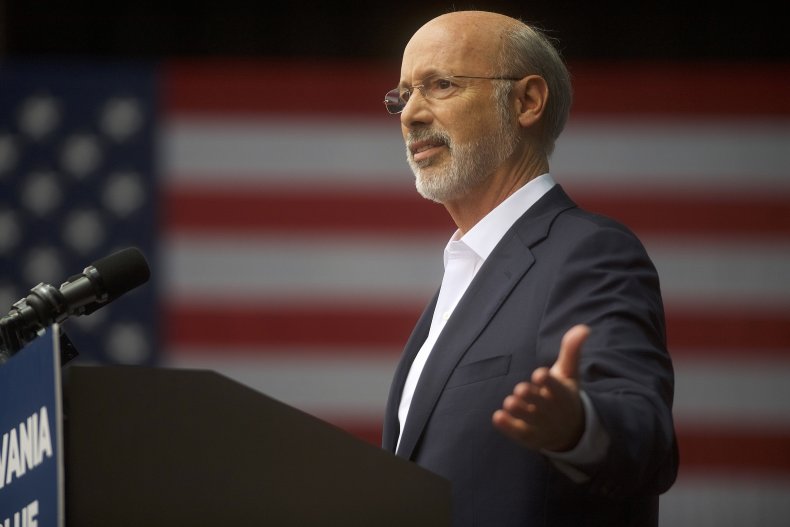 "This money will make a life-changing difference for families in communities across the commonwealth, providing a much-needed buffer against prices that are artificially and temporarily higher due to inflation," Wolf said in a Monday statement. "Let's put this cash back in the pockets of Pennsylvanians, to help cover the higher costs of gas, groceries, and everything else.
Pennsylvania Republicans have rejected Wolf's proposal, contending that the relief payments would worsen inflation and bring up consumer costs. Wolf has disputed those claims, saying that his program is narrowly tailored enough, and the payments small enough, that it would account for less than one-tenth of one percent of the state's GDP.
While the U.S. inflation rate has begun to fall since peaking at 9.1 percent in June—the highest rate in 40 years—rising costs remain a top issue as Americans head to the polls in November.
A poll released by the Kaiser Family Foundation this month found that nearly 75 percent of voters say inflation and high gas prices are their top voting issues.
While Wolf's plan in Pennsylvania remains in limbo, other states have already begun rolling out relief checks to residents. In California, some are seeing tax refunds of up to $1,050, while an estimated 6.2 million taxpayers in Illinois are expected to see payments by September 12.
Next month, residents in Alaska will receive direct payments in the amount of $3,200—a move that was approved as part of the state's annual budget.
"This budget is more than a spending plan, it's a blueprint for Alaska's future," Republican Governor Mike Dunleavy said. "Budgets should reflect the values and ambitions of the people they are designed for, and I believe this legislation accomplishes that."
While the payment marks the second largest in Alaska's history, it is still a cut from the $5,500 payments initially approved by the state Senate. The state House would not sign onto it.