Stimulus Checks Aided Decline of Food Shortages, Depression and Financial Instability, Study Finds
A new study has found that material hardship experienced by Americans amid the coronavirus pandemic fell sharply with the two most recent stimulus checks sent out by the federal government.
The University of Michigan study, published in May by Patrick Cooney and H. Luke Shaefer, analyzed surveys conducted by the U.S. Census Bureau. Their findings were first reported Wednesday by The New York Times.
"We find that the delivery of robust, primarily cash-based assistance to U.S. households was followed by major declines in material hardship," the authors wrote.
Between December 2020 and late April 2021—during which Congress signed off on two expansive coronavirus relief measures—the study found rates of food insufficiency among U.S. households fell by over 40 percent.
During that same period, financial instability among American families fell by 45 percent and the share of respondents reporting symptoms of depression dropped by 20 percent.
The authors said the drop in material hardship was "particularly true for adults with children, and adults living in households with annual incomes less than $25,000, though we also see declines in hardship further up the income ladder too."
The number of low-income households (those making less than $25,000 per year) reporting food insufficiency fell by over 3 million between December of last year and April.
The federal government has given out three direct payments since the start of the pandemic. Under former President Donald Trump, eligible Americans were sent a $1,200 check under last spring's Coronavirus Aid, Relief and Economic Security Act and a $600 check under December's relief bill.
The third check, for $1,400, was part of President Joe Biden's $1.9 trillion American Rescue Plan, which was passed in mid-March.
"Over the past year, in a time of great economic uncertainty, when the federal government pushed cash into U.S. households, they in turn reported much better outcomes," Cooney and Shaefer wrote in their study.
While Biden hasn't committed to a fourth stimulus check, several progressive members of Congress are pushing for one, and some are calling for recurring monthly payments until the health crisis has ended.
A Change.org petition calling for monthly $2,000 checks for adults and $1,000 checks reached 2.25 million signatures this week.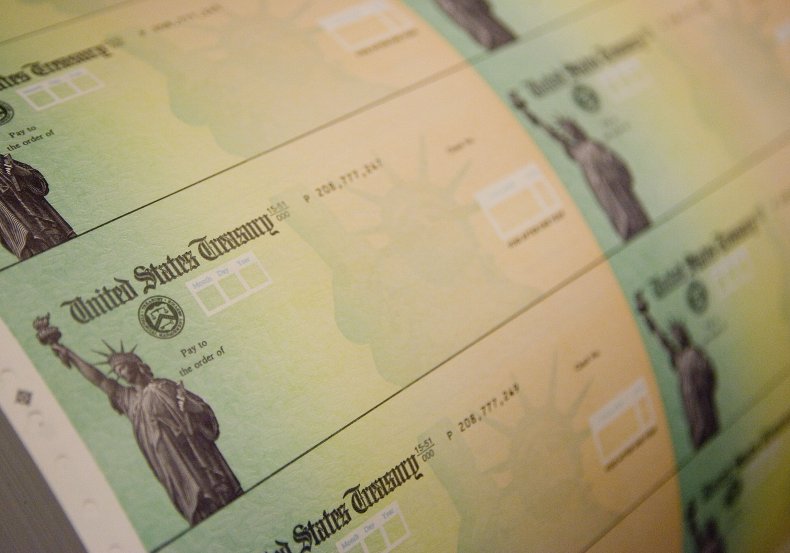 The authors of the University of Michigan analysis said there were three reasons the federal aid was so effective: how quickly the checks were sent to the bank accounts of eligible Americans, the broad-based nature of the income transfer and allowing people to use the money to meet their immediate needs.
"During the COVID-19 pandemic, the federal government used a flexible, broad-based, quickly deployed, cash-based safety net to respond to the greatest economic crisis in modern times. The evidence suggests that doing so went a long way in preventing widespread hardship. The success of this approach is worth learning from, and building off of, in the months and years ahead," the study concluded.
Newsweek reached out to Cooney and Shaefer for additional comment but didn't receive a response before publication.