Stimulus Checks to Americans Earning Over $50K Won't Boost Economy Before Pandemic Ends: Expert
With lawmakers preparing to vote on President Joe Biden's $1.9 trillion coronavirus relief package as early as Friday, the possibility that eligible Americans will receive another round of direct stimulus payments is fueling ongoing dialogue about their projected impacts.
The extent that a third wave of checks will deliver personal respite and economic revitalization has been widely debated among congressional leaders and civilians alike. While experts agree that the $1,400 checks included in Biden's proposal are necessary to assist millions of U.S. residents still confronting financial challenges as a result of COVID-19, they acknowledge that many individuals and families whose annual incomes meet criteria for payments are not likely to spend that money until the pandemic has ended.
Data collected in the aftermath of previous payment distributions—which came alongside the original Coronavirus Aid, Relief, and Economic Security (CARES) Act when the pandemic began last spring, and, again, in January — indicates that sending stimulus checks to individuals whose annual incomes are lower, generally below $50,000, is effective in that it provides necessary assistance and contributes to economic growth. Higher earners, however, are more likely to set the bulk of their payments aside in savings accounts.
A report conducted by economists at Opportunity Insights, a Harvard University think tank, found that the state of the U.S. economy on its own heavily contributed to disparities in spending between stimulus check recipients in different income brackets. After the first round of payments were dispensed in April, the report suggested that recipients spent at similar rates, regardless of income. The pattern changed following the more recent round of checks, with higher income earners spending just a small fraction of money received.
"The economy has changed a lot since April of 2020," said Michael Stepner, an incoming professor at the University of Toronto and current post-doctoral candidate at Harvard, who co-authored the study.
"If you look at the employment rates in April, the entire economy was suffering. For everyone, whether you were high income or low income, unemployment rates had spiked," he told Newsweek. "Since then, there's been a nearly full recovering in employment for higher-income workers in the United States."
Unemployment resumed pre-pandemic rates for many people earning at least $60,000 each year by summer 2020, Stepner noted.
"So, those higher-income workers have returned to their jobs, are making their typical salary, and they're spending less every month because there are fewer things to spend money on," he continued. "They're not going on vacations, they're not going to bars and restaurants. So they've been banking abnormally high levels of savings relative to previous years."
Opportunity Insights' report suggested limiting stimulus payments to individuals earning less than $50,000, and couples earning less than $75,000, per year. Payments included in the stimulus package currently headed to Congress offer checks, in their full amount, to individuals earning up to $75,000, and couples earning up to $150,000, per year. Stepner reasoned that more money distributed to Americans who are financially stable leaves less to spend on initiatives that target vulnerable groups.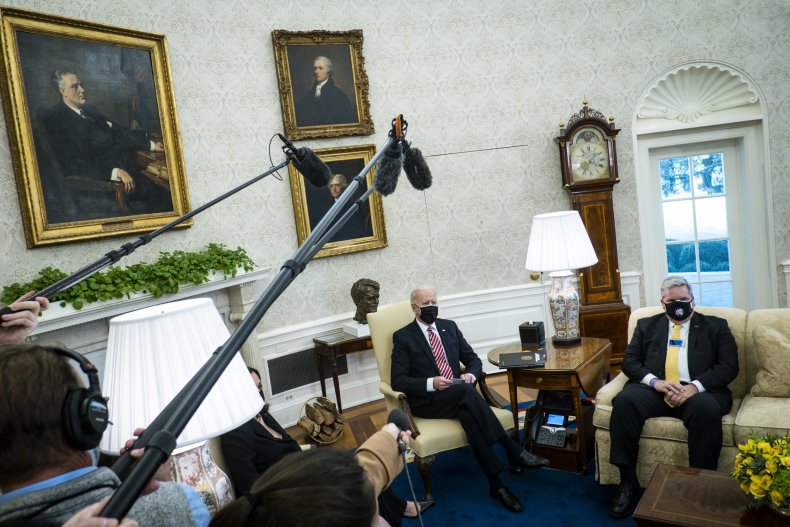 Other experts say lowering the income eligibility threshold for stimulus payments could be dangerous, since criteria is based on previous years' tax returns and employment situations have changed dramatically for much of the U.S. population since the emergence of COVID-19.
Heidi Shierholz, policy director at the Economic Policy Institute and former chief economist to Barack Obama's secretary of labor, is a strong advocate for stimulus payments and believes their benefits are crucial for struggling Americans as well as the nation's economic recovery—even if their full contributions to the economy take time to materialize. Shierholz was one of 120 economists who signed an open letter urging Congress to adopt Biden's plan to deliver $1,400 checks last November.
"One thing that's tricky is the stimulus payments have happened...in combination with increases in unemployment insurance and so it's hard to untangle [the individual effects of each policy]," Shierholz told Newsweek. "It's hard to separate the two, but those direct payments to people have had a big impact on the economy." She referenced research conducted by organizations like the Urban Institute, which showed that last year's stimulus payments and expanded unemployment insurance benefits prevented millions of people from entering poverty.
Shierholz and Stepner each recognized that broadly distributing stimulus payments inevitably means that some recipients will receive money they do not need to spend urgently, and public health restrictions implemented to slow transmission of COVID-19 will encourage higher earners to save more, and save for longer. Still, Shierholz pointed out that at least a portion of the money given to Americans with higher salaries will likely circulate back through the economy eventually.
"As people can fully engage in the economy and do the things they can't do now that cost money, some portion of the money that's being saved now will go towards, you know, trips next year that people aren't taking now but they're saving up for," she said. "So, I think we'll see, even if we're not seeing it now, we'll see some of it once the economy, quote-unquote, reopens."