Stimulus Checks Are Already Being Spent. Here's Why You Haven't Received One
After President Donald Trump signed the $900 billion coronavirus relief package approved by Congress, the Internal Revenue Service (IRS) and Treasury Department have started sending out the second round of stimulus checks.
The payments are generally $600 for singles who earned less than $75,000, and $1,200 for married couples who filed taxes jointly and earn less than $150,000. Those earning more are set to receive reduced payments.
People with qualifying children will also receive $600 for each child. Dependents who are older than 17, however, are not eligible for the additional payment.
Treasury Secretary Steven Mnuchin said Tuesday that direct deposits for each eligible man, woman and child have started. He also stated paper checks would be mailed out beginning December 30.
In the $900 billion stimulus bill, Congress set a January 15 cutoff date for the IRS to send stimulus payments, leaving just 17 days to process more than 100 million payments since the first payment was released on December 29.
Despite direct deposit payments being sent out, the IRS has said that those payments may be marked as "pending" or "provisional" until January 4, according to CNET.
If the IRS doesn't have your current direct deposit information on file, you will be sent a check through the mail, which could take more time to make it to your pocket compared to direct deposit.
Paper checks accounted for 22 percent of payments for the first round of stimulus checks, according to the Treasury Department.
The IRS said people can track both their first and second payments through its "Get My Payments" portal. However, as of Sunday afternoon, the portal was offline.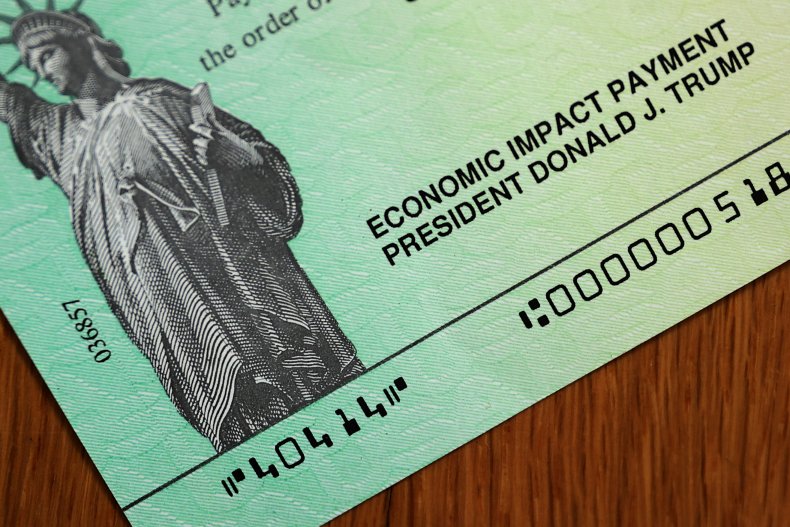 "We are working swiftly to distribute this second round of payments as quickly as possible. This work continues throughout the holidays and into the new year as we prepare for the upcoming filing season. We urge everyone to visit IRS.gov in the coming days for the latest information on these payments and for important information and assistance with filing their 2021 taxes," the IRS said in a release published on December 29.
If you don't receive your stimulus check in full by January 15, you will need to claim the missing amount when you file your federal tax returns in 2021 through the IRS Recovery Rebate Credit. You can also claim any money the IRS owes you from the first stimulus package through the Rebate Credit.
Additionally, Americans awaiting payments by direct deposit or mailed paper checks should be warned about scams.
The Federal Trade Commission (FTC) has issued warnings that the government will not call, text or email you asking for your Social Security number, bank account or credit card details. The FTC also warned the government will not ask for any payment upfront in order to collect your stimulus check.
"Anyone who does is a scammer," said the FTC in a December 22 statement.
Newsweek reached out to the IRS, but didn't hear back in time for publication.