House Speaker Nancy Pelosi's refusal to budge on the proposed $3.4 trillion stimulus package has left even fellow Democrats critical of the hefty price tag.
"That's pretty healthy," West Virginia Senator Joe Manchin told CNN on Tuesday. "I want to be fiscally responsible...That might be a little bit more than we have an appetite for."
The Democrat has also been critical of Senate Majority Leader Mitch McConnell for being uncooperative in deal talks.
"Mitch McConnell being the leader of the Senate right now, being the majority and being the leader setting the agenda, has not brought any of us together to work," Manchin told Fox News on August 1. "So, we're working the back halls right now. Democrats and Republicans talking to each other, what we can agree on. Even though Mitch McConnell might not be talking to Chuck Schumer, we're trying to see if there's a pathway forward."
McConnell has chosen not to join closed-door discussions with Pelosi and Senate Minority Leader Chuck Schumer, leaving it up to Treasury Secretary Steven Mnuchin to find some agreement between the two sides on a federal relief bill.
Pelosi's unwillingness to negotiate for anything less than the $3 trillion-plus bill has left the nation's second stimulus package in a lockout. After McConnell rejected the ambitious proposal, he put forward a GOP plan much closer to $1 trillion.
Newsweek reached out to Mnuchin for comment but did not hear back before publication.
Pelosi, Schumer, Mnuchin and White House chief of staff Mark Meadows met for the seventh time on Tuesday. The two sides agreed to try and cut a deal by the end of the week. However, neither side wants to compromise on their proposed budgets.
"We're not going anything close to $3.4 trillion," Manchin told CNN Tuesday. "That's just ridiculous."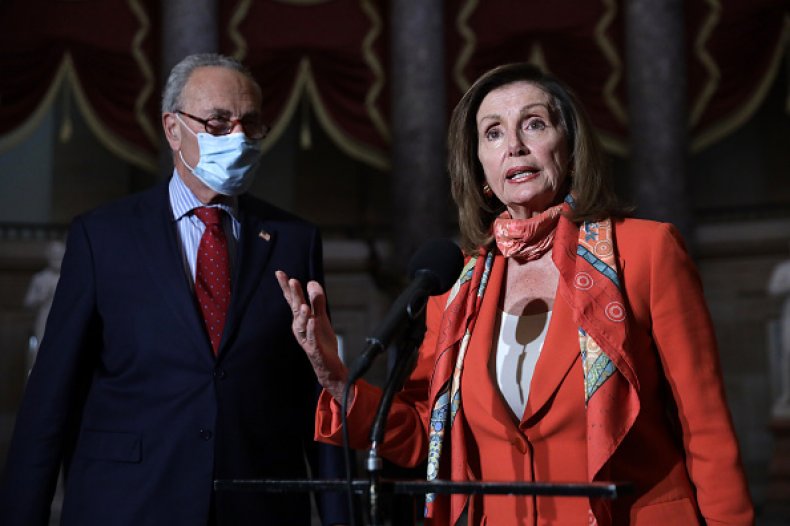 House Majority Leader Steny Hoyer announced on Friday that a planned August recess could be canceled due to ongoing negotiations. If a deal can't be reached by the end of the week, the House will remain in session until an agreement on the bill is reached.
"It is expected that the House will meet during the month of August," Hoyer said on the House floor Friday. "I have told my members, and I have told the minority leader and WHIP that no one should schedule themselves for next week or until such time as we adopt COVID-19 legislation."
It is unclear whether Senate will still break for recess, although members on both sides of the aisle have expressed that no one should be going home without a deal.
Republican Senator Lindsey Graham said he agreed that August recess should be canceled in the case that a bill isn't agreed upon before the break.
Democrat Congresswoman Kendra Horn from Oklahoma tweeted her support for the Senate to continue working through the summer on Friday, writing "Congress must stay and find a bipartisan path forward on the next stimulus. We make a deal, or no recess. It's that simple."
Pelosi said there is "a clear understanding" between two sides as to how the federal funds would be spent but, "You have to show how you would spend it, in addition to establishing the need, have it work, and why that much money, and once we come to an amount, and I think we'll come to an agreement."
Newsweek reached out to Pelosi for comment but did not hear back before publication.