Stimulus Checks and Expectations About Future Payments Fueled Retail Sales Surge, Experts Say
Experts believe that U.S. retail sales rose significantly in January due the recent round of $600 stimulus checks and expectations that further checks will be issued.
Figures released Wednesday by the U.S. Census Bureau show that retail sales shot up by 5.3 percent for the month of January, greatly exceeding expectations. Sales had dropped by 1 percent in December. The new sales numbers were also 7.4 percent higher than those seen in January 2020, before the COVID-19 pandemic began to take a devastating toll on the economy. Economists believe that more good news could be on the way soon.
"We expected retail spending to ramp up in January thanks to the latest round of stimulus checks and better covid trends, and it clearly did," Jack Kleinhenz, chief economist for the National Retail Federation, said in a statement obtained by Newsweek. "There was none of the falloff in spending that we often find post-holiday and the increase was even better than expected."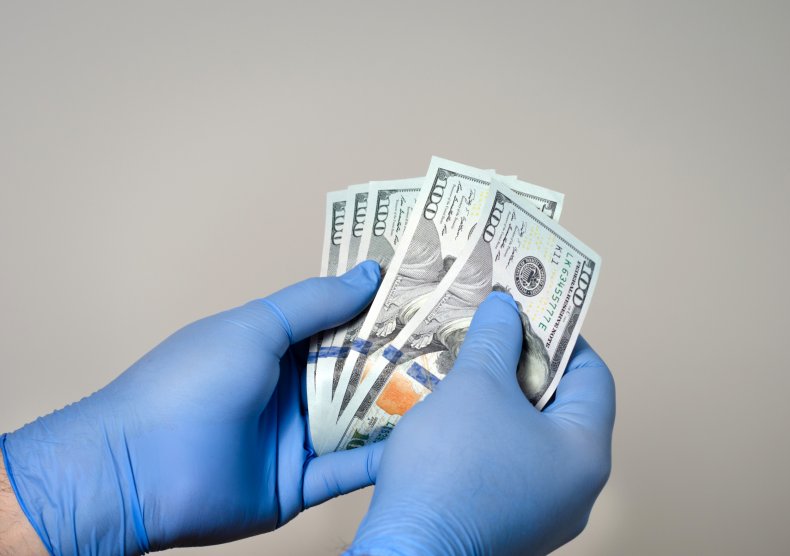 "Confidence is building thanks to the availability of COVID-19 vaccines and states and local governments are beginning to remove restrictions on economic activity," added Kleinhenz. "Going forward, I expect consumer spending to build on this momentum."
Many Americans began to receive the $600 stimulus checks in early January. Sales at department stores became particularly robust soon after, rising 24.5 percent between January and December. Electronics stores also saw a strong increase of 14.7 percent from December figures, while furniture stores experienced a 12 percent sales boost.
Although sales increases were seen across all sectors, the spike was less dramatic for sales related to transportation, likely due to many Americans continuing to spend most of their time at home due to the pandemic. Regardless, gasoline sales increased by 4 percent and auto supply stores saw a boost of 3.1 percent.
"That's a function of people's lifestyles changing during the pandemic, staying at home, not going to work, not going to the gym—that seems to have continued," David Swartz, an equity analyst at Morningstar Research, told NBC News.
A possible new round of $1,400 stimulus checks, a key provision in President Joe Biden's $1.9 trillion COVID-19 relief package, could result in a continued increase in sales. Some experts have suggested that the January increase was fueled at least in part by the expectation that further checks would be issued soon.
"Obviously, the numbers were great relative to expectations, although I think everyone's taking it with a grain of salt," Lizabeth Dunn, operating partner at Consumer Growth Partners, told the outlet. "Stimulus seems to have played a large part... it's the money that's been sent already, the extension of unemployment benefits as well as expectations about future stimulus."
As the new stimulus package continues to be debated in Congress, Democrats are moving forward with elements of the proposal using the budget reconciliation process, which could allow for items like an extension of unemployment benefits and the $1,400 checks to be passed within weeks even without bipartisan support.
Distribution of COVID-19 vaccines could also be a significant factor in the sales boost. Sam Stovall, chief investment strategist at CFRA Research, told NBC that the new vaccines were "probably the pivot point" for the recent uptick in sales. He suggested that consumers were likely spending more of their money because the vaccines are making them feel "more confident that if they have avoided the virus thus far, they will likely avoid the virus in the future."