Stimulus Checks Have Bipartisan Support and Mark Meadows Expects Deal Before Election
The Senate's return from its August recess marked a day of renewed optimism for White House chief of staff Mark Meadows, who expects Congress to reach a deal on a new coronavirus relief package by November 3.
Speaking to Fox Business' Maria Bartiromo on Tuesday, Meadows said senators are going to "hit the ground running" with regard to their work on a new bill. Given the support among Democrat and Republican members of Congress for another round of aid, he said that he saw room for a compromise and that a package would come together before the election.
While a package can change as negotiations carry on, Meadows said there is a "broad-scale agreement" on enhanced unemployment benefits, aid to schools and small businesses, and another round of stimulus checks. The "stumbling block" in the discussions is the amount of aid to give to state and local governments.
Democrats are pushing to allocate $900 billion in funds to state and local governments to help with the fallout from the pandemic. Republicans, however, are holding firm in their belief that $150 billion will be enough to fill any budget gaps, criticizing the other side of the aisle for using the pandemic to bail out poorly run Democratic states.
"It's not where the needs are," Meadows told Bartiromo, adding that Republicans are looking for targeted relief to "those people who need it most."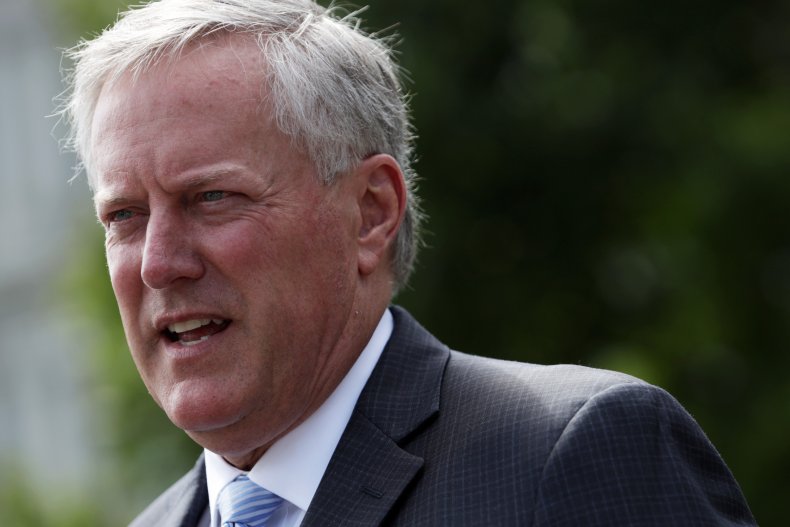 The White House and Republicans have clashed with Democrats over issues pertaining to the postal service, but Meadows said he doesn't see it holding up a package. The two sides haves also butted heads on how to extend federal unemployment payments, with Democrats pushing for a continuation of the $600 payments provided in the CARES Act and Republicans pushing for reduced relief so people will not be paid more to not work.
Despite not seeing entirely eye to eye on the issue, Meadows, who is representing the White House in negotiations with Democratic leaders, told Bartiromo he thinks the two sides can "get there" with regards to the unemployment benefit.
"I'm not so pessimistic that that is a stumbling block," Meadows said. "If we can push back and say, 'Let's come together on what we agree upon,' it'll provide a foundation for getting there."
Several measures of the CARES Act expired at the end of July, and weeks of talks between the White House and Democratic leaders failed to bring up a bipartisan package for a vote in Congress. With a trillion-dollar gap between what the two sides want for the price tag, Senate Majority Leader Mitch McConnell wasn't confident there'd be a deal both sides would support.
Senators are set to vote on a relief package this week, albeit a slimmed-down version. On Tuesday, McConnell announced the Senate Republican majority would introduce a "targeted proposal." He didn't offer a price tag, and it's unclear if stimulus checks will be included, but McConnell acknowledged the proposal wouldn't include "every idea our party likes."
House Speaker Nancy Pelosi and Senate Minority Leader Chuck Schumer criticized the proposal for not being "close to addressing the problems." They also characterized it as being "laden with poison pills" that Republicans know Democrats won't support.
Despite their differences, Meadows said he believed there would be a deal before the election because of the pressure members of Congress are putting on party leadership. "I'm more optimistic today than perhaps I've been in a long time," he said.
Newsweek reached out to Pelosi for comment but did not receive a response in time for publication.