Trump Wanting Stimulus Checks in People's Pockets Is Democrats' Leverage in Negotiations, Pelosi Says
House Speaker Nancy Pelosi says she believes she's found President Donald Trump's Achilles' heel in negotiations over a new coronavirus relief package: his desire to send out stimulus checks to people.
After months of starting and stopping talks, Pelosi and Treasury Secretary Steve Mnuchin, who is leading negotiations for the White House, made progress on Tuesday but had yet to reach a final agreement on another round of relief. In a hopeful step forward, they instructed committee chairs to work out the funding and language of a bill, and with just two weeks until the election, it's still possible a deal could happen.
That countdown, Pelosi told SiriusXM's Joe Madison Show on Wednesday, is helping Democrats hold out for the provisions they consider necessary.
"The president needs this legislation. He wants that check to go into people's pockets. He doesn't care about any of the rest of it in terms of what it does for working families," Pelosi said. "So that's our leverage, you know, that he wants that, and that's how we're going to try to get the rest of it."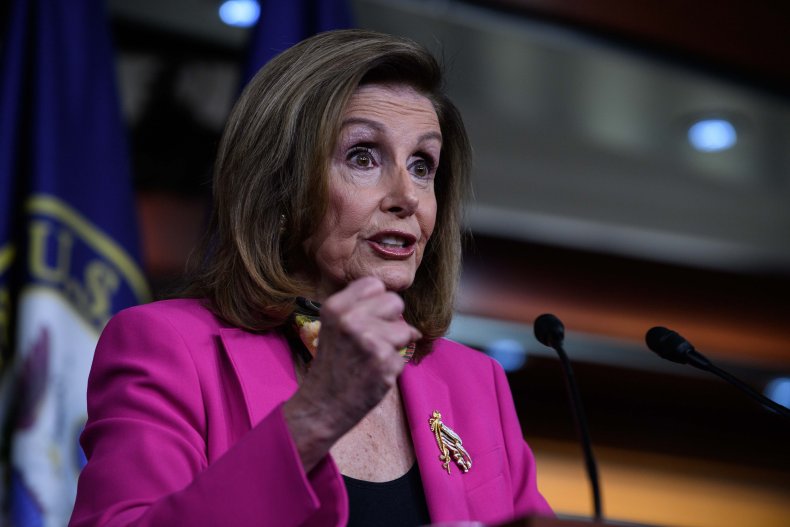 Democrats are looking at a $2.2 trillion price tag for their package, while the largest offer to be publicly put on the table from the White House is a $1.8 trillion plan. However, Trump has said he would go even bigger, opening the door to the possibility of a larger package. On October 6, he said that he would sign a bill for another round of stimulus checks and that they would "go out to our great people immediately." He put the onus on Pelosi for getting a deal done during a Fox & Friends interview on Tuesday, saying his side of the aisle was ready to move forward.
"The President wants to send stimulus checks to workers because he knows they need direct relief," Benjamin Williamson, White House senior communications adviser, told Newsweek. "It's telling that the Speaker is openly admitting she's holding financial support for Americans as a leverage play."
There's still a chance, albeit slim, that people could receive the checks before the election. In August, Mnuchin said he could start sending out payments a week after a deal is done, so technically there's still enough time between now and the election. But with the way the legislative process works and Supreme Court nominee Amy Coney Barrett's upcoming confirmation vote, it would be a tall order get the payments sent out before November 3.
Pelosi told The Joe Madison Show that Democrats also want the "purchasing power" to be in Americans' pockets. But her party can't "abandon" the necessary funding for education, health, and state and local government aid just for a $1,200 stimulus check, "as important as that is," she added.
Along with differences on state and local funding, how the money would be spent and the wording of a bill, Pelosi said an obstacle in relief reaching the American people could be Senate Majority Leader Mitch McConnell. He has publicly disagreed with the high price tags being floated for a relief package, but he said Tuesday that he would bring a White House–backed bill to the Senate for a floor vote.
Pelosi said it's up to Trump to "take care of" McConnell and convince Republicans to get on board with a bill. The president's ability to persuade McConnell will be a deciding factor in whether there will be a deal before the election, the speaker said.
At this point, the two sides have exchanged the language they want for a bill. With their positions frozen, Pelosi said, they'll meet and determine if "this is a go or no go."
This article has been updated with comment from the White House.