Stimulus Checks, Unemployment, Liability Protection and School Funding: Where Democrats, Republicans Agree, Disagree
After a "productive" round of talks on Monday, Democrats and Republicans said they're making progress on a coronavirus relief package, but there are at least three issues on the table legislators can't seem to see eye-to-eye on.
Legislators are working against the clock to pass the fifth round of coronavirus relief and they only have days to come to an agreement before senators are scheduled to leave Washington, D.C. They've managed to agree on at least one part of the bill, but when it comes to liability protections, school funding and expanded unemployment, the two sides remain divided.
"We made a little bit of progress," Treasury Secretary Steve Mnuchin said on Monday. "The president wants us to get a deal."
Republicans presented their own package on July 27, two months after the Democrat-led package, the HEROES Act, passed in the House. Days of negotiations went nowhere, with Democrats chastising the plan for failing to go far enough and Republicans accusing Democrats of being unwilling to break from their "wish list."
Stimulus Checks
Mnuchin, White House chief of staff Mark Meadows, Speaker Nancy Pelosi and Senate Minority Leader Chuck Schumer are leading the charge in negotiations and their discussions turned a corner on Saturday. The two sides came to an agreement on a second round of stimulus checks, Mnuchin told reporters on Sunday, which are likely to resemble the first round.
President Donald Trump supports the "exact same amount" as the first round, but Mnuchin said there are "minor changes" to provide payments to additional people. He didn't specify who would benefit from the expansion, but it's possible it could be indicative of increased eligibility for dependents.
The CARES Act afforded $500 payments for dependent children under the age of 17. The HEALS Act takes it a step farther to include dependents of any age, a provision that would include at least 26 million people, according to the Tax Foundation.
Democrats and Republicans agreeing on stimulus checks isn't entirely surprising, as Trump supported the measure for months and expanding eligibility to all dependents was included in the HEROES Act. Democrats also wanted stimulus checks to include undocumented immigrants who weren't eligible under the CARES Act, but it was unlikely to gain support from the GOP.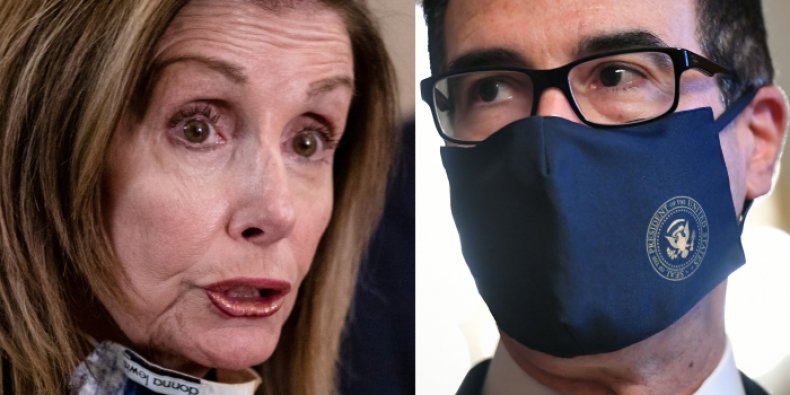 Unemployment Insurance
One of the greatest sticking points in the negotiations is expanded unemployment insurance. Democrats want to continue the expanded $600 per week benefits afforded under the CARES Act for another year. Republicans want to cut payments to $200 per week until systems can be updated to reimburse a person for about 70 percent of their lost wages.
A two-hour meeting on Monday did little to bring them together on the topic, Pelosi and Schumer said during a briefing. When asked if they've made "any progress on unemployment," Schumer said Mnuchin and Meadows are "sticking to their position."
"We're sticking to ours," Pelosi added.
Pelosi opened up the possibility that their position could shift in the direction of lower payments if the unemployment rate falls, she told CNN. But, at a time when coronavirus deaths and infections are rising and unemployment is still high, cutting benefits is "just not going to happen."
Liability Protection
Another area of the bill that Democrats and Republicans remain far apart on is the issue of liability protection. Senate Majority Leader Mitch McConnell, who isn't directly involved in negotiations but is briefed on the conversations, won't bring a bill to the floor if it doesn't include protections from lawsuits for businesses, schools and other entities. Schumer and Pelosi indicated Democrats are unlikely to pass a bill with liability protection, though.
The White House doesn't have a strong position on the issue, Meadows told Bloomberg on Friday, but the administration supports McConnell's hard line on liability protection.
School Funding
A "good deal of time" of Monday's negotiation was spent on school funding. Democrat- and Republican-backed packages offer similar amounts of funding for schools, but the two sides are split on how to allocate funds.
Trump is pushing hard for schools to open in the fall and the GOP's HEALS Act ties funding to in-person classes. Of the $70 billion allocated for grades K-12, about $44.6 billion will be given to schools that reopen for in-person instruction and schools that submit plans for physical attendance of at least 50 percent of the week will automatically be approved for funding.
Before the GOP presented their plan, Trump floated the possibility of withholding funding from schools if they don't reopen, a move Pelosi criticized. "It's completely upside down," she told MSNBC on July 15.
Despite disagreements, Schumer said there seemed to be a "desire" to get a deal done and Pelosi told reporters the two sides are "moving down the track." Even if the two sides were able to come to an agreement before the Senate is set to leave town this weekend, it's likely a vote would take place next week, meaning they'll have to delay the recess, Bloomberg reported.