As Stimulus Deadlock Continues, COVID Unemployment Benefits Have Run Out for Nearly 1 Million
Nearly one million Americans have received their maximum allotted unemployment insurance payments, leaving them with no income as congressional representatives remain gridlocked over a stimulus package to help businesses and out-of-work Americans.
An analysis of Labor Department and Treasury Department data by the Century Foundation, a progressive think tank, found that an estimated 933,731 people have maxed out their benefits since March when the U.S. coronavirus pandemic began.
"By the end of year, millions more Americans will have run out of jobless aid and have no access to federal extended benefits," the Century Foundation wrote.
"Workers are now faced with the news that no additional federal benefits will be coming to replace the $600 per week Pandemic Unemployment Compensation (PUC), which expired on August 1 or the $300 Lost Wage Assistance program, which ran out on September 6," the Century Foundation continued.
The foundation estimates that an additional 20.8 million Americans still receiving unemployment benefits will now only receive $200 to $300 a week unless a future stimulus package includes additional federal benefits. Millions more will run out of jobless aid with no access to federally extended benefits by the end of the year, the group says.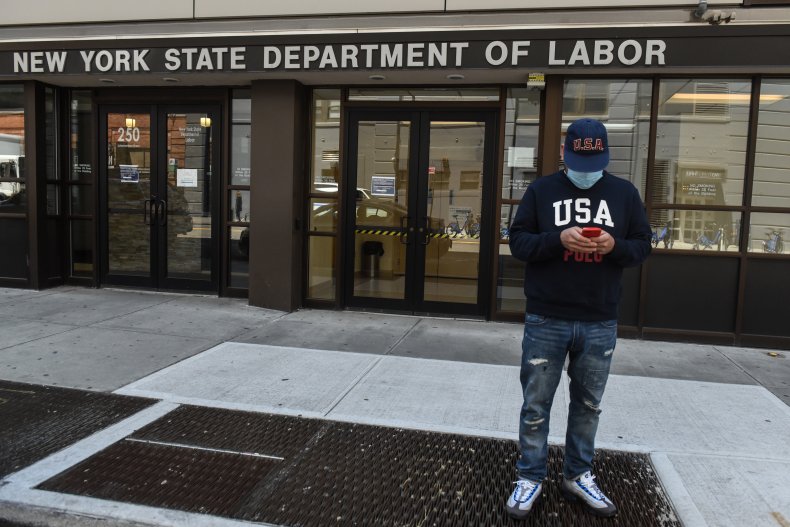 Last week, Democratic House Speaker Nancy Pelosi of California said that Congress would need to sign off on a bill by Tuesday evening in order for it to be signed into law by Election Day. Pelosi extended the deadline after hinting that Treasury Secretary Steven Mnuchin and the Democrats were "on a path" to an agreement.
On Tuesday, Pelosi said she felt "optimistic" about a compromise bill she had began writing. She said it would need to be fully written by the end of the week in order for it to possibly be passed by Election Day.
In May, Democrats called for a roughly $3.4 trillion package. Congressional Republicans and the White House quickly dismissed the proposal, calling it a "wish list." At the start of October, Democrats introduced a $2.2 trillion version. The White House later counter-offered a $1.8 trillion package, which Pelosi refused.
Pelosi was criticized by progressive Democrats and political pundits for not accepting the White House's offer. The Speaker defended her position, saying that it eliminated funding for unemployment relief, childcare and personal protective equipment while including tax cuts for the wealthy.
A poll released on Tuesday found that swing-state voters almost equally blamed Pelosi and Republican President Donald Trump for Congress' failure to reach a stimulus deal.
Newsweek contacted the White House for comment.