Stimulus Deal Pressure Mounts on Steve Mnuchin as Nancy Pelosi's Deadline Looms
Treasury Secretary Steve Mnuchin faces increasing pressure to facilitate a stimulus deal as a deadline set by House Speaker Nancy Pelosi (D-CA) for a bipartisan package to be finalized before Election Day looms.
Pelosi spoke with Mnuchin on Saturday, as part of their ongoing negotiations aiming to reach a bipartisan deal and the pair are due to talk again on Monday.
He has previously downplayed the chances of an agreement coming to fruition before November 3. Lawmakers and voters have also expressed doubt over this being possible.
Following their talks, Pelosi said the administration had 48 hours to come back with sufficient amendments for relief to be enacted prior November 3.
Detailing their call, which lasted just over an hour, Pelosi's deputy chief of staff Drew Hammill said there "remains work to do to ensure there is a comprehensive testing plan that includes contact tracing and additional measures to address the virus' disproportionate impact on communities of color."
"There remains an array of additional differences as we go provision by provision that must be addressed in a comprehensive manner in the next 48 hours. Decisions must be made by the White House in order to demonstrate that the Administration is serious about reaching a bipartisan agreement that provides for Americans with the greatest needs during the pandemic," he said.
Speaking on ABC's This Week, Pelosi said the 48-hour deadline did not signal an end to a deal entirely should it not be met—just that this was the timeline needed for an agreement to come prior to November 3.
Asked directly "are Americans going to get relief before election day?" she said: "Well, that depends on the Administration. The fact is, is that we cannot—the heart of the matter is to stop the spread of the virus."
Pelosi's comments pile further pressure on Mnuchin, after Trump appeared to question his work last week by suggesting he had not "come home with the bacon."
The president, speaking to Fox Business, said he would go higher in spend on stimulus while suggesting China would somehow cover the costs. The cost having been a point in contention between Democrats and the GOP during discussions.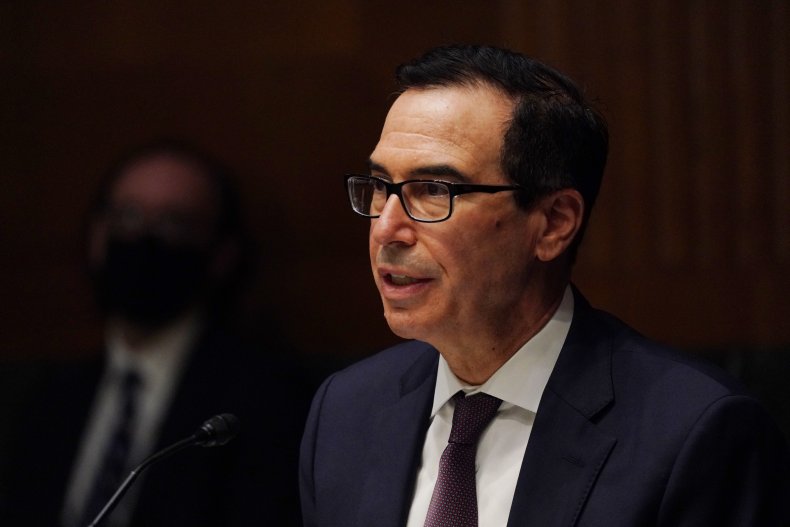 On Sunday, when asked about stimulus, Trump said he wanted to do it and hinted that he could be willing to go higher in spending than Pelosi has suggested she wants.
However, he acknowledge this might be an issue with Republican lawmakers, with the Senate GOP having pushed back against higher spending.
"We want to do it. I want to do it at a bigger number than she wants," he said. "That doesn't mean all the Republicans agree with me but I think they will in the end. If she would go along I think they would do, with stimulus."
While topline spend has been a point of contention, Pelosi has insisted what is covered by the package is the more important aspect than the overall budget.
On Sunday, she outlined her stance that there were issues in "the language" of a potential bill—though expressed that she was hopeful of agreement.
Newsweek has contacted Pelosi, Mnuchin and the White House for comment.