Donald Trump May Target Mitch McConnell, Senate GOP in Stimulus Blame Game if Push Fails
With Donald Trump's push for a stimulus package facing questions from Senate Republicans, the president may be eyeing up points of blame should he fail to secure a relief deal prior to Election Day.
While Democrats have long been a focal point of his ire, lawmakers in the GOP could also be a target should he want to deflect responsibility.
Though Trump disagrees with House Speaker Nancy Pelosi (D-CA) on specific aspects of a deal, he is willing to spend higher amounts as she desires—insisting he would even top amounts she has requested. However, this has put him on a collision course with the Senate GOP, due to members being against what they deem to be excessive costs.
Senate Majority Leader Mitch McConnell (R-KY) is reported to have warned the White House against securing a deal with the Democrats, as it could split the Republican ranks.
Lawmakers going against Trump on such a major point prior to Election Day could put them in his firing line, should their actions result in a perceived failure for the president.
"Presumably if a relief bill fails to pass and he is defeated by Biden, he can blame Senate Republicans and Democrats alike for hanging him out to dry," Ruth Bloch Rubin, assistant professor in the University of Chicago's department of political science, told Newsweek.
"I suppose that if Trump manages to win reelection, but Republicans lose the Senate, he might be able to deflect some of the GOP's unhappiness by making the argument that McConnell is to blame, for failing to make a deal with House Democrats, rather than acknowledge that many Republican senators were made vulnerable by his own unpopularity."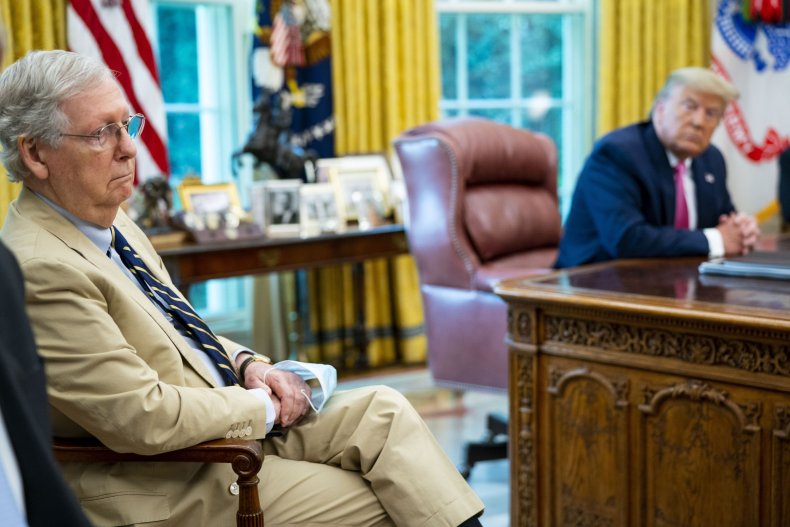 Trump has long expressed his own desire for a deal to be done, voicing openness to spending more money or signing a series of smaller bills in a piecemeal fashion—consistently attempting to move the onus on to Democrats for the ongoing stalemate.
Pelosi has in turn fired back against this, suggesting the president is not taking the situation seriously and insisting the contents of a bill—not the topline spend—are her priority.
With the president potentially fighting a losing battle in securing the kind of package he wants, he may look to run damage control by finding somewhere else to position responsibility.
"Trump is ready to blame Democrats and Republicans if the stimulus deal fails," David McLennan, professor of political science at Meredith College, told Newsweek. He referred to Trump's recent criticisms of senators such as Ben Sasse (R-NE) as evidence of his willingness to target those among his own party's ranks.
"In addition, he will also blame Democrats if they fail to compromise on the specific elements of the stimulus bill," McLennan added.
"Although Trump is a very difficult position on the stimulus, he will never take responsibility for its failure and full credit if the bill arrives on his desk."
However, due to the bind that Trump is in—with a spread of disagreements across party lines on what he wants—he might fail to shift the blame.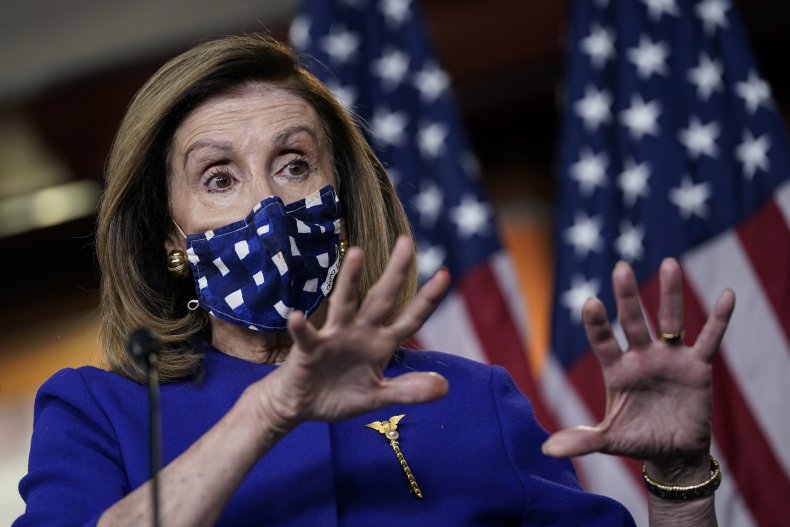 "The difficulty with Trump's recent support for a larger stimulus bill is that he disagrees with Democrats on the particulars of the bill. Democrats want money for state and local governments impacted by the pandemic, but Trump is against such provisions, especially money that would go toward states run by Democratic governors and legislatures," McLennan said.
"So, Trump is in the worst kind of bind, favoring a large stimulus package not supported by members of his own party, but also not wanting details that would gain Democratic support. In the end, Trump may have no one but himself to blame for the lack of a stimulus bill."
Justin Buchler, associate professor at the department of political science at Case Western Reserve University, similarly told Newsweek the president may be trying to manage public opinion and shift blame should he need to.
"A deal as Trump envisions it is unlikely at this point, so Trump is more likely trying to shift blame and manage the polls," he said.
"In Trump's ideal world, he would mail out checks to voters with his name on them, arriving right before election day, but it is probably too late for that."
On the issues as to why the situation is where it is, Buchler suggested Trump's shifting positions were the problem. For example, Trump had previously said he was ending negotiations until after the election, before they swiftly resumed.
"To the degree that Trump has made a tactical mistake, it is the same mistake he usually makes, which is that he doesn't articulate a single demand, and adhere to it. If Democrats, and even Senate Republicans are unsure what his position will be a week later, bargaining with him is extraordinarily difficult, not because one must make concessions to him, but because it is difficult to know what his real position is," Buchler said.
"By trying to outbid Pelosi, Trump is trying to shift the blame back to the Democratic Party, and given that goal, it probably doesn't matter that Senate Republicans wouldn't pass a package that large. If nothing can pass anymore anyway, the only question is who takes the blame, and from Trump's perspective, if he looks like he is making an effort, he may be able to shift the blame back to Democrats."
While McConnell has reportedly questioned the White House securing a deal with Democrats, he did commit to putting such an agreement to a vote on the Senate floor—though did not confirm whether that would come before Election Day.
Amid ongoing talks between Pelosi and Treasury Secretary Steve Mnuchin, the House speaker said she is optimistic a deal can be reached and that a compromise bill is in the works.
It comes amid consistent polling suggesting the public is in favor of further stimulus, with points such as another round of Economic Impact Payments, also referred to as stimulus checks, receiving bipartisan support.
Newsweek has contacted the White House, McConnell and Pelosi for comment on the situation with stimulus.
The discussions over further relief come with the number of confirmed cases of COVID-19 across the U.S. surpassing 8.2 million, according to Johns Hopkins University figures.
The below graphic, from Statista, shows the countries with the most confirmed cases as of October 19.