Stimulus Deal Still Nowhere in Sight After Pelosi, White House Briefly Rekindle Talks
A nearly 30-minute phone call between House Speaker Nancy Pelosi and White House chief of staff Mark Meadows on Thursday yielded little—if any—progress on a coronavirus stimulus package that's been stalled for weeks.
Democrats and the Trump administration still cannot even agree on a total price tag, much less the particulars that such a massive spending bill would include for measures like unemployment insurance, liability protections, U.S. Postal Service aid, money for schools reopening, rental assistance and more.
Pelosi maintained her position that if the White House will meet Democrats about halfway between the cost of their dueling proposals—roughly $2.2 trillion—they can strike a deal. However, she refuses to move lower, while the White House isn't budging from it's original proposition of $1 trillion.
"We can't go any less because we have to meet the needs of the American people," the California Democrat told reporters following her conversation with Meadows. "We will not shortchange them, we will not nickel and dime them."
The White House did not respond to Newsweek's request for comment.
Democrats have pushed for a $3.4 trillion package while Senate Republicans and the White House crafted a trimmed-down $1 trillion bill.
"This is not about dollars, this is about values," Pelosi later added in a statement. "This conversation made clear that the White House continues to disregard the needs of the American people as the coronavirus crisis devastates lives and livelihoods."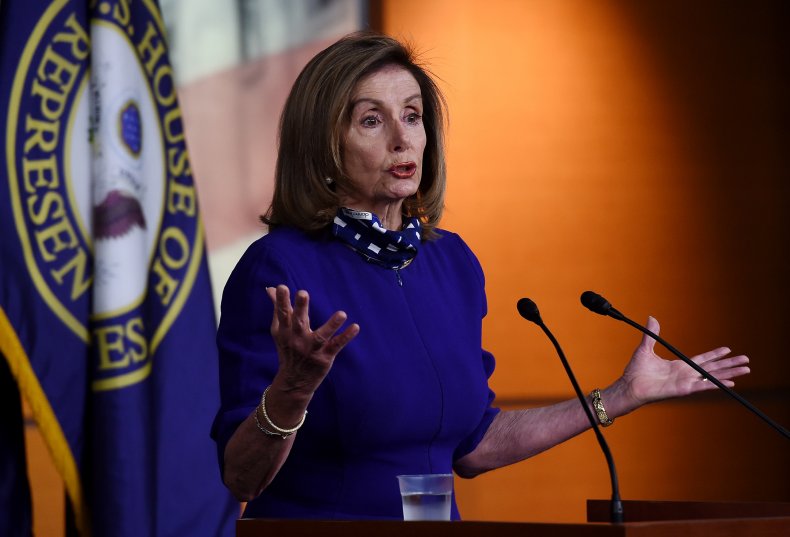 Congress has been on recess since early August, with the House returning briefly last weekend to pass an emergency funding bill for the Postal Service to handle the expected influx of mail-ballots this Fall. Neither chamber is slated to return for nearly another two weeks until after Labor Day.
Lawmakers and the White House failed to cobble together any sort of relief package before recess over major roadblocks regarding unemployment insurance, school funding, Postal Service aid, rental assistance and relief for states, among other things. Virtually the only matter that all sides could agree upon was another around of $1,200 checks for Americans, which even that provision had Republicans divided.
The impasse led President Donald Trump to issue a series of executive orders, which included a payroll tax cut, some evictions protections and a weekly jobless benefits supplement that was reduced from $600 to $300, and student loan relief.
Pelosi gave a blunt response when asked about the prospects of another conversation with the White House.
"When they're ready for $2.2 trillion," she said.