Stimulus Deal Unlikely Before Election Day as Senate Democrats Block GOP's 'Targeted' Relief
A scaled-down coronavirus stimulus offered by Senate Republicans was blocked on Thursday from advancing in the upper chamber thanks to Democratic opposition.
The failed endeavor represented the partisan gridlock that's persisted for months, with few in Washington confident that an agreement to help the American people will be able to pass until after the November election.
"When facing any great trial, one of the most important things for those in positions of leadership to do is to tell people the truth about the challenge that's before us, no matter how hard it is to deliver that truth," Sen. Marco Rubio (R-Fla.) said in a Twitter video. "Congress is not going to pass another COVID relief bill before the election."
Sen. Pat Roberts (R-Kans.) labeled relief efforts "sort of a dead-end street."
Republicans' roughly $500 billion economic proposal was defeated 52-47, failing to reach the required 60-vote threshold to proceed to a final vote. However, GOP leaders still praised the majority vote for only having one Republican defector—Rand Paul of Kentucky. Zero Democrats supported it. Democratic Vice Presidential nominee Sen. Kamala Harris (D-Calif.) was absent.
Republicans have pushed to approach the partisan disagreements in a more piecemeal fashion to get at least something accomplished, a move that also allows them to coalesce their own members more easily around legislation following intraparty disagreements this summer. Democrats have said their GOP colleagues have been unwilling to return to the negotiating table and offer a significant package to adequately address the ongoing crisis.
"They can keep trying to make this an abstract argument over leverage or an infinite set of things that aren't in the bill or whether the White House chief of staff has been polite to them, or whatever new excuse they'll settle on today," said Senate Majority Leader Mitch McConnell (R-Ky.).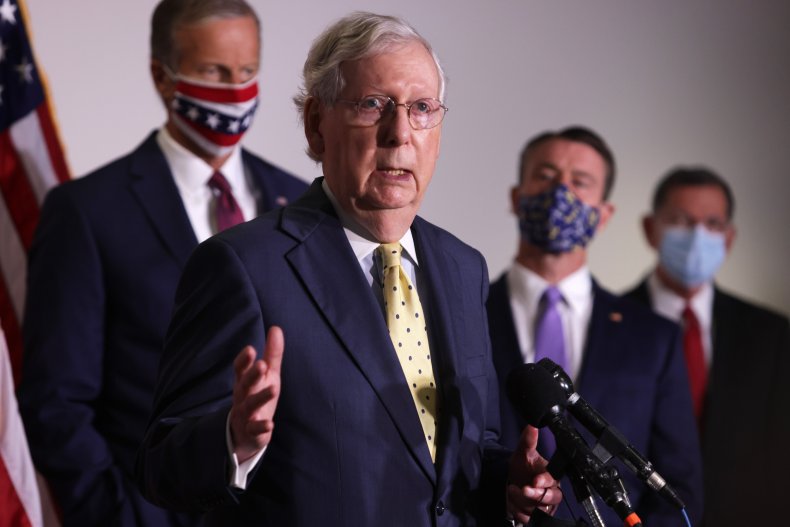 The legislation provided money for additional small-business loans under the Paycheck Protection Program, testing and tracing, vaccines, schools, the U.S. Postal Service, enhanced unemployment benefits of $300 per week and legal liability protections.
Democrats have described Republicans' plan as "emaciated." Senate Minority Leader Chuck Schumer labeled Thursday's vote as "pointless" because it was "designed to fail" and filled with "poison pills." The failed vote gave Schumer hope that Republicans will "come to their senses" and jumpstart bipartisan talks.
"The truth is this emaciated bill is not a serious attempt at legislation or solving the real problems in our country. It's a shame," the New York Democrat said. "It is one of the most cynical moves I've seen, a fairly transparent attempt to show that the Republicans are doing something when in fact they want to do nothing in reality."
What Congress does now is anyone's guess. But it's become increasingly likely that lawmakers will punt more pandemic relief until after the election, with no current ongoing talks between the two parties. Some members have been pessimistic that a bipartisan deal will ever be reached. Both parties are taking a hefty political risk, confident that voters will blame the opposing party at the polls.
Lawmakers are expected to leave the nation's capital at the end of September and focus on the campaign trail for the final weeks before Election Day. There is little expectation for a relief package to be approved before then.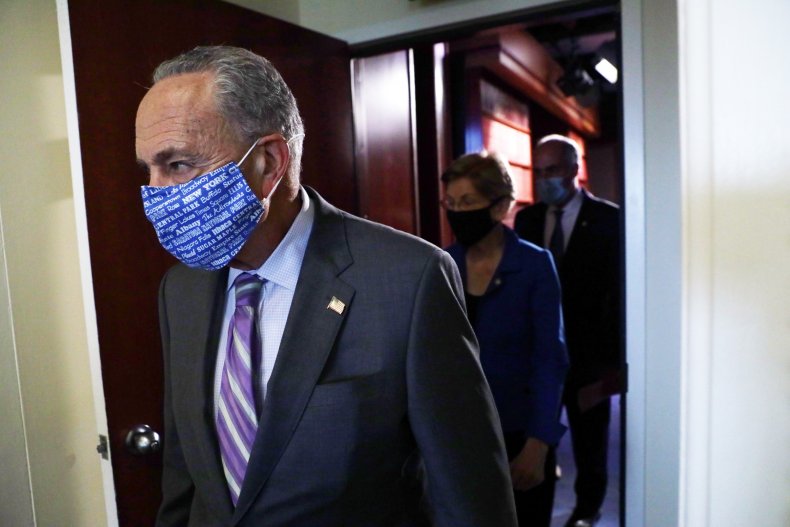 Congress and the Trump administration are already turning their focus toward preventing a government shutdown at the end of the month. All sides support a clean continuing resolution (CR), meaning they do not want to tie coronavirus or other aid to a stopgap spending measure because of the potential political complications that could arise.
After his bleak assessment posted to social media about no more relief until after the election, Rubio told reporters: "I hope I'm wrong."
"My guess would be that if we leave in September with a CR, we will not come back to do anything before the election," Sen. Roy Blunt (R-Mo.), the No. 4 Republican, said Wednesday.
Others, such as Senate Appropriations Chairman Richard Shelby, have questioned whether the impasse will ever be overcome.
"Unless something really broke through," the Alabama Republican said Wednesday, "it's not gonna happen."
What remains to be negotiated is how long the CR lasts. Republicans and the White House have suggested it should go until sometime in December. A shutdown amid a pandemic that's devastated the economy would only exacerbate the situation, economists have warned, as well as elevate the public blame to go around.