President Donald Trump and a bipartisan group of lawmakers on Capitol Hill are pitching congressional leaders a softball to restart talks around another coronavirus stimulus package.
Yet leaders in both parties are batting down the opportunity to trounce the impasse, refusing to return to the negotiating table and use a bipartisan proposal as the starting point for compromise—a concept that politicians often incorrectly conflate with finding common ground.
Some of the nation's top leaders continue to try and out-maneuver one another, waiting for the other side to cave. This despite millions of Americans who continue to struggle economically. The impending election has only exacerbated the prospects of striking a pandemic relief agreement before voters cast their ballots on November 3.
"You can kick the can down the road with symbolic messaging, you can kick the can down the road with a 'skinny' bill," Rep. Max Rose (D-N.Y.) told Newsweek. "Party leadership on both sides of the aisle has to put the country first. They have to stop thinking about the next election."
Rose represents a moderate, bipartisan coalition of congressional lawmakers who makeup the House Problem Solvers Caucus, a group that's grown increasingly frustrated with their parties' inability to overcome the logjam for more pandemic relief. Despite their attempt to bridge the divide and restart negotiations—which remain virtually non-existent—by offering a $1.5 trillion stimulus proposal this week, leadership in both parties largely rejected the suggestion while many lawmakers remain all over the map.
This despite President Donald Trump coming out of left field on Wednesday by abruptly urging Republicans on Twitter to "Go for the much higher numbers," an obvious greenlight for GOP senators to back more expensive coronavirus aid.
The Problem Solvers' bipartisan package roughly splits the difference between plans offered by Republicans and Democrats. It offers a second $1,200 check, enhanced weekly jobless benefits of $450 for the first two months followed by 100 percent wage replacement through January, $240 billion for the Paycheck Protection Program (only $95 billion is new money), $145 billion total for K-12, higher education and childcare, $500 billion for states, $10 billion in food aid, $25 billion for rental assistance, $15 billion for the Postal Service, $400 million in election assistance and liability protections.
Here's why there's still little hope for a deal before Election Day and how all sides feel about the bipartisan proposition, according to interviews with Newsweek and both the congressional and White House pool reports conducted Wednesday.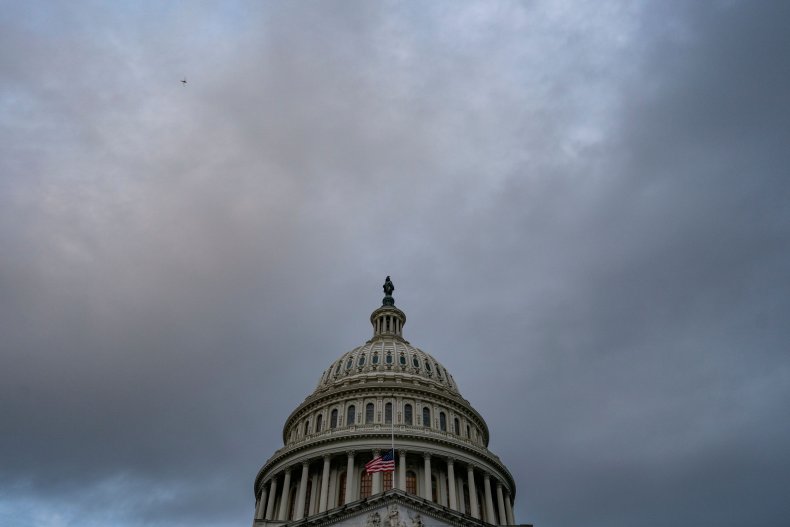 Trump and the White House
The president and his closest aides have given the Problem Solvers Caucus the highest accolades out of nearly anyone in Washington. While Trump stopped short of endorsing the plan and wouldn't talk specifics, the president told reporters that he wants "something like" the measure.
Trump: "I like the larger number. I think they're well on their way to suggesting some pretty good things. I agree with a lot of it. The things I don't agree with, we can probably negotiate. I think it was positive they came out with that report. We're getting closer."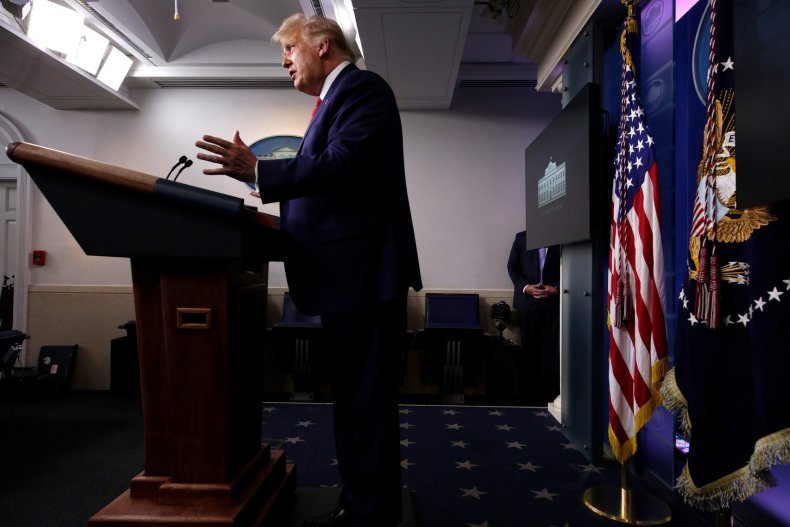 White House chief of staff Mark Meadows: The proposal was "very thoughtful and actually is, in a way, very meaningful, if you're looking at Republicans and Democrats coming together in a bipartisan way to put forth something that they believe that they could actually support."
GOP leadership
Top Republicans gave pause to such a high price tag, and they emphasized that so much money for state governments was simply off the table. However, Sen. Roy Blunt (R-Mo.) was the odd one out. He predicted that a final agreement will be north of the $1 trillion HEALS Act that Republicans previously proposed.
Senate Majority Whip John Thune (R-S.D.): "$1.5 trillion is still—that would create a lot of heartburn... The original HEALS Act was at $1 trillion, and we had a lot of resistance to that... But I think our members are in that range." The $500 billion for states would "probably be a non-starter."
Blunt, No. 4 Senate Republican: "My concern is the window probably closes around the end of this month. We need to get busy finding out what we all can agree on. I think the number is gonna be higher than our $1 trillion... There's a deal here. I think it would be really a shame if we don't figure out how to grab hold of it."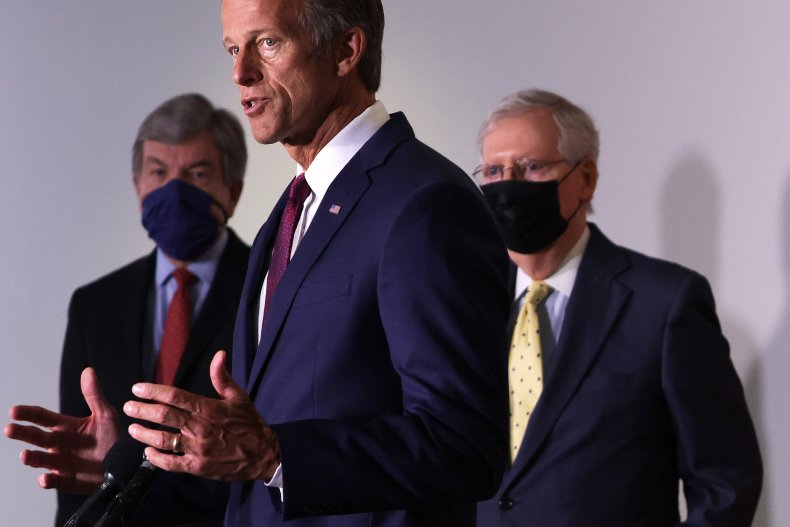 Sen. John Cornyn (R-Texas), leadership member: "I think that's a pretty good move" for Meadows to give the proposal praise. "Hopefully it persuades Speaker Pelosi to move off a dime... She thinks that no bill is better for them politically."
House Minority Leader Kevin McCarthy (R-Calif.): "We'd have to see what's in it, but I think it's difficult."
Rep. Liz Cheney (R-Wyo.), No. 3 House Republican: "I would be hesitant to make a commitment about a level that is that high. I'm really concerned about funds that have been appropriated and haven't been spent yet. I think the real solution to this is we've got to get the economy going again."
Rank-and-file Republicans
Rank-and-file members reiterated loud and clear that $500 billion for state governments is off the table. While their response was lukewarm, they did not soundly reject the idea as many party leaders and more progressive Democrats did.
Sen. John Kennedy (R-La.): "I think it's gonna be difficult to pass in the Senate. I'm not gonna spend more money just to spend more money... If a bill is chock-full of spending porn, as Speaker Pelosi's bill is, I'm not gonna vote for it."
Sen. Lindsey Graham (R-S.C.), Trump confidant: "I'm willing to do more, I'm willing to do a component of unemployment—not $600 per week. I'm willing to do some money for state and local government—not $500 billion. And I wanna do a stimulus check. Seems to me like we shouldn't leave this issue unattended."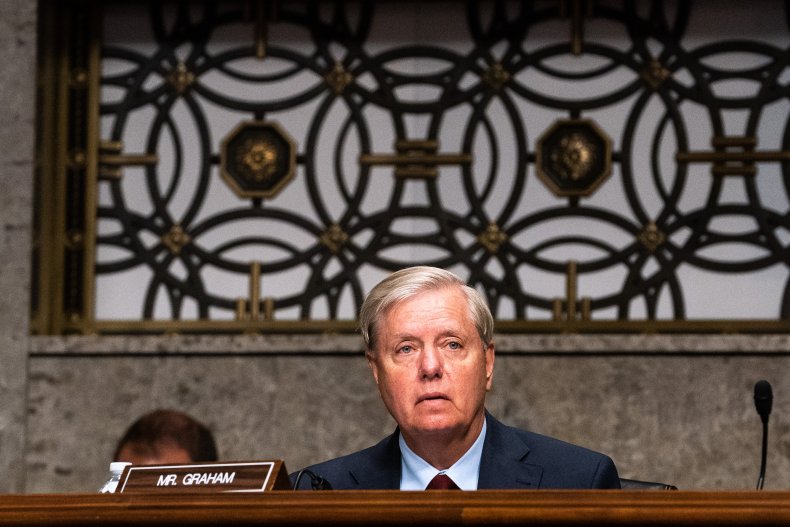 Sen. Josh Hawley (R-Mo.): The $500 billion state aid will "be a non-starter. That's not gonna go anywhere in this Congress... That was the subject of intense negotiations" for the roughly $500 billion bill that Senate Democrats blocked last week. "Let's focus on what should be done, and let's think about how we could do that cost effectively."
Sen. Mike Braun (R-Ind.): The $500 billion state aid is "a non-starter for almost all Republican senators... I think every day that it gets closer to the election...it's a moot point. Even though the White House is out there—I don't fault them for [supporting the package], politically. They might have a different point of view than what we as Republican senators would have. I don't think it's going to get much support."
Democratic leadership
Democratic leaders wasted no time in dunking the Problem Solvers' plan in a tub of freezing cold water, frustrating the Democrats involved in constructing the proposal and moderates who are growing anxious. Mere hours after its official release, the Democratic chairs of the various House committees said in a joint statement that it "falls short of what is needed to save lives and boost the economy."
House Speaker Nancy Pelosi (D-Calif.) and Senate Minority Leader Chuck Schumer (D-N.Y.) dug into their refusal to budge any lower than $2.2 trillion after Trump's tweet: "We look forward to hearing from the president's negotiators that they will finally meet us halfway with a bill that is equal to the massive health and economic crises gripping our nation," the Democratic duo said in a joint statement.
Pelosi will keep the House in session until a deal is struck, forgoing recess in October. However, members will likely return home to campaign and be on 24-hour notice to return to Washington, if and when a vote is scheduled.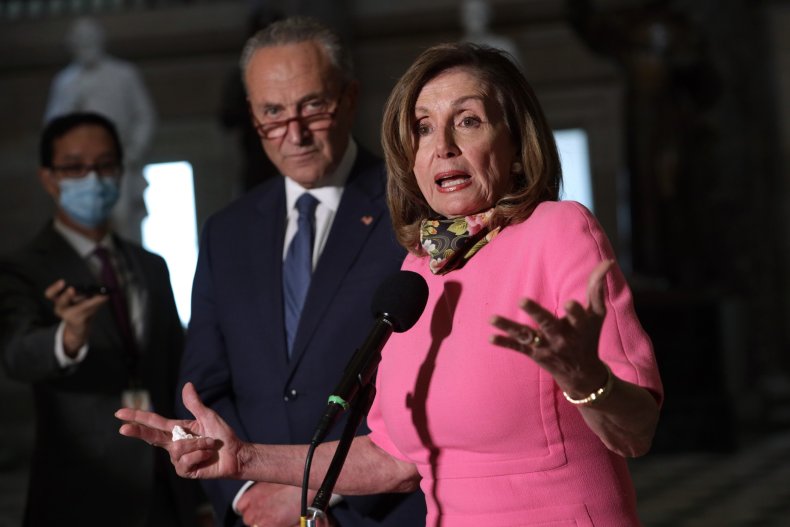 House Majority Leader Steny Hoyer (D-Md.): "Problem Solvers was a useful contribution to the mix that's under discussion."
Rep. David Cicilline (D-R.I.), leadership member: "What we're trying to do is get to a place where we can meet the needs of the American people. We don't want to just pass a bill to say we passed a bill."
Moderate Democrats
These members have become increasingly irritated with leadership, urging Pelosi to put forward something in terms of coronavirus relief to vote on. It's been four months since they passed the $3.4 trillion HEROES Act with nothing to show for it, they argue, with many of these lawmakers headed into tough re-elections this Fall.
Rep. Max Rose (D-N.Y.), a Problem Solvers member who flipped a GOP seat, on Democratic leadership bashing the bipartisan proposal: "It was 100 percent the wrong move, and it was a continuance of a political charade."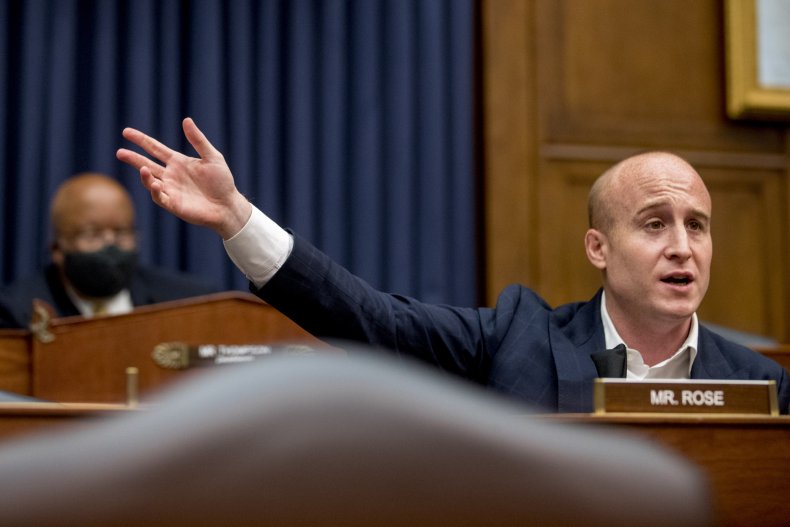 Rep. Elissa Slotkin (D-Mich.), a vulnerable Democrat and Problem Solvers member: "I was disappointed that my leadership was so quick to dismiss it, but I hope that's not the end of the story. I hope that we actually get in a room, preferably in the next couple of days."
Rep. Kendra Horn (D-Okla.), a Problem Solvers member whose district Trump carried by 13 points in 2016: "It's frustrating to see partisan games being played, regardless of where they come from." Their proposal was "not meant to be an end-all, be-all solution."
Rep. Stephanie Murphy (D-Fla.), Problem Solvers member: "I am hopeful that as leadership registers the anxiousness of the members, both Democrats and Republicans to get something done that they will be responsive."
Progressive Democrats
More liberal members of the party remained squarely behind leadership, adamant that a large comprehensive package is needed and that the stalemate with Republicans will eventually be broken.
Rep. Alexandria Ocasio-Cortez (D.N.Y.): "I mean," she said, taking a long pause before shaking her head and emitting a laugh from beneath her mask. "I understand the desire to just pass something and check it off. But the question is not, 'did we pass something?' The question is, 'are we fundamentally solving people's problems?' I don't think it solves problems. I think [the Problem Solvers] are misbranded, in this case."
Rep. Ilhan Omar (D-Minn.): "I don't think it's a good place for negotiations... This doesn't go far enough."