Democratic Senate Minority Leader Chuck Schumer said on Saturday that a GOP condition to limit the Federal Reserve's emergency lending powers remains the "only significant hurdle" to passing a $900 billion bipartisan coronavirus relief package.
Lawmakers failed to pass the economic package on Friday, but avoided a government shutdown after President Donald Trump signed a two-day funding bill that will allow Congress to reconvene Sunday.
The GOP proposal, introduced by Senator Pat Toomey of Pennsylvania, would stop the Federal Reserve from restoring emergency lending programs—which previously aided small and medium-sized businesses along with local and state governments—starting January 1.
Republicans say that those lending programs, which were initially funded under the CARES Act in March, are no longer necessary in any emergency case.
"What this does is it says that nobody can revive or create a duplicate of the programs that received CARES Act money," Toomey previously told reporters, according to Bloomberg. "We are not changing the role of the Fed at all. The 13(3) legislation remains on the books, and the Fed's 13(3) authority will continue."
"It is not the role of our central bank, the Fed, to engage in fiscal policy, social policy or allocating credit," he added.
Others have worried that the Fed's emergency lending powers could be used by Democrats to give aid to states and cities, with Republicans oppose.
In an interview with Newswmax Saturday, GOP Oklahoma Senator James Lankford accused Democrats of wanting to "bail out" Democratic-led states including California, Illinois and New York with "an open slush fund that states can spend how they want."
Section 13(3) of the Federal Reserve Act allows for the creation of emergency lending programs with approval from the treasury secretary during "unusual and exigent circumstances," for example, a pandemic.
Democrats argue that Toomey's proposal would limit the Fed's broader authority, and have called it an attempt to impede President-elect Joe Biden's incoming administration.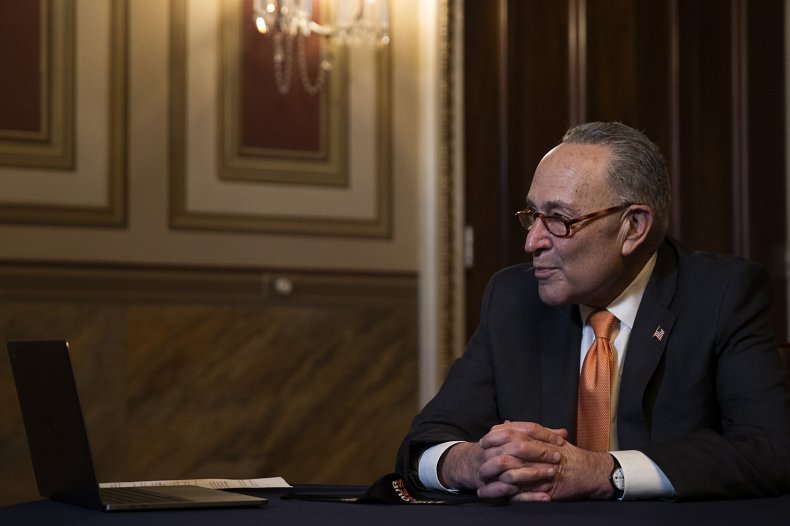 "It's a way to say to Joe Biden, we are tying up our hands, no matter what comes down the pike," Democratic House Speaker Nancy Pelosi said during a caucus call on Saturday afternoon, according to Politico.
Schumer echoed those concerns from the Senate floor. "Senator Toomey's new proposal would potentially prohibit the Treasury and the Fed from setting up new emergency lending facilities moving forward, greatly reducing their ability to respond to economic crises," he said, in remarks that were given to Newsweek from his office Saturday.
"What he's proposing is not about COVID or helping the American people, it's about tying the hands of the next Treasury Secretary and the next Fed Chairman in a true emergency," he added. "I hope our Republican friends can agree to compromise here. Sen. Toomey's legislation is the only significant hurdle to completing an agreement, and Republicans need to make a decision."
In defense of the proposal, Toomey told Democrats on Saturday that "we're not making permanent changes to laws," and said that spending from the CARES Act was "supposed to end at the end of the year."
"And of course, no change in law is ever permanent. Any future Congress can change it," he added, as reported by C-SPAN producer Craig Caplan on Twitter Saturday.
Republicans said Saturday that they would stand firm in their position, with Senate Majority Leader Mitch McConnell telling colleagues during a conference call that he wouldn't budge on the language, according to a tweet from Politico reporter Burgess Everett. "I think we need to stick with where we are," McConnell reportedly said on the call.
"I'm hoping if they can announce a deal today, it can be written up and voted on—best-case scenario would be sometime tomorrow," said Senate Majority Whip John Thune, a Republican from South Dakota, according to Politico. "But more likely, probably Monday."
As of Saturday afternoon, it was unclear whether a deal could be reached.