As Stimulus Debate Rages, Watchdog Says Key Data Overstated Jobless Problem
Policymakers had trouble understanding the true impact of the coronavirus pandemic on American joblessness due to inaccurate data provided by the Department of Labor (DOL), a federal watchdog has found.
The coronavirus pandemic caused a huge spike in unemployment and to ease the financial burden on American families, Congress passed the CARES Act in March.
It gave more than 160 million Americans payments of up to $1,200 and increased unemployment benefits, but there continues to be a deadlock to agreeing another stimulus package eight months on.
On Monday, a report by the non-partisan Government Accountability Office (GAO) said that any response to the economic downturn was complicated by the fact unemployment numbers were likely to have been inflated this year.
The GOA said there were inaccuracies in the DOL's weekly report detailing the numbers of those filing new applications for benefits and those receiving continuing claims.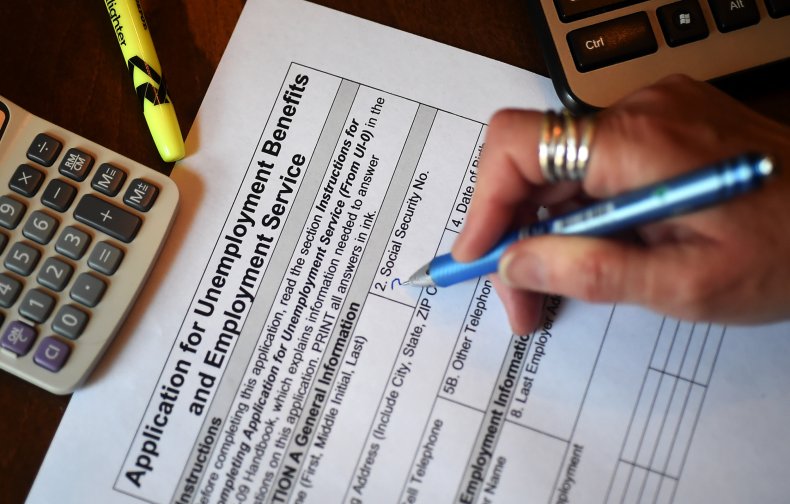 Instead of counting every recipient of jobless benefits, the DOL used the number of people filing in each state.
This would typically give a satisfactory estimate of those claiming benefits across the country before the pandemic. But inundated with new claims, there were massive backlogs, and the ability of people to file claims retroactively also inflated the number of claims, the GAO said.
Further complicating matters was the inconsistent reporting of data, state by state, from the Pandemic Unemployment Assistance (PUA) program which Congress had created for gig and self-employed workers.
"The number of claims has not been an accurate estimate of the number of individuals claiming benefits during the pandemic because of backlogs in processing a historic volume of claims, among other data issues," the report said.
"Without an accurate accounting of the number of individuals who are relying on these benefits in as close to real time as possible, policymakers may be challenged to respond to the crisis at hand," it added.
The report recommended that the DOL clarified in its weekly figures that in the current climate, its numbers "do not accurately estimate the number of unique individuals claiming benefits." It also said that the DOL should look at using data available from each state and list the actual number of individuals claiming benefits.
"DOL agreed with the recommendation to revise its weekly news releases, and partially agreed with the recommendation to pursue options to report the actual number of distinct individuals claiming benefits," the report said.
Newsweek has contacted the DOL for comment.
An open letter signed by more than 120 economists has urged lawmakers to put their differences aside and approve another round of stimulus checks.
On Tuesday, a bipartisan group of senators introduced a stimulus proposal worth about $908 billion aiming to break the impasse over providing emergency federal relief. It would provide $300 a week in federal unemployment benefits for four months, The Washington Post reported.