Stimulus Loans for Small Businesses Should be Forgiven, Mnuchin Says
Millions of businesses could have their debt slates wiped clean of the money they borrowed from the federal government through the Paycheck Protection Program for their companies to remain afloat amid the coronavirus pandemic.
Treasury Secretary Steven Mnuchin told lawmakers Friday that as Congress and the Trump administration prepare to begin negotiations over another economic stimulus package, smaller loans should be forgiven entirely rather than forcing some businesses to repay small portions that were not used for payroll costs.
"One of the things we'll talk about is, 'Should we just have forgiveness for all of the small loans?' I think that's something we should consider," Mnuchin testified before the House Small Business Committee.
He added that "obviously," there must be provisions included to prevent fraud. The secretary did not attribute a dollar figure for his description of "small" loans.
In addition, Mnuchin said that Congress should extend the PPP program for the hospitality and travel industries, such as restaurants and hotels.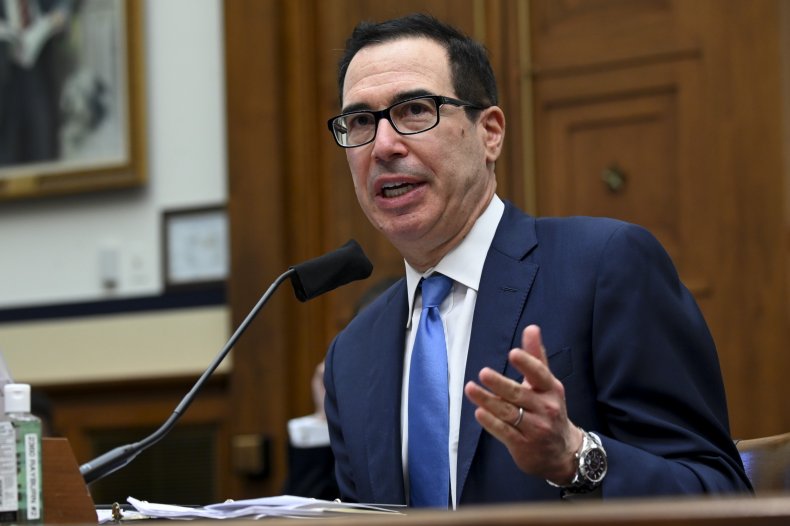 "Certain industries, such as construction, are recovering quickly, while others, such as retail and travel, are facing longer-term impacts and will require additional relief," Mnuchin said.
The Treasury secretary also acknowledged the surge in COVID-19 cases in dozens of states across the country—something President Donald Trump and the White House have tried to downplay—that may hamper people's normal travel and spending routines.
"We are also sensitive to the fact that certain areas of the country are experiencing increased numbers of cases of the virus," Mnuchin said.
Mnuchin remarks about the PPP loans, a program that was created under the CARES Act stimulus that provided more than $600 billion in mostly forgivable loans for companies to make payroll, acted as an indirect endorsement of a bipartisan proposal in Congress, lending a huge boost to the idea coming to fruition. A bill from Senators Kevin Cramer (R-N.D.), Thom Tillis (R-N.C.), Kyrsten Sinema (D-Ariz.) and Bob Menendez (D-N.J.) would forgive any PPP loan worth $150,000 or less, so long as the borrower submits a one-page attestation form to the lender.
This would account for about 3.7 million loans, the lawmakers estimated in late June, and account for 85 percent of all PPP approved loans. Applying for forgiveness would cost each small business $2,000 and $500 for the lender. The bipartisan group estimated that it would save business owners some $7.4 billion and banks nearly $2 billion.
The legislation would use "a few commonsense changes" to "avoid the burdensome cost of superfluous bureaucracy" to determine if—and how much—forgiveness each small business should get, Cramer said last month.
Senate Republicans are expected to unveil their next stimulus proposal next week before negotiations begin with Democrats in earnest. House Democrats passed a $3 trillion stimulus in May but was soundly rejected by Senate Majority Leader Mitch McConnell (R-Ky.) and the White House over its timing, size and scope. McConnell is expected to release a scaled-back version worth just more than $1 trillion.
Congress has high hopes for passing another relief bill by month's end before lawmakers will embark on a monthlong August recess.