Stimulus Negotiations Fail as Senate Adjourns for Another 3-Day Weekend
U.S. lawmakers left Washington, D.C. for a 3-day weekend on Thursday after meetings between Republicans and Democrats about a new coronavirus economic stimulus package ended with no new agreements.
Lawmakers have debated what form the stimulus package should take. Democrats have introduced the HEROES Act which would provide $3 trillion of economic relief. The Republican plan, the HEALS Act, would only allocate $1 trillion dollars. Both sides have attempted to reach compromises in order to pass a cohesive bill, but that has yet to occur.
After a meeting between Democratic House Speaker Nancy Pelosi, House Minority Leader Chuck Schumer, White House Chief of Staff Mark Meadows and Treasury Secretary Steven Mnuchin, Pelosi said no progress had been made. "We're very far apart," Pelosi said. "It's very unfortunate."
Pelosi said Republicans "didn't take the virus seriously in the beginning, they're not taking the consequences of the virus seriously at this time. And that's why it's hard to come to terms."
Senate Majority Leader Mitch McConnell did not adjourn the Senate for its expected August break, saying the current session would continue "unless and until the Democrats demonstrate they will never let an agreement materialize."
Before entering the meeting, Meadows expressed doubt about the two sides reaching an agreement before the weekend. Meadows said that if there is no decision made about a "top-line number, there becomes very little incentive—very little incentive—to have further conversations."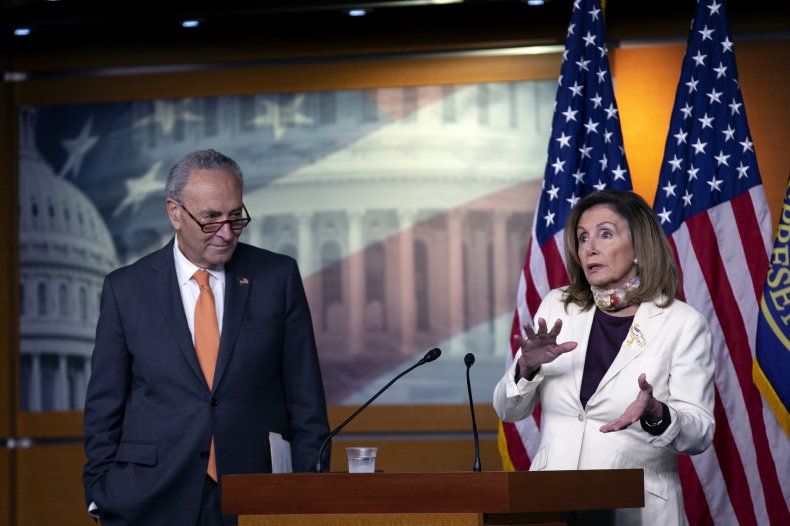 Calls for another economic relief package have grown more intense as many benefits enacted under the CARES Act expired at the end of July. Individuals who had filed for unemployment were receiving an extra $600 per week in their benefit checks. Renters whose income had been drastically reduced had been under a moratorium which prohibited landlords from evicting them. That moratorium was lifted in July.
Leader Schumer said during a Thursday press conference that Trump "just dithers."
"He says one thing one day and another thing another day and another thing another day," Schumer continued. "He's not focused on this. No leadership." Schumer also said that Republicans "don't understand the crisis in this country."
Secretary Mnuchin said that if a deal is not reached, the president will intervene.
"We're not going to just keep on coming back every day if we can't get to a deal," Mnuchin said Thursday. "We've said by the end of the week, we wanted to reach an agreement on the major issues. The president wants us to get a deal or he wants us to move on and he'll take other action."
President Donald Trump wrote on Thursday that he may sign executive orders to extend certain benefits if an agreement on a new stimulus package could not be reached.
"I've notified my staff to continue working on an Executive Order with respect to Payroll Tax Cut, Eviction Protections, Unemployment Extensions, and Student Loan Repayment Options," Trump tweeted.
Newsweek reached out to Schumer's office and the U.S. Treasury for comment.