Stimulus Package Delay 'Foolish,' 'Country is Out of Patience': Congressman
With stimulus plans continuing to stall, lawmakers are "out of patience" over the ongoing delay, according to Rep. Josh Gottheimer (D-NJ), co-chair of the Problem Solvers Caucus.
It is approaching eight months since the last coronavirus relief bill, the CARES Act, was signed by the president and ongoing disagreements have seen lawmakers unable to agree upon a fresh package of measures.
Though those on both sides of the aisle have expressed support for further stimulus action of some sort—while polling also shows backing from the public for this—negotiations to secure a bipartisan agreement able to pass through the House and the Senate have proved fruitless.
"We're all out of patience because the country is out of patience," Gottheimer told NJ Advance Media. "And rightfully so. People have had it."
Despite high-profile talks having not settled upon an agreement palatable for both Republican and Democrat lawmakers alike, Gottheimer said he believes people on both sides want to back a deal—and that this must mean further compromise from figureheads such as House Speaker Nancy Pelosi (D-CA) and Senate Majority Leader Mitch McConnell (R-KY).
"The bottom line is I've been talking to Democrats and Republicans who have made it clear they'll get behind a package," he said. "We're going to have to figure out how to get it done. McConnell's going to have to move a little bit and we're going to have to move a little bit."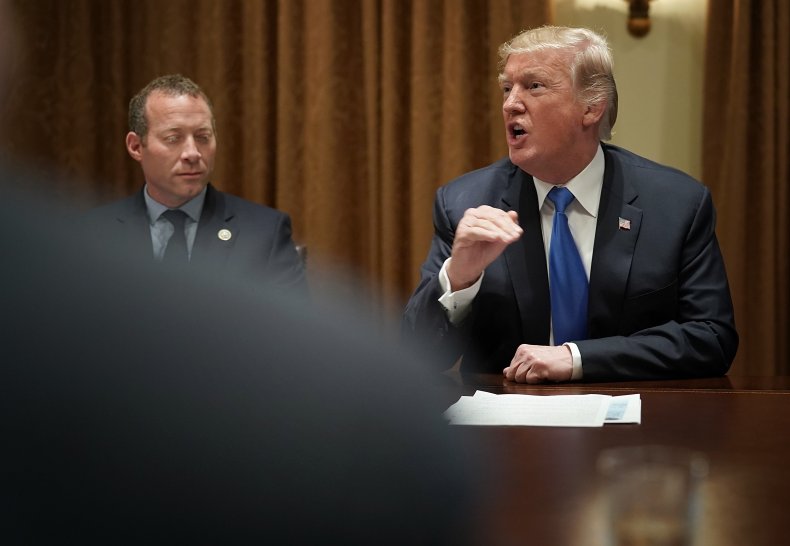 He branded it "really foolish" that a deal could not be settled upon prior to the election.
"American families, small businesses, and local communities are continuing to suffer from the COVID-19 health and economic crisis, especially now as hospitalizations are spiking across the country," Gottheimer said in further comments to Newsweek.
"With the election behind us, there are no more excuses for delay. Both sides need to get back to the table and work out a bipartisan relief package for our families and businesses. It's completely unconscionable to leave Americans without the help they desperately need right now."
The Problem Solvers Caucus, a bipartisan group of lawmakers which "champions ideas that appeal to a broad spectrum of the American people," previously pitched a deal to Congress it hoped could gain support as a bipartisan, though this failed to gain traction with congressional leadership.
The stalemate initially centered around spending, with Democrats pushing for more than Republicans were willing to sanction.
The White House then detailed willingness for more spending, though Democratic leaders then disputed the contents of proposals insisting they were not sufficient to deal with the crisis. Democrat proposals passed in the House failed to pass the Senate, while so-called skinny bills touted by the Senate GOP also stalled.
President Donald Trump previously suggested that Democrats did not want to pass a bill prior to the election as it could have boosted his chances. The White House has also pitched moving forward in a piecemeal fashion though this has been rejected, with Pelosi pushing for a comprehensive bill to be passed.
Pelosi, McConnell and the White House have been asked for comment on the state of play in terms of agreeing stimulus.
The ongoing stimulus impasse comes with COVID-19 cases continuing to mount in the U.S., with the nation having seen more than 10 million confirmed cases throughout the pandemic, according to Johns Hopkins University figures.
The below graphic, from Statista, highlights the number of cases in each state based on figures as of November 9.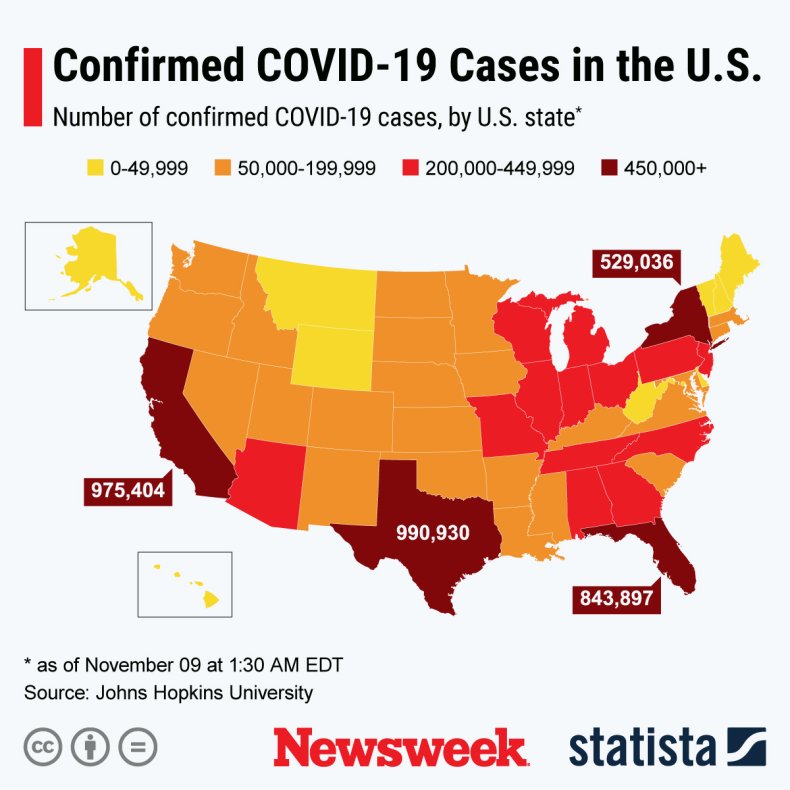 Updated 11/12/2020: This page has been updated with further comment from Rep. Gottheimer.