Stimulus Package Needed This Year, Economists Warn Amid COVID-19 Turmoil
An open letter signed by leading economic thinkers insists that a further COVID-19 stimulus package is needed this year, suggesting measures outlined in the CARES Act are still needed amid continued turmoil posed by the pandemic.
It has been nearly eight months since the CARES Act was signed by President Donald Trump, with further such measures stalling due to an ongoing stalemate between Democrats and Republicans over what action to take.
A statement released by the Economic Strategy Group, a program from the Aspen Institute which aims to promote "evidence-based solutions to significant U.S. economic challenges," called for Congress to enact further stimulus as quickly as possible.
"Amidst a resurgence in COVID-19 caseloads and continuing economic devastation from the pandemic, we urge Congress to enact legislation that focuses on the core measures necessary to provide additional fiscal relief as quickly as possible and no later than the end of this calendar year," the letter states.
It suggested the package should include additional funding to fight the virus "first and foremost."
The letter also backs:
Support for individuals and families
Income relief for those who are unemployed
Enhanced benefits to assist households struggling to cover food costs
Measures to back those facing eviction and homelessness due to income loss
Fiscal support for state and local governments as well as support for K-12 schools, to allow them to open safely, is also endorsed, while Backing for small businesses is highlighted as a necessity.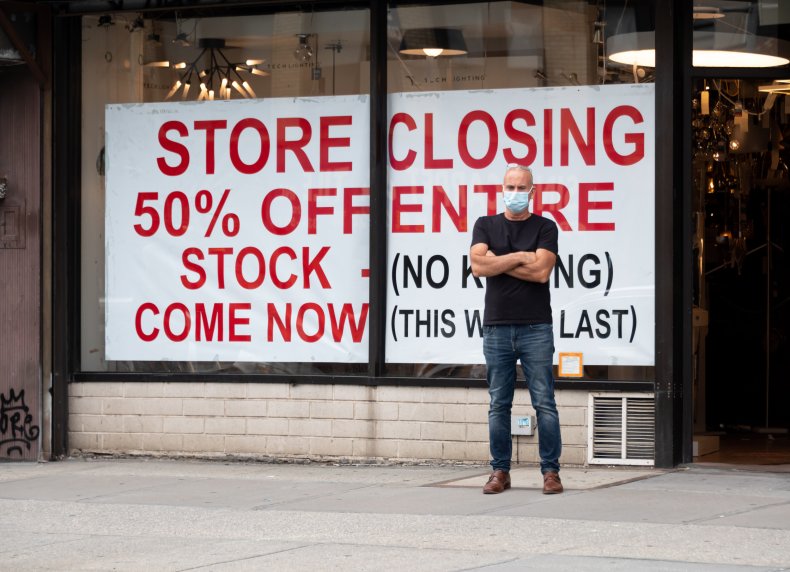 "The CARES Act that was passed with bipartisan support in March 2020 provided necessary relief to millions of Americans and helped the economy rebound more quickly than expected. Many of the Act's key provisions have already expired but are still needed," the letter adds.
"Meanwhile, the pandemic resurges throughout the country. Our nation's leaders should act on another round of fiscal relief now. At the same time, the administration should act aggressively to deploy the unspent resources it already has to combat the virus and support businesses. Our country and economy cannot wait until 2021."
Despite lawmakers from both sides of the aisle agreeing some form of economic stimulus is needed, disputes over the details of this action has led to a months-long impasse. Each side has accused the other of failing to compromise sufficiently, while criticizing features included or missing from the opposing side's plans.
Democrats passed their HEROES Act through the House in May, before passing an updated version in October. In the updated version the topline spend was cut from $3.4 trillion to $2.2 trillion. However, it failed to muster support in the GOP-led Senate.
Republicans have pushed for a lower cost bill, though plans for slimmed down packages have failed to gain traction.
House Speaker Nancy Pelosi (D-CA) and Senate Minority Leader Chuck Schumer (D-NY) have asked Senate Majority Leader Mitch McConnell (R-KY) to partake in further discussions to try and reach a deal able to pass through Congress.
Newsweek has contacted Pelosi, Schumer, McConnell and the White House for comment on the Economic Strategy Group letter.
It comes with millions of people set to lose certain unemployment aid enacted under the CARES Act, with some of these due to expire in December. The graphic below, from Statista, details the numbers of those facing this situation.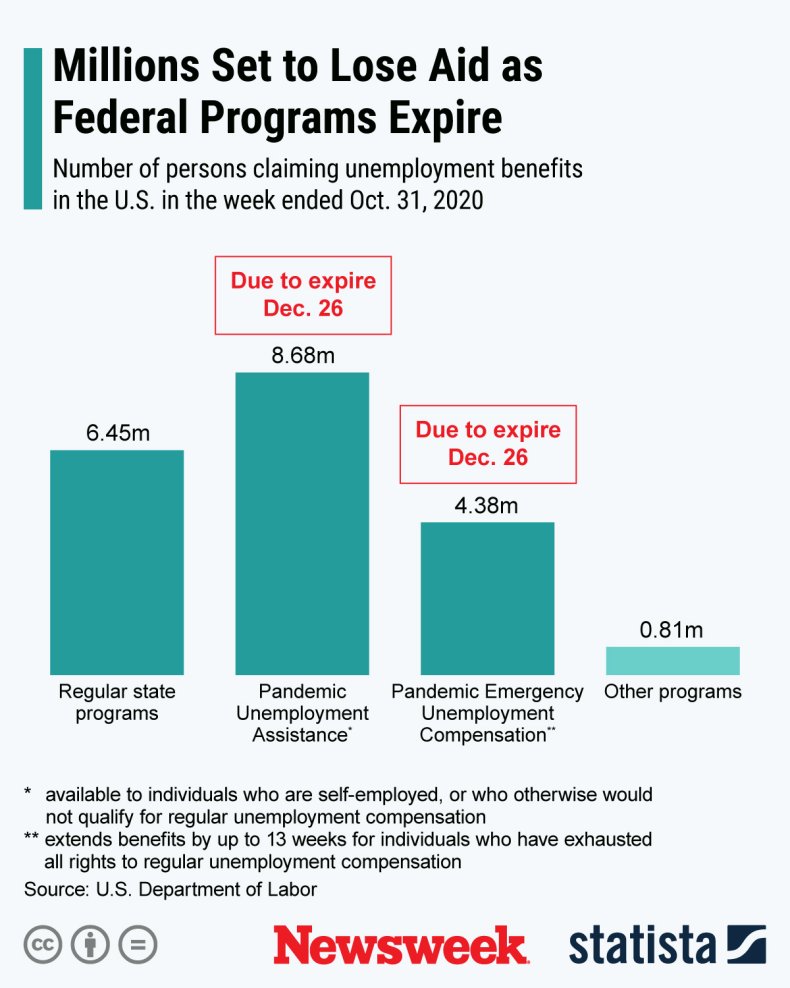 The debate over stimulus comes with the U.S. having recorded more than 11 million confirmed COVID-19 cases throughout the pandemic, according to Johns Hopkins University figures.
The below graphic, from Statista, shows the nations with the most confirmed cases of November 16.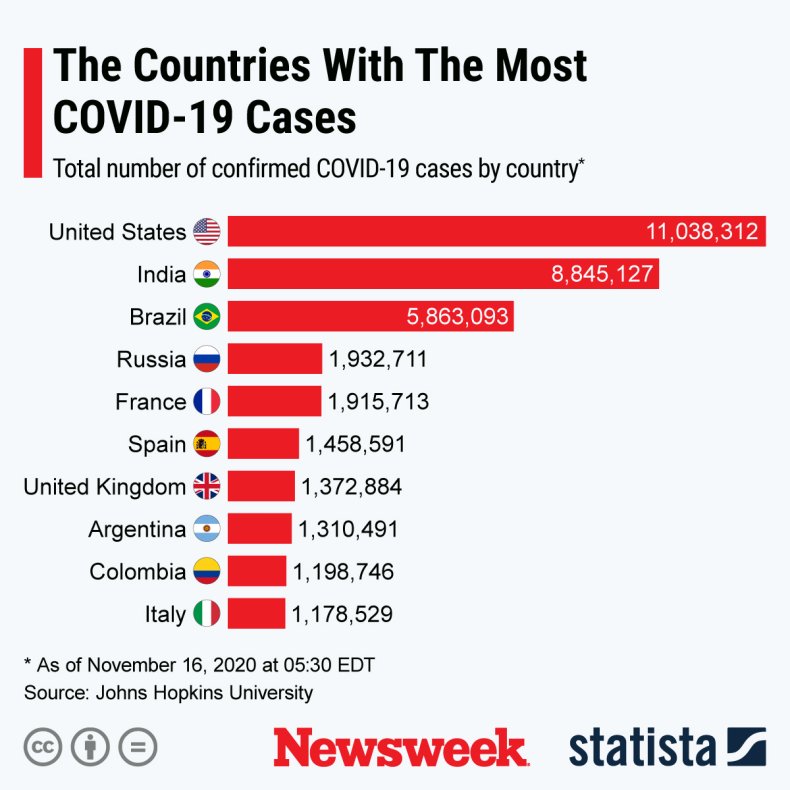 Updated 11/20/2020: This page has been updated to include a further graphic from Statista, focused on unemployment support due to run out in December.