Senate GOP to Begin Unveiling Stimulus Plans, As COVID Cases Near 4 Million
Senate Republicans are to begin revealing aspects of their stimulus plans as COVID-19 cases continue to mount with near to 4 million confirmed across the United States.
Having taken pause to decide upon what action to take next, to the ire of Democrats across Congress, GOP leadership has indicated proposals are due to be outlined.
Sen. Roy Blunt (R-MO) has suggested there will be a "handful of bills" instead of just one, with an aim to have these released Thursday.
On Wednesday, he said "the goal is tomorrow to get all those bills out there."
Newsweek has contacted Blunt and Senate Majority Leader Mitch McConnell (R-KY) for further comment.
McConnell, speaking earlier this week, said there would be "another historic proposal very soon."
This comes after negotiations involving Republican leaders from the Senate and the White House, with the plans described as focusing on "kids, jobs and health care."
They have been discussing decisions over aspects of the support, including whether to consider an extension of the unemployment benefits boost and on providing further stimulus checks.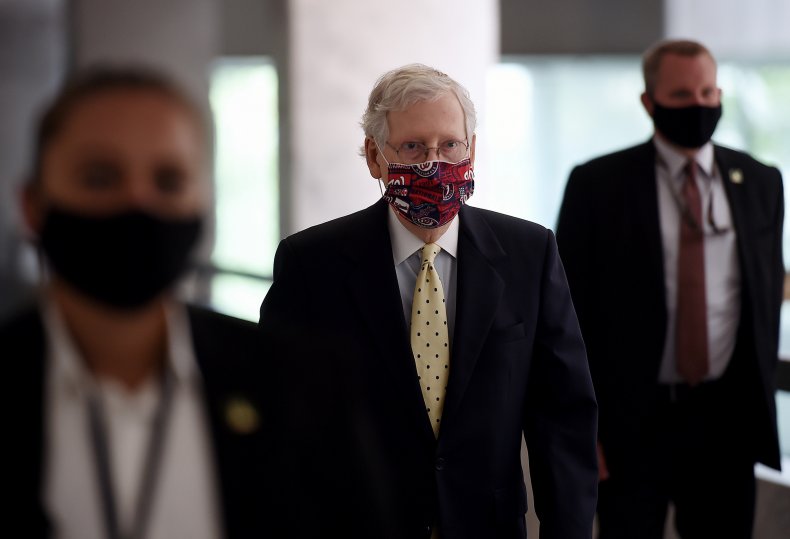 Questions remain over the inclusion of these aspects, which were included in the CARES Act, will come again.
There have been suggestions an unemployment boost could continue but perhaps at a reduced rate to the current $600 weekly, which is due to end in coming days.
Republicans have set a spending goal of around $1 trillion for the next set of relief, according to Treasury Secretary Steve Mnuchin.
There have been suggestions that if this were the case, stimulus checks would take up a large portion of that budget.
McConnell previously suggested that a second round of stimulus checks might have an income cap of $40,000. The CARES Act allocated $1,200 payments for eligible individuals earning under $75,000.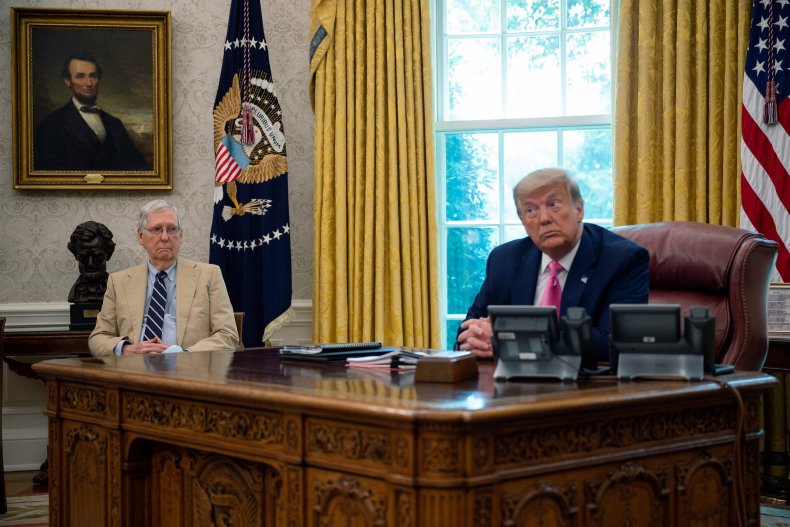 Decisions on the extent of support for state and local governments in the form of federal aid, though there is speculation this will not be forthcoming.
This prompted a backlash from New Jersey Governor Phil Murphy, a Democrat, who said: "McConnell's proposed stimulus bill, which refuses to offer any additional support to states, is a slap in the face to every Governor across the country – Republican and Democrat – who have shouldered the responsibility of responding to this pandemic."
The National Governors Association (NGA) previously called for $500 billion in federal aid to states "to address revenue shortfalls."
"Without this relief, states will be confronted with the prospect of cuts to essential services. This will make it that much harder to have a strong economic recovery, which is a top priority for the president and for all of the governors," a joint statement from NGA Chair Larry Hogan, Maryland governor, and Vice Chair Andrew Cuomo, New York governor.
Despite plans being expected to be outlined Thursday, McConnell has previously suggested he does not expect them to be passed before next month.
Previously asked whether one would be passed by next week, he said: "No."
This push for a further bill comes as coronavirus spikes continue across the U.S., with surges occurring amid states lifting lockdown measures.
Confirmed COVID-19 case numbers in the nation have risen to more than 3.97 million, according to Johns Hopkins University figures. The worldwide total has topped 15 million.