As Stimulus Talks Stall, Central Bankers Warn Congress to Spend More or Risk Economic Trauma
U.S. central bankers issued a warning to the government on Monday, calling for increased spending to support businesses and households in weathering the economic knocks from the coronavirus pandemic.
The calls come amid a deadlock in Congress over stimulus talks, as many support measures are about to or have expired, including unemployment benefits. There is no set deadline for the passing of a second stimulus bill.
"Aggregate demand trouble is brewing," Chicago Federal Reserve President Charles Evans told reporters on a call, Reuters reported. He also said that the ball is now in Congress' court.
"Fiscal policy is fundamental to a better baseline outlook, to a stronger recovery and getting the unemployment rate down, people back to work safely, and ultimately reopening the schools safely," he continued.
Demands from the Republicans' side of the bill include protecting businesses, schools and healthcare professionals from lawsuits. This is a sicking point for Democrats who have said there won't be a deal if it includes liability protection. Other Fed officials followed the same line.
"Quickly pulling away the support that consumers and businesses are receiving would be a pretty traumatic move for what's happening in the economy," Richmond Federal Reserve President Thomas Barkin told the Northern Virginia Chamber of Commerce.
"Four months ago, when we did the first stimulus, we thought the economy faced a pothole and the stimulus put a plate over it so we could navigate," he said. "Now escalation of the virus may be making that pothole into a sinkhole and creating a need for a longer plate."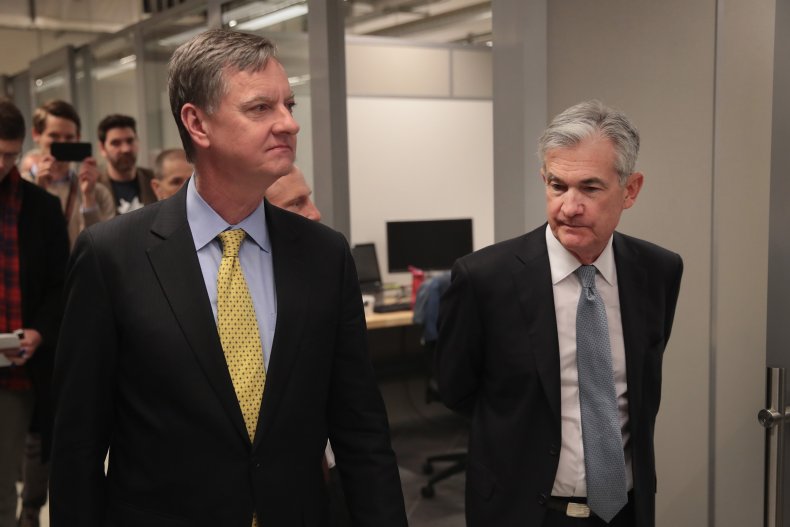 There has been resistance from Republicans against spending much more than the $3 trillion Congress has already pledged to support the economy, however things have worsened since then, Barkin continued.
Other central bankers, Dallas Federal Reserve President Robert Kaplan and St. Louis Federal Reserve President James Bullard, also echoed those sentiments, with Kaplan urging mask-wearing to stem the spread of the virus.
So far, the Federal Reserve has gone to great lengths to support the U.S. economy. Actions have included an emergency rate cut, which saw the benchmark interest rate slashed to near-zero.
The central bank has also used forward guidance on rates, a tool deployed during the last financial crisis. This involves forewarning markets about future potential rate moves. Guidance has generally advised rates will remain low.
Actions to support financial markets have also included bouts of quantitative easing.
Federal Reserve Chairman Jerome Powell has previously warned Americans that the economic downturn triggered by the coronavirus outbreak could last until the end of 2021. A recovery won't happen until people feel confident about their safety, he said in an interview in May.