Stimulus Talks Update: Pelosi Says No Agreement 'in the Language' of Bill, but She Remains 'Hopeful'
Speaker of the House Nancy Pelosi, a California Democrat, expressed optimism Sunday about a possible new stimulus deal being reached with the White House, although she said there was not yet an agreement about "the language" of the legislation.
Negotiations over a further round of economic stimulus to address the economic fallout of the novel coronavirus pandemic have remained at an impasse since summer, although dialogue has continued. In March, Congress came together in a bipartisan manner to pass the $2.2 trillion CARES Act, which provided a range of financial stimulus that economists credit with successfully maintaining the economy amid stringent lockdowns.
Although that aid has largely lapsed since late July, lawmakers remain at odds over what to include in a new package as millions of Americans remain unemployed and higher numbers of households are reporting food insecurity.
Pelosi, the top Democrat in Washington, D.C., was asked about the ongoing talks during an interview with ABC News' This Week on Sunday. She pointed to disagreements regarding how to expand testing and contact tracing to curb the spread of COVID-19.
"When they [the White House negotiators] said we're accepting the language on testing, for example, they're just making a light touch. They said they changed shall to may, requirements to recommendations, a plan to a strategy, not a strategic plan. They took out 55 percent of the language that we had there for testing and tracing," she said.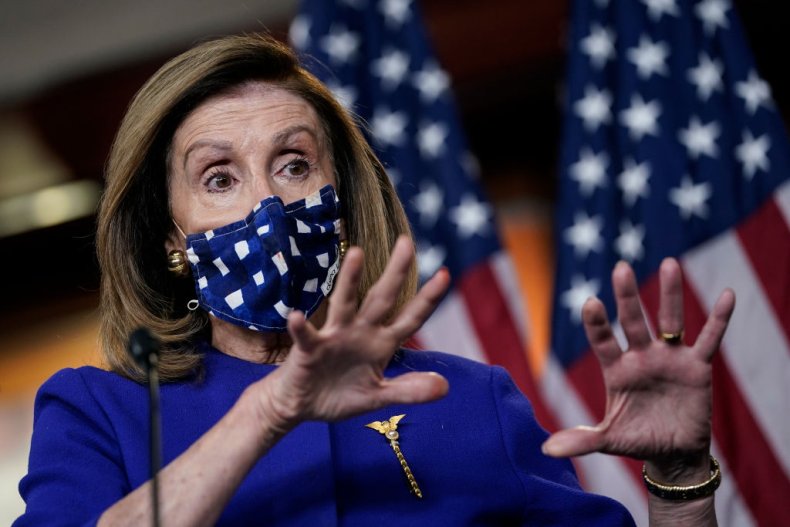 "And the tracing part is so important, because communities of color had been disproportionately affected by this," Pelosi continued. "So, on this subject where we have agreement, we don't have agreement in the language yet, but I'm hopeful."
The House Speaker insisted that the U.S. needs a "national plan," saying that the White House wanted to leave the strategy up to each individual state. But she added that she is "optimistic" about the talks, noting that "we've been back and forth on all of this." Pelosi said that whether or not a deal is reached "depends on the [Trump] administration," and she more or less dismissed concerns that Republicans in the Senate would block an agreement over the expected high price tag.
Newsweek reached out to the White House for further comment, but did not receive a response by the time of publication.
Pelosi and House Democrats passed a $3 trillion package dubbed the HEROES Act in May, which was rejected by Republicans and the White House as a Democratic "wish list." Senate Majority Leader Mitch McConnell, a Kentucky Republican, largely pushed aside future stimulus concerns until he unveiled a $1 trillion package in conjunction with the White House at the end of July. Democrats rejected that as too little, and several Senate Republicans objected to the $1 trillion price tag.
Negotiations have gone back and forth since then. The Senate plans to vote on a relatively small $500 billion Republican stimulus proposal on Wednesday, but that appears unlikely to gain support from House Democrats. Meanwhile, the White House has put forward a $1.8 trillion package that Pelosi continues to negotiate with Treasury Secretary Steven Mnuchin—the Trump administration's point-man in the talks.
Although Trump has expressed a desire to have a larger package, many Republicans remain deeply skeptical of significantly more stimulus spending. They have expressed concerns about the ballooning national deficit, an issue that most economists and Jerome Powell, the chair of the Federal Reserve, have said should not be worried about until after the current crisis has been adequately addressed.
Republicans, Democrats and the White House largely agree on several key stimulus provisions, including sending another $1,200 stimulus check or direct payment to the majority of Americans. They also agree that the Paycheck Protection Program (PPP)—which provides businesses with forgivable loans to keep employees on payroll during the pandemic—should be bolstered in the next package, and that additional federal unemployment insurance should be approved.
But Republicans and Democrats disagree about how much unemployment should be given out. While Democrats want to continue sending an extra $600 per week to jobless workers, Republicans seek to cut that to $400 or less, arguing that the government has been paying some people more to stay home than they received in their jobs. But economists have pointed out that a significant job deficit remains—meaning that there are not currently enough work opportunities in the country to return to the historically low unemployment levels seen prior to the pandemic
It appears increasingly unlikely that an agreement will be reached prior to the presidential election, which is just over two weeks away on November 3. Pelosi did not dismiss the possibility of having a deal ahead of the election, however.
The Speaker's Deputy Chief of Staff Drew Hammill on Saturday evening tweeted that Pelosi had given a 48-hour deadline to the White House. Pelosi clarified to This Week on Sunday morning that this deadline was in relation to having a package prior to the election. "The 48 only relates to if we want to get it done before the election, which we do," she said.