'Where the F***ing Stimulus at?': TikTok Video Rant at Mitch McConnell Watched Over 2 Million Times
2020 has seen relatively new video sharing platform TikTok really take off and become embroiled in politics in a big way.
The platform has become surprisingly political as Donald Trump railed against the widespread use of the Chinese company and tried to get it banned in America.
So users themselves have become inherently political in a year where it's been possible to ignore politics.
Luckily for us, it has made for some great content.
A man is going viral on TikTok for skewering Republican Senate Majority Leader Mitch McConnell over the stimulus bill.
Originally posted to the platform by user miajwil on Wednesday, the clip features the TikTok user's father playing a game of name the politician.
The man is shown pictures of Joe Biden, Kamala Harris, Bernie Sanders, Alexandria Ocasio-Cortez, Kanye West and Mitch McConnell.
"Oh that's Joe Biden!" he says happily when shown a photo of the president-elect, "my man!"
For Harris, the man names her and makes noises of approval and for Sanders he says: "Oh that's Bernie... I was about to say Bernie Mac."
He is similarly respectful to Ocasio-Cortez, despite not remembering the New York congresswoman's first name.
The man is not a West fan and immediately hurls expletives at the rapper and presidential candidate.
When shown a photo of McConnell the man is visibly disgusted and beings to hilariously cuss him out.
"Oh that's that b**** McConnell," he says. "Where the f***ing stimulus at you motherf*****?" he says.
Since being liked more than 500,000 times on TikTok, the video has been shared on Twitter where it has been viewed 2.3 million times (at the time of publishing).
The clip was shared by Young Elected Officials director Chris D.Jackson who captioned it: "I'm rolling."
Twitter has found the video equally amusing with one person responding: "I have watched this 6 times and it gets better each time."
While another added: "I'm laughing so hard—about peed my pants. This is hilarious."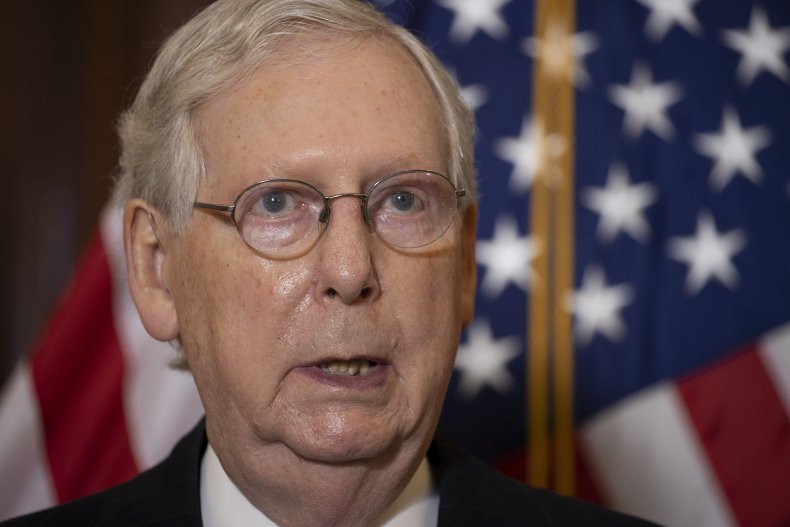 Speaking of McConnell, it was reported yesterday that the Senate Majority Leader Mitch McConnell and House Speaker Nancy Pelosi are both facing pressure over the continued delay on stimulus as it has now been eight months since the CARES Act relief package passed the Senate.
"Mitch McConnell is refusing to do anything," Sen. Chris Murphy (D-CT) said on MSNBC's The Reidout on Tuesday. "What we need for Mitch McConnell to do is just enter the negotiating room."