Donald Trump and Nancy Pelosi Share Nearly Equal Blame for Stimulus Failure, Swing-State Poll Shows
The Trump administration has blamed the slow negotiations over another round of coronavirus relief on party politics, but in the minds of swing-state voters, both Democrats and Republicans share nearly equal blame.
House Speaker Nancy Pelosi's 48-hour deadline to finalize a package before the election has passed without an agreement, but the two sides are inching closer to a deal. Talks are expected to resume on Wednesday, and committee chairs are tasked with ironing out the funding and language of another package.
In six swing states—Arizona, Florida, Michigan, North Carolina, Pennsylvania and Wisconsin—66 percent of voters think America's economy needs additional stimulus, a CNBC/Change Research poll released on Tuesday found. It's been seven months since Congress passed the Coronavirus Aid, Relief and Economic Security (CARES) Act, and swing-state voters blame Pelosi and President Donald Trump for the failure to pass another aid package.
In the poll, taken from last Friday through Monday, Trump took slightly more of the blame than Pelosi in a 45 to 44 percent split. The survey has a margin of error of plus or minus 1.9 percentage points. Ten percent of swing-state voters put equal blame on both sides.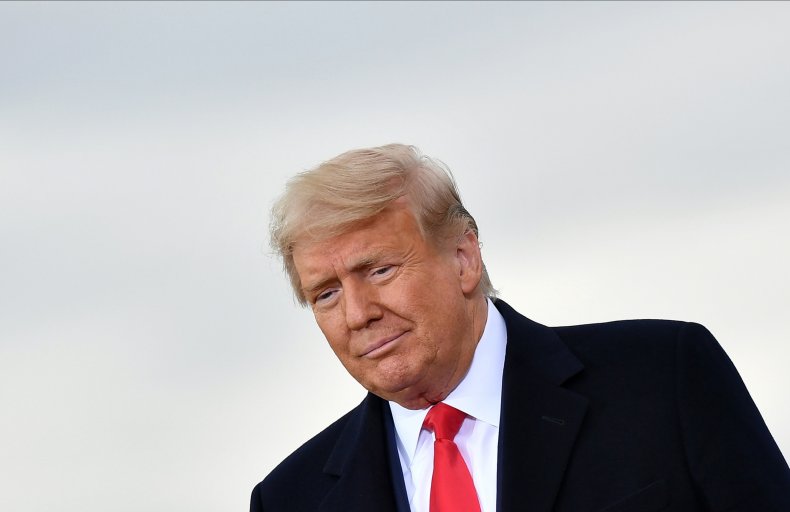 With only two weeks before the election, Pelosi has concerns about the time crunch but remains hopeful that the two sides can put together a deal before November 3. Treasury Secretary Steve Mnuchin, who is leading negotiations on behalf of the White House, is also hoping to get a deal done before the election but speculated that some of the feet-dragging was politically motivated.
"I suspect they don't want to give the president a win three weeks before the election, but they are holding up relief to hardworking Americans," Mnuchin told Fox Business' Lou Dobbs on October 15.
Trump also blamed Pelosi for the holdup and criticized Democrats on the Senate Judiciary Committee for focusing their energy on making "self-serving statements" during the Supreme Court confirmation hearings for Amy Coney Barrett. If he were the Democrats, Trump tweeted, he would "pull back, approve and go for stimulus for the people."
As senators prepare to vote on a slimmed-down relief package on Wednesday that's likely to fail in the Democrat-controlled House, they're also looking at a Monday vote on Barrett's nomination.
While Republicans have a vested interest in confirming Barrett before the election, 62 percent of swing-state voters said the Senate's "top priority" should be coronavirus relief, according to the poll. Thirty-eight percent said filling the Supreme Court seat left open by Justice Ruth Bader Ginsburg's death should be the focus.
White House chief of staff Mark Meadows, who is also negotiating for the White House, told CNBC it's a "false choice" because the Senate can "do both."