What is the STOCK Act? Senators Richard Burr, Kelly Loeffler Accused of Insider Trading as Calls Mount for Investigations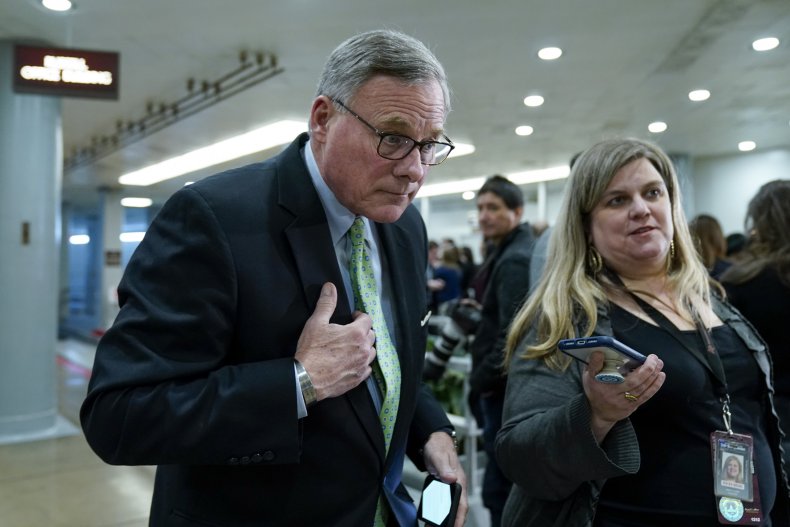 Calls are mounting for an investigation into Republican Senators Richard Burr and Kelly Loeffler for potential violations of the 2012 STOCK Act—a law Burr voted against when it cleared the Senate eight years ago.
Reports Thursday showed that the senators, who hold powerful committee assignments, dumped millions of dollars of stock ahead of the recent coronavirus-induced market panic.
By Friday, the two faced steep criticism of their actions, and Citizens for Responsibility and Ethics (CREW) filed a complaint against them with the Senate Ethics Committee, saying the sales possibly violated the STOCK Act, an insider-trading ban for members of Congress.
Noah Bookbinder, CREW's executive director, said that Burr's actions "should be investigated right away."
Burr, the chairman of the Senate Intelligence Committee, sold off between $628,000 and $1.72 million of his holdings on February 13, ProPublica found. Some of his largest transactions involved shares of hotel chains that would lose between one-half and two-thirds of their value in the economic turbulence weeks later.
Reuters reported that his committee had been receiving daily updates on the novel coronavirus.
Loeffler, who sits on the Senate committee with oversight of the health care industry, unloaded between $1,275,000 and $3,100,000 in stocks jointly owned with her husband, the chairman of the New York Stock Exchange, from late-January to mid-February. The Committee on Health, Education, Labor and Pensions hosted a coronavirus briefing, with top administration officials, for the entire membership of the Senate on the same day that Loeffler's portfolio began these trades, The Daily Beast reported.
In a statement Friday, Burr said his decision relied on public reporting but called for an ethics inquiry into the matter. Loeffler said in a statement that her investments are controlled by a third-party advisor and that she was unaware of the trades.
The 2012 STOCK Act prohibits insider trading by members of Congress and requires that certain investment transactions—such as those involving the trade of stocks, bonds and commodities futures—be reported to the secretary of the Senate or the clerk of the House of Representatives.
In addition to its prohibitions on insider trading by members of Congress and legislative staff, the 2012 law required disclosure reports to be filed within 45 days of a covered transaction.
The law also expanded the list of crimes that would lead a member of Congress to lose his or her pension, required representatives to disclose the terms of their personal mortgages and restricted their ability to partake in initial public offerings not otherwise available to the general public.
Originally, the law implemented new transparency standards, requiring that disclosures of transactions be made available online, in searchable databases.
However, in 2013, President Barack Obama—who signed the initial law—enacted a new measure rolling back some of the STOCK Act's transparency requirements.
That measure—which cleared the Senate on unanimous consent, meaning no votes were recorded—eliminated the requirement that the disclosures of legislative staffers and certain executive branch officials be made available online.
On Friday, others called for an outright prohibition on stock ownership by congressional representatives.
Representative Alexandria Ocasio-Cortez said that members of Congress "should not be allowed to own individual stock."
"We are here to serve the public, not to profiteer," she added. "It's shocking that it's even been allowed up to this point."
A representative for Burr did not respond to Newsweek's specific request for comment. When queried by Newsweek about whether she supported an Ethics Committee probe, Loeffler replied affirmatively, saying she was "happy to answer any questions."
Two other senators, Diane Feinstein, a Democrat, and Jim Inhofe, a Republican, also reported similar sales of stocks. Both have said that they do not make decisions about their investments, and Feinstein said those transactions involved her husband's portfolio. Inhofe and Feinstein have said they were not at the coronavirus briefing.
Burr was one of just three U.S. senators to vote against the 2012 measure, known as the Stop Trading on Congressional Knowledge Act. He derided the law as "ludicrous" at the time, citing insider trading laws that he said already should have applied to members of Congress.
Newsweek congressional reporter Ramsey Touchberry contributed to this story.
Updated 2:17 p.m. ET, with a comment from Sen. Kelly Loeffler.