Stock Market Crash Continues as Apple, Facebook Stock Prices Plummet
The Dow Jones Industrial Average plunged 650 points on Thursday morning as Apple stock plummeted and Facebook, Amazon and Alphabet dropped about 2 percent.
Apple shares dropped almost 9 percent on Thursday, falling to their lowest amount since April 2017, The Wall Street Journal reported.
The company (AAPL) announced on Wednesday that investors should expect lower revenues than those projected for the last quarter because sales in China were below those anticipated. Sales in China, which The Wall Street Journal said account for almost 20 percent of global sales, have dropped amid President Donald Trump's trade war with Beijing.
The precipitous decline in Apple shares was accompanied by plunges for companies that produce parts for Apple devices. AMS, which makes facial recognition sensors for iPhone X, fell 17 percent. STMicroelectronics, which makes imaging sensors for the new iPhone, dropped 9.2 percent, Business Insider reported.
Dialog Semiconductor, which makes chips, saw shares fall 7 percent at the opening of Frankfurt markets, according to CNBC.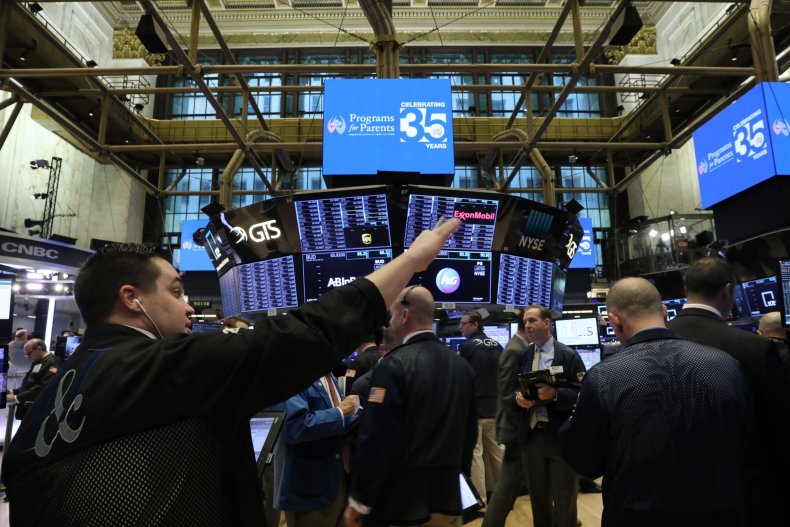 "While we anticipated some challenges in key emerging markets, we did not foresee the magnitude of the economic deceleration, particularly in Greater China," Apple CEO Tim Cook wrote in a press release published Wednesday. "China's economy began to slow in the second half of 2018. The government-reported GDP growth during the September quarter was the second lowest in the last 25 years. We believe the economic environment in China has been further impacted by rising trade tensions with the United States."
Apple had previously estimated it would earn revenues of $89 to $93 billion in the most recent quarter. Revised revenues would be approximately $84 billion, the Wednesday letter said.
The company had not decreased its quarterly revenue forecast in over 15 years before Wednesday.
In 2018, the Dow suffered its worst year since 2008.
President Donald Trump attributed last month's brutal stock market—the worst month since the Great Depression—to "a little glitch" and predicted progress.
"Our country is doing by far than any other country in the world. We're the talk of the world," Trump told reporters, according to CNBC . "It's going to go up once we settle trade issues and a couple of other things happen."
Last month, former Federal Reserve chairman Alan Greenspan issued a dire warning to investors, predicting the stock market would soon collapse. "It would be very surprising to see it sort of stabilize here, and then take off," he said while speaking with CNN's Julia Chatterley. "At the end of that run, run for cover."