Dow Down More Than 800 Points: Is The Bull Market Ending?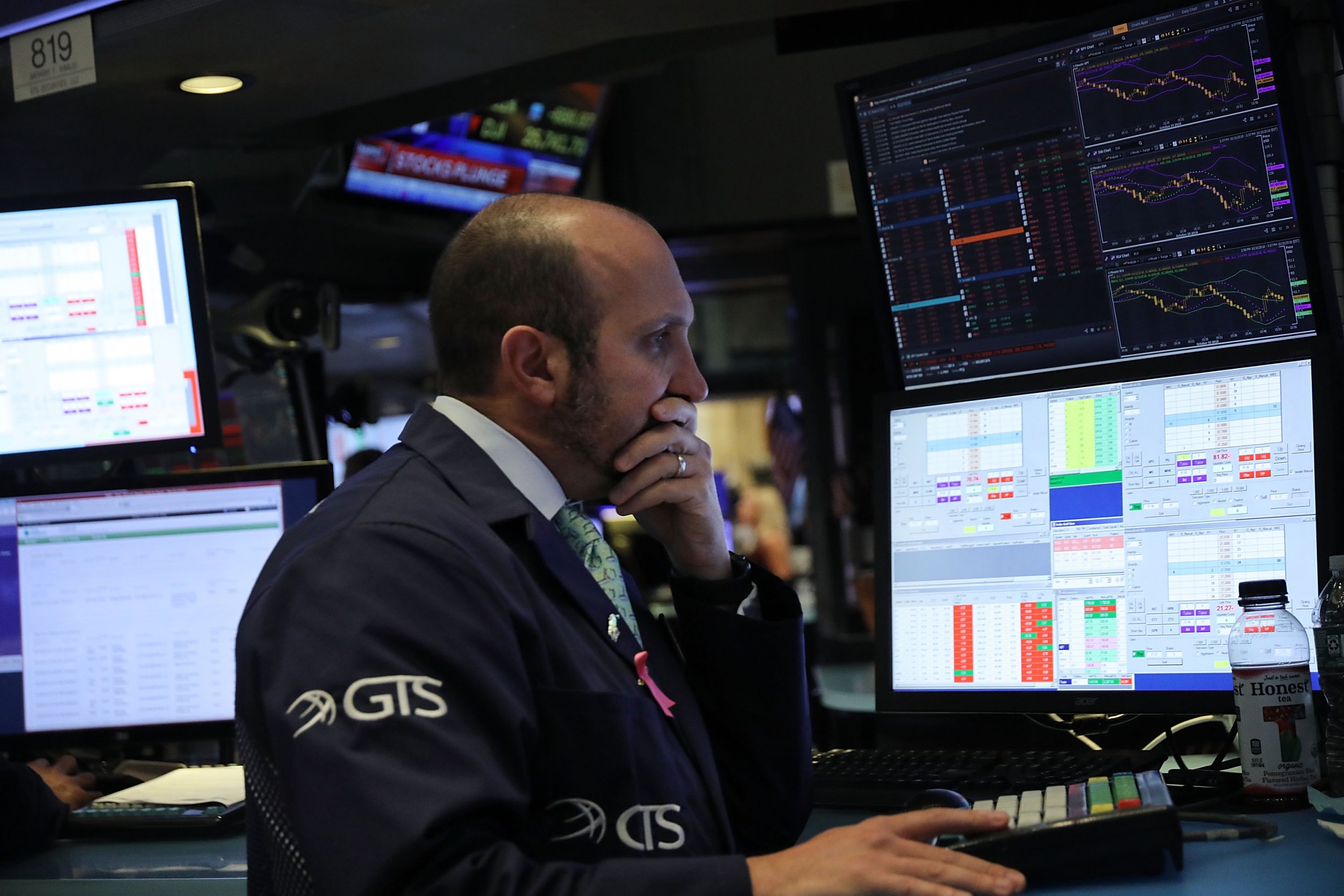 October is one of the most feared months in finance, the panic of 1907, crash of 1929 and black Monday in 1987 all occurred because of what's known as the "October effect." Though there's no real explanation as to why October can be so bad for the market and the reality of the effect is questionable at best, the month has lived up to its name this year, with the Dow Jones Industrial Average falling 800 points on Wednesday.
The Dow, which represents a measure of the overall market with a particular focus on technology stocks, dipped below 26,000 for the first time this month. Tech stocks had their worst day since August of 2011 and the S&P 500 fell for the fifth day straight.
Investors are freaked out about rising interest rates, as bond yields have now climbed to a seven-year high. The increase in returns on bonds is likely due to a ripping U.S. economy, but it could have an adverse effect as they pull people away from the stock market and into treasuries. But bonds also fell Wednesday, concerning some analysts. "There's no flight to safety in bonds. That's a sea change," Peter Boockvar, chief investment officer at Bleakley Advisory Group told CNBC.
Some fear that this slump marks the end of a nine-and-a-half-year bull market, but the White House said Wednesday that the Trump administration remained unconcerned.
A White House official told CNBC that President Donald Trump had been briefed on the sell-off and that "this is a bull market correction. It's probably healthy. This will pass, and the U.S. economy remains strong."
Later in the evening, the president remarked that the Federal Reserve had "gone crazy" and reiterated that the market was in "correction."
President Trump has long used the stock market as a marker of his success in office.
"For all of you that have made a fortune in the markets, or seen your 401's rise beyond your wildest expectations, more good news is coming!" he tweeted in late August. "The Stock Market just reached an All-Time High during my Administration for the 102nd Time, a presidential record, by far, for less than two years," he tweeted last week. "So much potential as Trade and Military Deals are completed."
Some analysts agree with White House sentiment. "The sell-off is healthy," Joe Heider, president of Cirrus Wealth Management told CNN. "Since the market bottomed in March 2009, it's been more than 10 years of growth stocks leading the way nonstop."
President Trump has railed against rising interest rates in the past, arguing that they'll hurt the economy. In an August interview with Reuters he said that he was not happy with Federal Reserve Chair Jerome Powell raising rates. "I'm not thrilled with his raising of interest rates, no. I'm not thrilled." he said. "I should be given more help by the Fed, the other countries are accommodated."
Updated with President Donald Trump's comments on the market plunge.
Dow Down More Than 800 Points: Is The Bull Market Ending? | U.S.