Stock Market Plunge Could Force Trump, Republicans to Reenter Stimulus Talks, Pelosi Says
House Speaker Nancy Pelosi has expressed her hope that President Donald Trump and Republicans will be motivated to return to the stimulus negotiating table by the plunging stock market.
Speaking on MSNBC Wednesday, Pelosi reminded viewers that Trump "cares a lot" about the stock market.
"As he sees the market react to the spread of the virus and sees the market react to the fact that we do not have an agreement—which could inject resources into the economy—hopefully now he will come to the table in a serious way," she said.
The S&P 500 Index experienced its first monthly decline in September since lockdowns in March, prompting concern among investors over lack of government economic stimulus. As of Wednesday afternoon, the S&P 500 dropped 3.2 percent, nearing its worst day in nearly two months.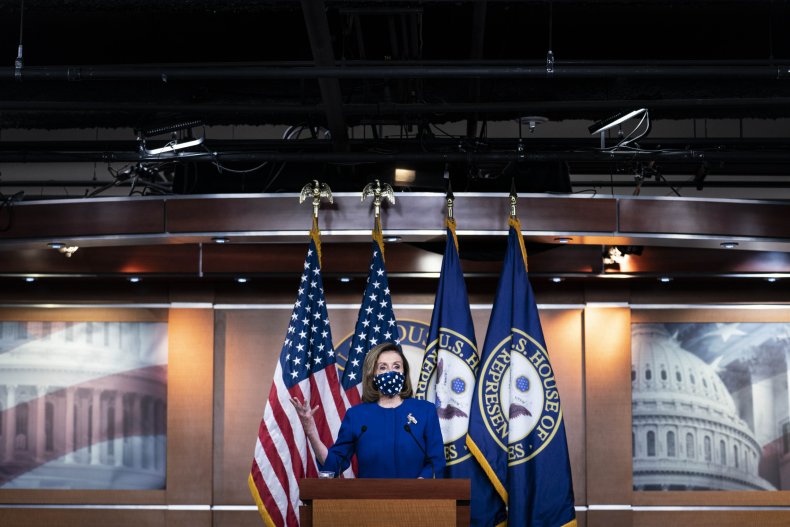 As Congress remains deadlocked over another stimulus package, the latest Morning Consult survey released Wednesday showed that 45 percent of American voters blame Trump and Republicans for the lack of relief. Another 40 percent blamed Democrats and 15 percent said they didn't know.
The U.S. Senate was adjourned after Monday's confirmation of Judge Amy Coney Barrett to the Supreme Court. Senators are not expected to reconvene until after Election Day, leaving stimulus prospects at a standstill. However, lawmakers have indicated that they would return to Washington D.C. to vote if a deal is reached before November 3.
Trump on Tuesday blamed Pelosi for the failure to provide further relief to citizens and vowed to deliver "the best stimulus package you've ever seen" after the election.
"Our people should get it—the stimulus," the president told reporters. "But Nancy Pelosi is only interested in bailing out badly run, crime-ridden Democrat cities and states. That's all she's interested in. She's not interested in helping the people."
At this point, lawmakers on both sides of the aisle have acknowledged that the prospect for a deal before Election Day is virtually impossible. "It could always be a miracle, but not very many around here," Republican Senate Appropriations Committee Chairman Dick Shelby told reporters last week.
Last week, Senate Majority Leader Mitch McConnell told GOP colleagues that he had warned the Trump administration against reaching an agreement with Pelosi over fears it would divide the party before Election Day. Despite his concerns, McConnell has committed to giving any stimulus deal a vote on the Senate floor.
Newsweek reached out to the White House for comment.