Stock Market Under Trump Posts Record Highs, But Markets Under Obama Performed Far Better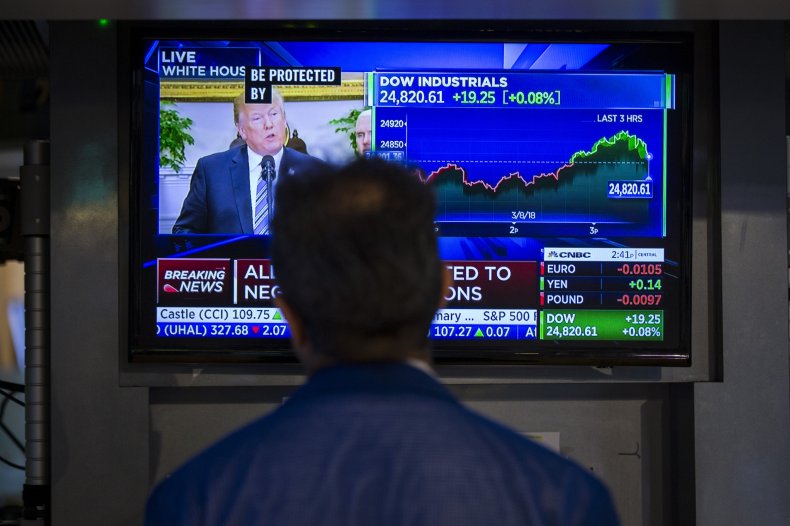 President Donald Trump often boasts about the stock market's superlative performance on his watch. And he has reason to tout market gains.
During Trump's third year in office, the S&P 500—a benchmark index tracking the 500 largest U.S.-listed companies—set multiple absolute records.
"New Stock Market high!" the president tweeted in mid-December, just two days before his impeachment.
Trump often compares current economic conditions to those of the Obama era, frequently claiming that he turned around unfavorable circumstances that brewed under his predecessor.
But a closer look at the data indicates that a Trump-Obama comparison may not land in the current president's favor, at least according to his preferred indicator: the stock market.
Because of the recession that predated Obama's tenure, absolute numbers do not lend themselves to straight comparison. Trump's closing numbers are higher in part because Obama presided over a Bush-era crash. But relative growth can better illuminate the market's performance.
On Obama's first inauguration day in 2009, the S&P 500 closed at 805.22. Over the next three years, the S&P index increased by 57 percent to 1,265.33, according to an analysis of stock market data. During the same time period under Trump, the index grew from 2,271.31 on Inauguration Day 2017 to 3,224.01 three years later, an increase of 42 percent.
While certain indicators during the Trump presidency have undoubtedly bested that of his predecessor—for example, the unemployment rate's 50-year low and wage growth's decade peak—comparisons of stock market performance, a sense of personal pride for the president, show that in this one respect, the Obama years were more effective.
An analysis by Fortune of similar trends in the Dow Jones Industrial Average and NASDAQ Composite found that these indexes also posted greater relative market returns during the Obama era than they have so far under Trump.
Despite politicians' regular efforts to claim credit for market growth, direct attribution of stock market performance to any individual administration is not entirely accurate. A host of factors that influence stock prices, such as global economic health and consumer confidence, are not directly within the president's purview.
This is not to say that Trump has presided over a weak stock market. A CNBC analysis of historical data showed that stock market growth in 2019—Trump's third year in office—was more than double average year three growth going back 90 years.
The attribution challenges are especially true for the Obama era, when a stock price plummet from the Great Recession just prior to his inauguration gave the market substantial room to recover. The associated stimulus plan enacted by Congress was the largest economic recovery package in U.S. history, which helped swing markets back toward growth.
While cause-and-effect may be difficult to determine in the world of stocks, some policies are more directly impactful than others. The Trump administration has embarked on policy goals uniquely poised to affect stock prices, including setting off a trade war with China and pressuring the Federal Reserve to lower interest rates.
Trump may yet still see the some of best stock market performance of his administration. The CNBC analysis found that, on average, third and fourth year growth outpaces first and second year growth.
"Whether you love me or hate me you have to vote for me," the president told supporters at an August campaign rally. Re-election, Trump told the crowd, was the only way to guarantee the country's continued economic gains and to keep their retirement accounts from going "down the tubes."
Though the stock market serves as a vector for retirement funds, the average American isn't likely to accrue substantial benefits from a sky-bound stock market under either Trump or Obama. According to a 2017 study from New York University economist Edward N. Wolff, the richest 10 percent of Americans own 84 percent of all stocks either directly or indirectly. Half of this share belongs to the richest 1 percent alone.