Stockholm Attack Suspect Is 'ISIS Sympathizer' Who 'Partied and Drank'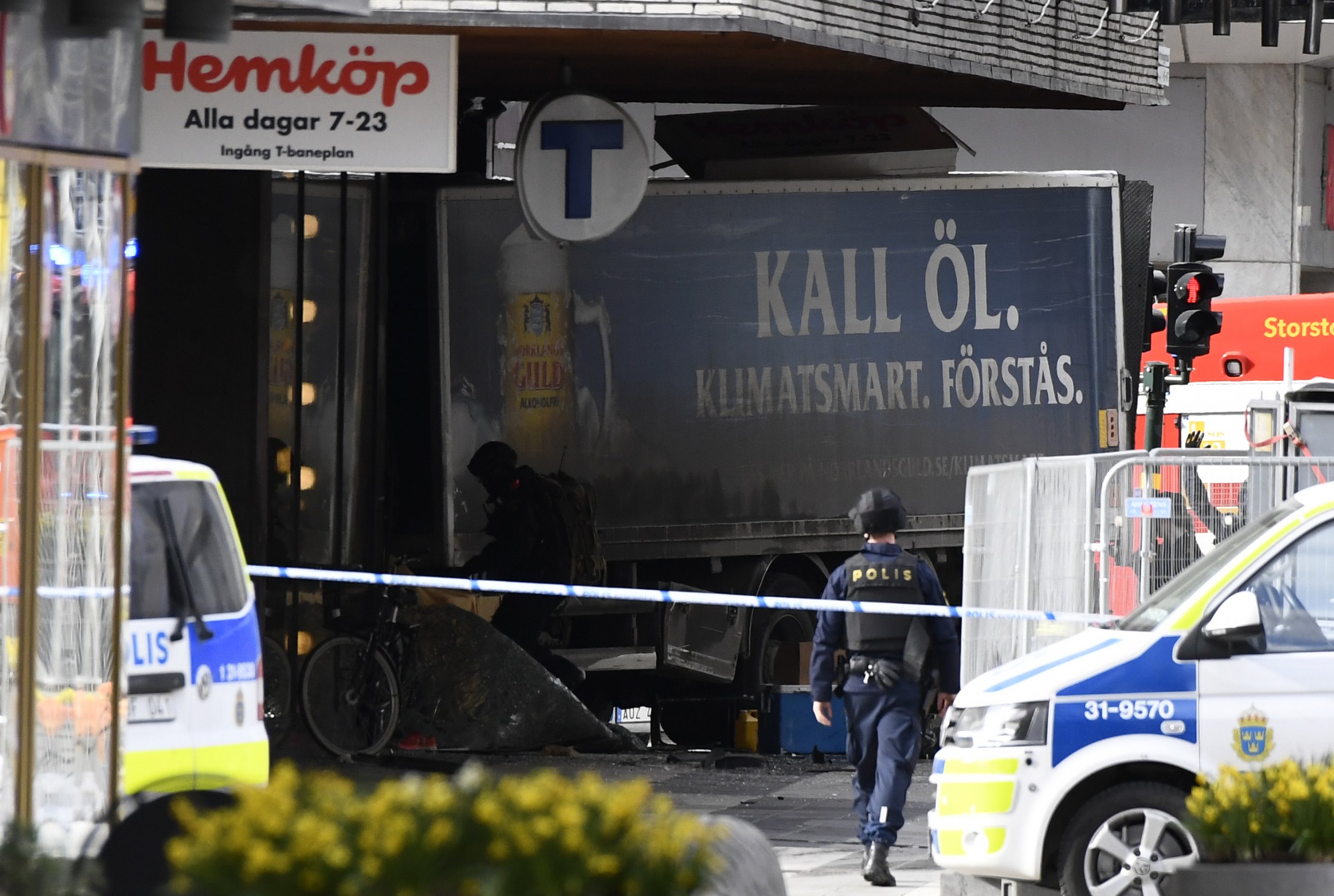 The Uzbek national suspected of plowing a stolen beer truck into pedestrians on a central Stockholm street on Friday is a sympathizer of the Islamic State militant group (ISIS) who does not adhere to conservative Muslim practices, according to police and local media reports.
Police said Sunday that the father of four, identified by local media as 39-year-old Rakhmat Akilov, had "shown sympathies for extremist organizations," such as ISIS, before the attack.
The suspect, who authorities believe was responsible for the deaths of four people in the attack, had shared ISIS propaganda productions on his Facebook account, according to Swedish newspaper Aftonbladet.
Akilov had liked images of dead bodies after atrocities such as the Boston Marathon bombing and had Facebook connections linked to the Islamic Hizb ut-Tahrir group. He was also a member of a group called "Friends of Libya and Syria," which has shared pro-ISIS propaganda.
But Swedish media reported that he "partied and drank" alcohol, according to AFP news agency, which isn't in line with conservative Muslim practice.
Akilov had worked at a construction company for several months last year and a former colleague of his told Reuters that he had "never expressed any radical or religious views. He was like any normal guy." Swedish police chief Dan Eliasson said he was a "marginal character" who authorities had not investigated before the attack.
Authorities were seeking Akilov for failing to comply with a deportation order before the attack. The Swedish Migration Agency denied his residency application in June 2016.
The agency told him in December 2016 that he had four weeks to leave Sweden. Authorities believe he then went underground before reappearing on Friday to commit the attack.
Read more: Stockholm attack revives memory of botched Christmas bomb plot
The case bears similarities to that of Anis Amri, the 24-year-old truck attacker in Berlin, who was set to be deported from Germany to Tunisia. Tunis had not sent the relevant identity documents for its citizen to German authorities so he remained in the country before carrying out an attack that killed 12 people. Italian police killed him in a suburb of Milan days later.
Police said on Sunday they have arrested a second suspect in connection with the attack, on the same charge of "suspicion of a terrorist crime (by committing) murder." But they said they were more convinced than ever that the first suspect, Akilov, was the man behind the wheel of the truck.
The country held a minute's silence on Monday to honor those killed, with Swedish Prime Minister Stefan Lofven in attendance at a City Hall ceremony in Stockholm. The attack killed two Swedes, a Belgian national and a British national, as well as injuring 15 people.