Stockton, California, Police Officer Shot Multiple Times While Sitting in Patrol Car
Authorities are investigating after a California police officer was shot multiple times while sitting in a patrol car on Tuesday afternoon.
The Stockton Police Department confirmed that both an officer and the male suspect were shot during the incident. Both were transported to the hospital but officials later announced that both the officer and suspect died from their injuries.
"We are sad to announce that our police officer from this morning's shooting has died from his injuries. The suspect also died from his injuries," the department tweeted Tuesday. "More details will be released during a press conference which will be held later today."
Assemblymember Carlos Villapudua offered his condolences over Twitter, writing, "My prayers and those of my family are with the Stockton Police Officer who was shot and killed this morning, and joined those crowded streets of Heaven, & w/ his family, going thru unimaginable grief and loss at this moment."
The shooting happened in the 4400 block of La Cresta Way in a residential area off Bianchi Road near the Calaveras River. Police are asking people to avoid the area at this time. All of the access points to the scene are currently cordoned off.
People who live in the area told KCRA that they heard 10 to 15 gunshots go off and saw a patrol car with bullet holes parked at the scene.
There is currently no information on what happened in the shooting or how many officers were involved.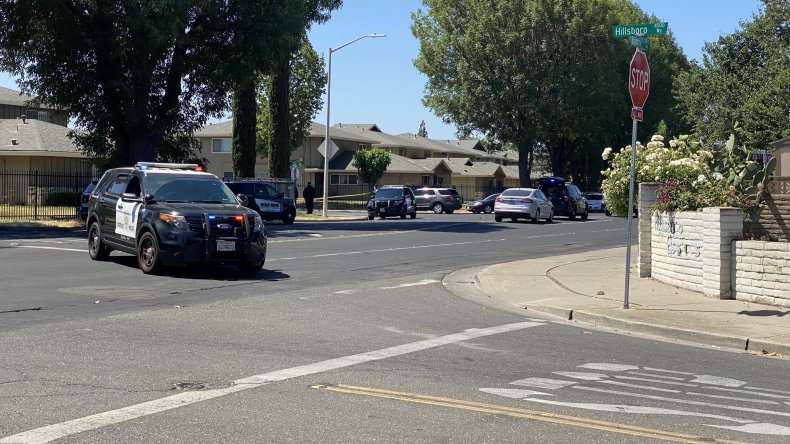 The shooting comes just one day after a police officer was killed and another was wounded in San Luis Obispo on California's Central Coast. Police killed the suspected shooter, the San Luis Obispo Police Department said in a tweet.
On Tuesday, the department identified the two officers involved. Detective Luca Benedetti, 37, was the 12-year law enforcement veteran killed during the incident and Detective Steve Orozco was the officer who was injured. Orozco was reportedly treated and released from Sierra Vista Regional Medical Center on Monday evening.
Benedetti and Orozco were among six officers serving a search warrant around 5 p.m. on Monday when the suspect began shooting at officers. Officials say the suspect did not answer the door or give any response when officers first knocked and identified themselves. When officers eventually forced open the front door, the suspect began shooting.
The suspect, who was later identified as 37-year-old Edward Zamora Giron, was later found dead inside the apartment of an apparent self-inflicted gunshot wound.
The San Luis Obispo County Sheriff's Office and the San Luis Obispo County District Attorney's Office will be conducting an investigation into the incident.