Five Things to Take From U.K.'s Stoke and Copeland By-Elections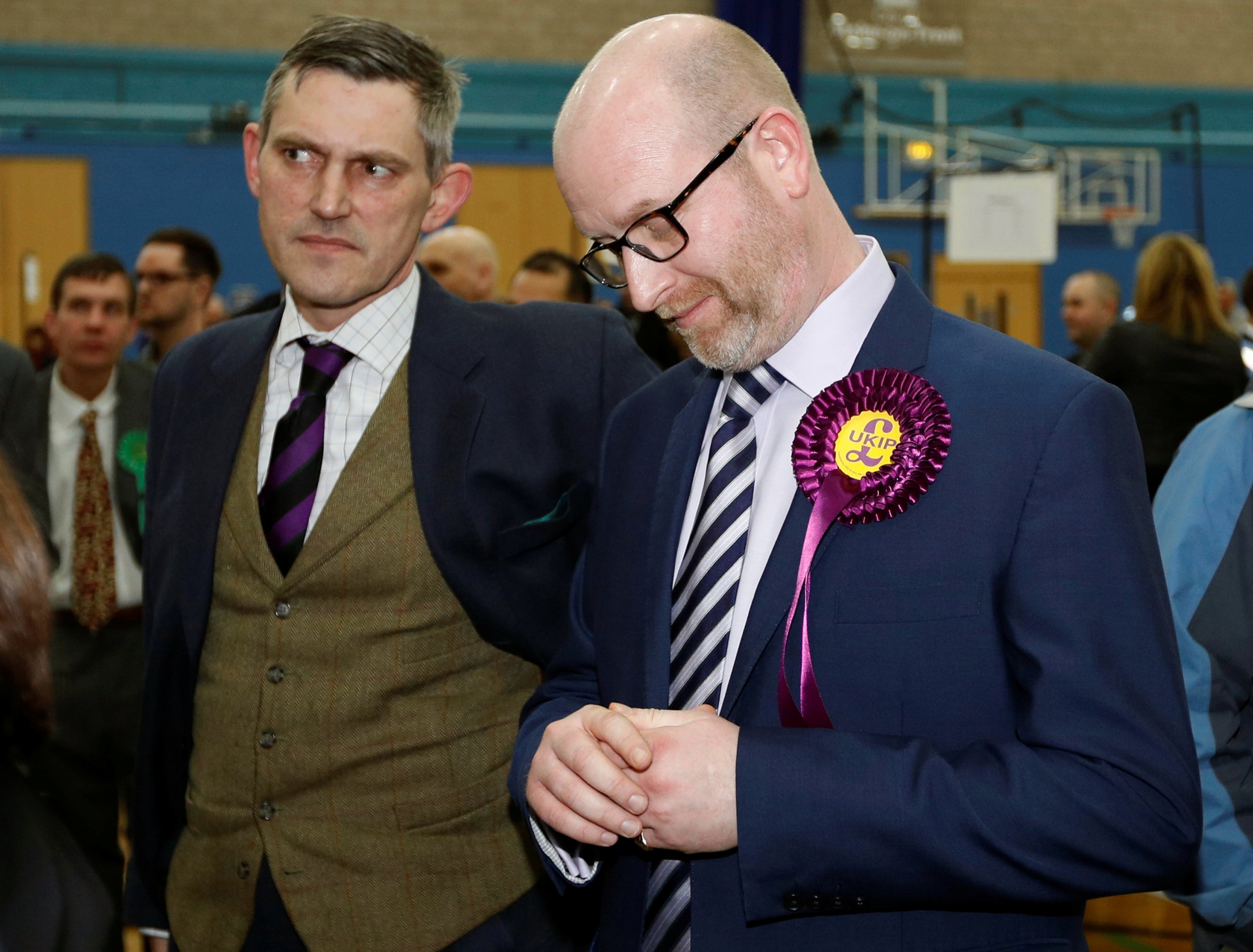 Big changes are underway in British politics. The results from a pair of by-elections to the Westminster parliament Thursday, fought to replace two Labour Party MPs who resigned, contain important lessons for U.K. politicians.
The first, in the middle England town of Stoke, saw Labour hold onto its seat, vacated by the former MP Tristram Hunt in favor of a job running London's Victoria and Albert Museum. Labour claimed victory came despite a push from the pro-Brexit UKIP to pick up votes in the anti-EU constituency.
The second, in Copeland in the north west of England, saw the ruling Conservatives take the seat from Labour, which had held the seat in that area for over 80 years. The Conservatives' win was the first time a government has taken a seat off the opposition in a by-election since 1982.
Here are five takeaways from the two results.
Voters liked what Theresa May was selling
The establishment consensus on Prime Minister Theresa May has been lukewarm at best: The Economist summed it up when it ridiculed her as an indecisive "Theresa Maybe" on its cover.
Voters, though, have inconveniently refused to agree: her Conservative Party is consistently around 15 to 20 points ahead of the Labour Party in the polls.
Even so, the result in Copeland, where the Conservative candidate Trudy Harrison won with 44.3 percent of the vote, was impressive. According to the elections analysts Britain Elects, the Conservatives' national poll lead is not big enough to predict a win in this post-industrial seat, which is well outside the party's traditional comfort zone. Winning here raises all sorts of new possibilities for the next election.
Meanwhile, in Stoke, where the Conservative party did not concentrate so many resources while UKIP fought hard, the party still increased its vote share, by 1.8 percent.
It's important not to draw sweeping conclusions from two isolated votes. But the results suggest that, in these Brexit-voting seats at least, people trust Theresa May to deliver on the referendum result, and that they like her unpretentious brand of Conservatism, less liberal than that of her predecessor David Cameron.
Labour is in deep trouble
Supporters of much-criticized Labour leader Jeremy Corbyn doubled down Friday morning, insisting that the party had done well to tackle UKIP in Stoke, and that Copeland was always going to be a difficult fight.
But by-elections are supposed to be a chance to kick the government; traditionally, the main opposition party should have little trouble defending a by-election against the party in power. The government has not overturned an opposition majority the size of Labour's in Copeland since the Second World War.
Corbyn's critics will say he is to blame: his media-shy attitude, anti-nuclear power views (Copeland's economy depends on a local power station), and support for mass immigration may have all damaged the party in this contest.
But it's never that simple. Brexit is also a factor here, and the contest saw Labour lose votes both to the Conservatives, a now pro-Brexit party, and the Liberal Democrats, an anti-Brexit party. Voters polarized by the referendum find little to excite them in Labour's moderate position (in favor of triggering Brexit, but also pushing for closer ties to the EU).
The elections expert John Curtice argues in a piece for The Guardian that the party should focus on attracting more Remain voters.
"Labour seems to have decided in recent weeks that its first priority is to stave off the threat from UKIP to its traditional working-class vote," he says. "But in so doing it seems to have forgotten (or not realized) that most of those who voted Labour in 2015... backed Remain."
UKIP faces existential questions
The United Kingdom Independence Party, to give it its full name, was founded in 1993 with one aim: to take Britain out of the European Union.
Since then, and particularly between 2010 and 2015, when it left the political fringes to become Britain's third largest party by vote share, the party has developed a much broader policy platform, based around populist principles like opposition to immigration, support for neglected industries like fishing, and a focus on slashing middle management in the health service.
But the party's fate since the Brexit referendum, in which Britain voted to leave the EU, shows that it may not have done enough to stay relevant now its founding mission has been achieved.
It has put in a series of lackluster performances at local council-level elections and now its leader, Paul Nuttall, who stood in Stoke, has failed to beat a pro-Remain Labour candidate in a heavily Brexit-supporting seat.
Meanwhile, in Copeland, its vote was heavily squeezed by the Conservatives, suggesting that now the government is firmly pro-Brexit, and has adopted some UKIP stances, such as opposition to EU immigration and support for selective education, voters have less need to back Nuttall's party.
The Liberal Democrats are on the march
This is old news, now: the centrist Liberal Democrats' unashamedly anti-Brexit and pro-liberal elite stance may not be enough to win a parliamentary majority, but it's doing wonders to grow the party's popularity, and they will hope to extend their reach beyond the eight Westminster seats it slumped to at the last election.
In both Stoke and Copeland, the party boosted its share of the vote, most likely taking pro-Remain voters from Labour.
In neither of these seats was this enough to get the party anywhere near victory: these are both Brexit heartlands. But it is something to watch at the next election.
And it isn't just Labour who should be worried. The Conservatives took 27 seats off the Liberal Democrats at the 2015 election, before Brexit was a defining political issue. If a significant portion of those voters turn back to the Liberal Democrats this time, that could cause May serious problems.
Britain's voters have woken up
Voter turnout tends to be low in by-elections, coming as they do without the national media onslaught of a general election. But in both Stoke and Copeland turnout was higher than expected; at 38.1 percent in Stoke it was higher than the 36.7 percent at the election, and Copeland's 51.35 percent was lower than the 63.8 percent who turned out in 2015, but still above expectations for a day blighted by fierce storms.
The Economist Intelligence Unit's latest report on global democracy noted that the EU referendum had reinvigorated political participation in Britain. If these two votes are anything to go by, that remains true, and means all parties will have to re-assess the assumptions they have based on years of slumping voter interest.