Ancient Jewish Artifacts Looted During Syrian Conflict Are Being Sold On Black Market
Jewish artifacts looted from the rubble of the Syrian war are appearing on the black market.
Activists say that ancient parchment torahs written on gazelle leather are among treasures that have gone missing from Jobar Synagogue in Damascus.
Other precious objects include tapestries and chandeliers that were moved from the Syrian capital during the civil war in 2013, the Associated Press reported.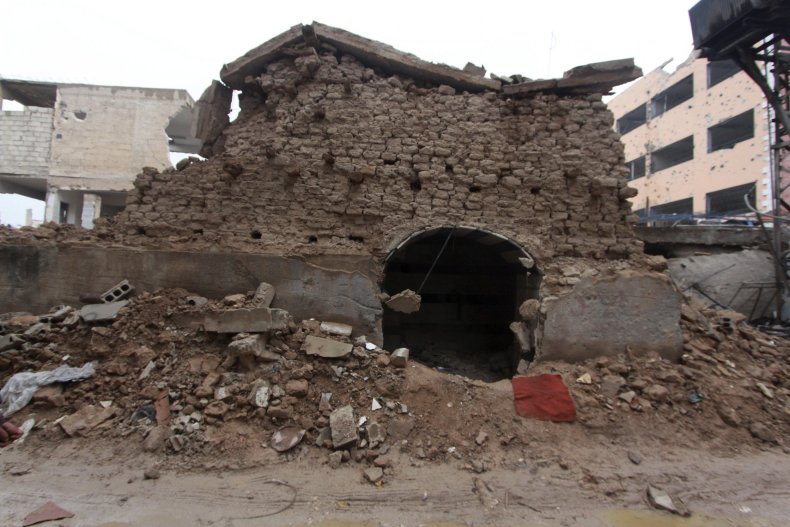 They were given to the militia Faylaq al Rahman brigade for safe-keeping but the group said said they did not have the items.
The agency said that other objects may have been stolen by a Syrian guardian entrusted by the local council.
The man, who has not been named, disappeared with the artifacts in 2014 before some allegedly resurfaced in Turkey, the agency reported.
"Some of the items that went missing in 2014 and this year have started surfacing now in Turkey," activist Hassan al-Dimashqi, who lived near the synagogue until he fled in March, told the AP.
He said government airstrikes had destroyed most of the synagogue and the surrounding neighborhood.
The synagogue, also known as Eliyahu Hanavi, was functioning just before the conflict began in March 2011 and it used to comprise of a main hall of arches lined with seats and tapestries. It displayed chandeliers, lanterns and a marble stone with writing in Arabic, Hebrew and Latin.
Back in March, Damascus accused Israel of stealing valuable artifacts from the place of worship and filed an official complaint with the United Nations Security Council.
Syria's Ambassador to the UN Bashar Jaafari said "terrorist groups" near Damascus, cooperated with the Turkish and Israeli intelligence services "to loot artifacts and manuscripts from the ancient synagogue there," the Times of Israel reported.
In 2011, there were about 50 Jews still living within Syria, mostly in Damascus. This number diminished to only 18 by September 2016, Arutz Sheva reported.