Stolen Benjamin Creme Artwork Worth $800,000 Found in California Storage Facility
Around $800,000 worth of stolen artwork by late Scottish artist and esotericist Benjamin Creme was found in a storage facility in San Fernando, California.
As well as art, Creme—who died in 2016—was famous for prophesizing that a second coming believed by most major religions was, in all cases, Maitreya the World Teacher, an omniscient person who would bring hope to the world.
The Los Angeles Police Department said on Tuesday that the art—a bundle of signed lithographs—was found in a storage facility belonging to someone who had died a few years ago by a relative of the deceased.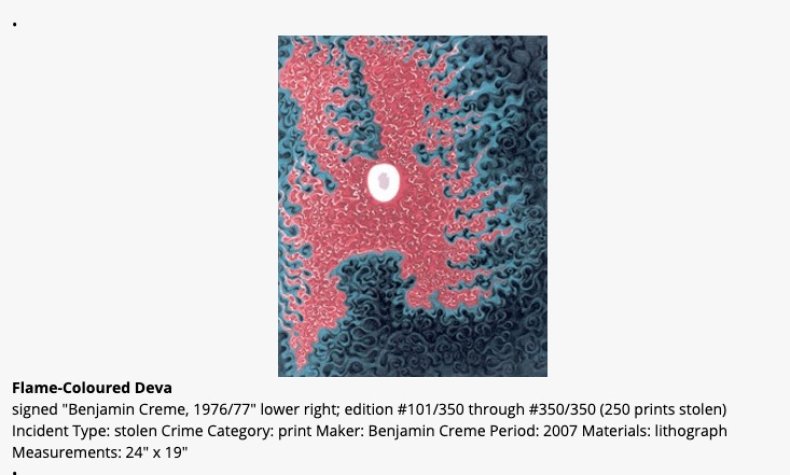 The person who found the lithographs had taken the deceased's possessions out of storage and discovered "the artwork was stolen after visiting a law enforcement website." They then immediately contacted the police to report the stolen artwork.
The LAPD said that the art had been placed in the storage facility sometime between November 2011 and August 2012.
The relative contacted the police in late September and police seized the lithographs.
Photos of the artwork on the LAPD website show a series of 10 signed lithographs of different patterns and symbols in a variety of color schemes.
According to the FBI's National Stolen Art File database, 10 Creme lithographic artworks are reported stolen. They were produced from Creme's original oil paintings between 2001 and 2010. According to the FBI database, between 130 and 278 prints of each artwork were stolen.
The titles of the works include Flame-Coloured Deva, Shakti II, Ancient Moral, Polarity, Invocation, Oracle, Soul Infusion, Open Mandala, Mandala IV and Within the Gates.
Creme was born in Glasgow, Scotland, in 1922 and died aged 93 in October 2016. Creme's prophecies about the Maitreya led to him creating a non-profit organization called Share International and a monthly magazine called Share International.
Creme's art was influenced by Picasso and Polish painter Jankel Adler, who became a mentor of Creme's, according to the Benjamin Creme Museum website.
Share International announced Creme's death in October 2016 on its website, saying the artist and esotericist had been "unwell for a long time." The organization added that Creme "had kept going in his usual courageous, determined and humorous way. His was an extraordinary life dedicated to service. He brought hope to the millions who have heard and been touched by the news of the imminent emergence of the World Teacher, and the consequent transformation of the world by the creation of justice and peace, through sharing."