Stolen Black Labradors Found Dead In 'Senseless Tragedy': Police
Virginia police have described the discovery of two dead dogs that were stolen as a "senseless tragedy."
Police in Franklin County, south of Roanoke, southwest Virginia, said its officers were called to respond to reports that two dead dogs had been found by the side of the road at the 500 block of Carolina Springs Road at about 3:15 p.m. on Tuesday.
The dogs turned out to be the labradors, Colby and Caleb, that were stolen from Waid Park, in Rocky Mount, on Wednesday, February 8.
A Franklin County police spokesperson said: "Not the outcome we all had hoped for."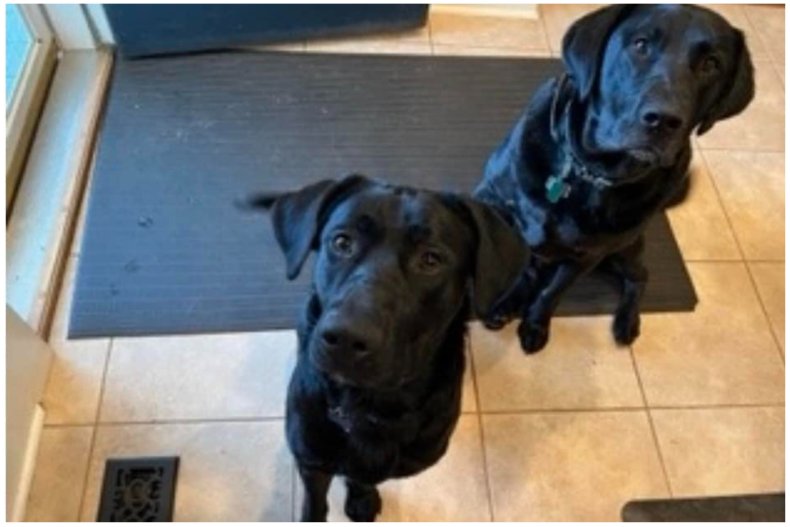 A Facebook post shared on Tuesday read: "To our great dismay, the dogs have been identified as the two black labs, Colby and Caleb, that were stolen from the Waid Park area last week.
"Both have been taken to the Virginia-Maryland College of Veterinary Medicine at Virginia Tech in Blacksburg for further examination and cause of death determination.
"We are appalled at this senseless tragedy and extend our condolences to the owners of these dogs."
Franklin police have launched an investigation into the death and have asked anyone with information to call (540) 483-3000.
According to the Franklin County Humane Society Planned Parenthood and Adoption Center, the dogs had broken away from their owner to chase after a squirrel when "two Hispanic males lured them" to an off-white Jeep Grand Cherokee. The men loaded the dogs and drove off while the owner called out to them.
A $2,000 reward was offered for the safe return of Colby and Caleb with "no questions asked."
According to a 2019 post by the American Humane organization, approximately 10 million pets are lost in the U.S. with many ending up in animal shelters.
It added: "Only 15 percent of dogs and 2 percent of cats in shelters without ID tags or microchips are reunited with their owners."
American Humane said people who want to have a better chance of being reunited with their pets, should they become separated from them, can do several things, including the following:
Make sure your pet always wears a collar with a current ID tag, rabies tag, and city/county license.
Include a contact name, address, and daytime and evening phone numbers on their ID tag.
Keep your pet's licenses, ID tag, and microchip current. Make sure to update the tag if you change your address or phone numbers.
When moving or traveling, place a temporary tag on your pet with the phone number of someone who knows how to reach you.
Remember that even indoor pets need tags. Many strays in shelters are indoor pets who escaped and got lost.
Newsweek has contacted the Office of the Sheriff, Franklin County, for comment.