Stolen Cache of Italian Antiquities in U.S. Museums Returned, Accused Trafficker At-Large
Antiquities worth more than $11 million have been located and returned to Italy.
Italy's culture minister Dario Franceschini welcomed back 201 antiquities that were illegally trafficked into the United States. The return of these items, 40 of which remain at the Italian Consulate General's office in New York until March 2022, marks a significant step toward the country's crackdown on stolen artifacts.
"Investigators have reconstructed a chain leading from illegal excavations to art dealers to U.S. museums, auction houses, art galleries and private collections," said Carabinieri cultural protection unit commander Roberto Riccardi during a Thursday press conference.
Among the antiquities returned to Italy were 96 pieces of pottery and other artifacts previously displayed at the Fordham Museum of Greek, Etruscan and Roman Art. The museum is an extension of the Fordham University Libraries and "comprises [of] more than 260 objects dating from the 4th millennium B.C. through the 3rd century A.D." The Getty Museum also returned six items from their collection, including a ceramic Etruscan vessel.
"This too is a great homecoming operation that will add value to our extraordinary country as a vast museum," said Franceschini. "They are artworks of absolute importance that will attract people to those places and territories."
With the items beginning to be returned, Italian authorities are again setting their sights on their alleged trafficker. Edoardo Almagia worked as an art curator around New York City and other major cities for various museums, many of which have sent items back to Italy. An alumnus of Princeton University, he was interviewed for their alumni website in 2010, where he criticized Italy's claim to ownership on all antiquities and artifacts. He said that Italy "immediately [equates you] with a criminal nowadays by being a collector."
Almagia is unlikely to face criminal charges due to the statute of limitations on many of the stolen items running out. However, he remains at large despite all of his New York and Naples antiquities being seized in 2013.
"What is most important is that these very important archaeological findings come back that are part of our culture identity," Italian police official Roberto Riccardi told The New York Times earlier this month when the return was announced.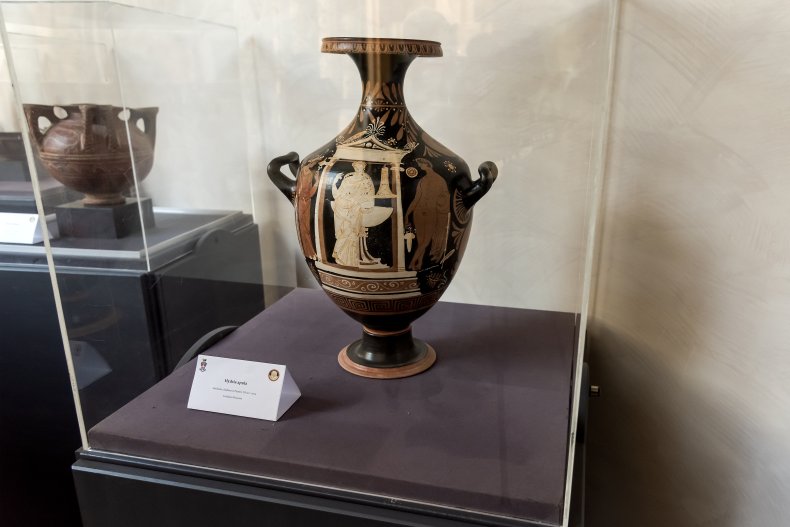 One major operation secured nearly 800 objects from ancient Daunia, which was located in the Gargano peninsula in northern Puglia, while another broke up a trafficking ring of artifacts from southern Italian civilizations operating in northern Europe. Thirteen people are under investigation in that case, which led to the recovery of 2,000 artifacts.
The Associated Press contributed to this report.